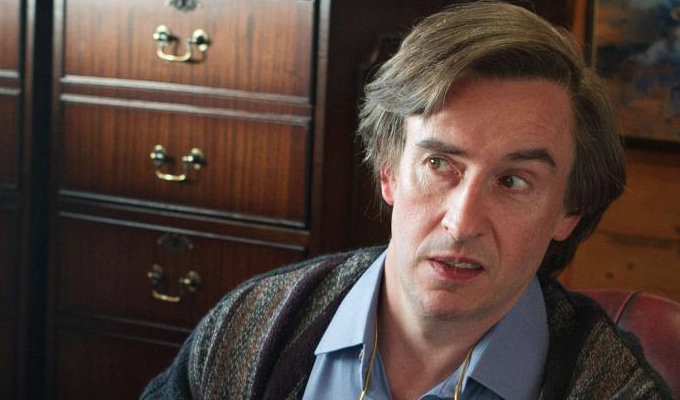 Aha! Partridge returns to the BBC
Alan Partridge is returning to the BBC with a new show for the first time in 15 years.
Steve Coogan made the surprise announcement on tonight's episode of The One Show.
'Alan will be be back on the BBC early next year … there'll be a lot of Alan on telly early next year' he revealed.
Coogan had previously suggested Partridge's return would be a 'magazine show' during an appearance on BBC Breakfast in December.
And tonight he implied that the new comedy could be a parody of The One Show itself, saying: 'I'm trying to do a leak to the press about it.
'He'll just be back on a show, I don't know, it might be like this, this kind of show. In fact, I'm here to do research'.
Later, he added: 'we might do little shots of things where there's a couple on the sofa … I might borrow your lime green sofa.'
Promoting the film The Dinner at the Berlin Film Festival in February, Coogan had prompted speculation about Partridge's next screen outing by telling The Hollywood Reporter:
'We're doing some more Alan at the end of this year. He'll return to the small screen in a way that we're trying to devise at the moment. We're not quite sure what that is, but we've got a few ideas that I'm going to keep up my sleeve at the moment.
'But there'll be more Alan, there'll be a regular appearance of Alan and some of the usual suspects.'
Apart from appearances on Comic Relief, the new show would be Partridge's first on the BBC since the 2003 career retrospective mockumentary Anglian Lives: Alan Partridge.
The enduring character was created for the ensemble Radio 4 series On The Hour and transferred with its television adaptation The Day Today, before he secured his own chatshow, Knowing Me, Knowing You With Alan Partridge and two series of the sitcom I'm Alan Partridge - all on the BBC.
However, Sky Atlantic has been Partridge's home since the channel picked up the Mid-Morning Matters web series in 2012. The broadcaster commissioned a second series and several one-off specials, despite Coogan being a vocal critic of Rupert Murdoch, whose 21st Century Fox holds a controlling stake in Sky.
Last month, Sky's head of comedy Jon Mountague told the Radio Times that while Coogan had no immediate plans to bring Mid-Morning Matters back, he hoped to commission a further series of both that and The Trip, which Sky poached from the BBC for its Spain-set third series.
Later on The One Show, which also featured comedians Matt Forde, Mark Nelson and the latter's three-year-old daughter Isla reflecting on the General Election, Coogan dismissed the idea of The Trip's next series being set in Wales, saying: 'I cannot confirm that because it's not going to happen.
'We wouldn't rule it out. No, we will rule it out. We might go to Ireland, we might go to America … I don't know where we'll go'.
Complaining that he and his co-star had needed to exercise to burn off all the food they consumed during multiple takes, Coogan also disclosed that 'Rob Brydon had a little trampette in his bedroom, I'm not even joking …'
Early 2018 looks set to be a busy period for Coogan as it also brings the release of Stan and Ollie, the BBC film in which he stars as Stan Laurel alongside John C Reilly as Oliver Hardy.
-by Jay Richardson
Published: 9 Jun 2017
What do you think?