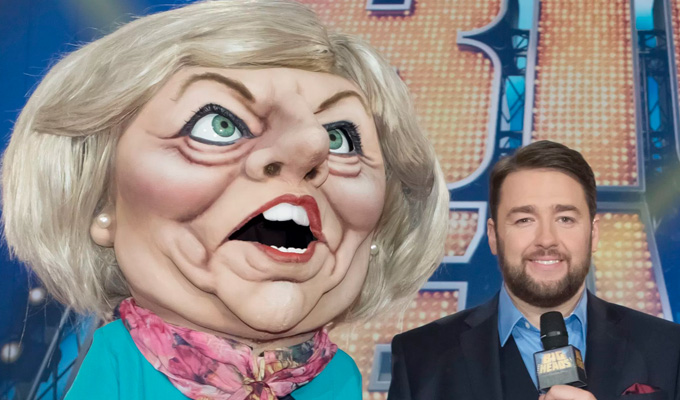 Is Bigheads a threat to democracy?
Of all the shows likely to imperil democracy, ITV's It's A Knockout-style gameshow Bigheads wouldn't be top of anyone's list.
But the show was hastily edited before broadcast last week for fear of falling foul of political impartiality guidelines.
Tighter broadcasting rules on political balance apply during an election campaign, lest any programme be seen to endorse a particular candidate or party. And the cartoon version of Theresa May's head used in the show – recorded in Feburary before the snap election was called – prompted some jokes that producers felt could have broken the rules.
'We had to edit some of the lines out of the show that showed bias, one way or another against Theresa May' an incredulous Manford admitted on his Absolute Radio show. 'How weird is that, that somebody could be watching Bigheads and go, "Ooh, I'm going to vote for them then"?'
Comic Hayley Ellis, who was guesting on the radio show, imagined a viewer thinking:
'Now I've seen Theresa May run round the obstacle course, she's getting my vote.'
A source on Bigheads has told Chortle that the most contentious moment came when a contestant said she hated May and her policies and that she 'couldn't believe she'd been given the head.
'There were some really silly lines that had to be cut too,' the source revealed. 'Jason said something like "No, Prime Minister" in a reprimanding tone, and that had to go. It was unbelievably petty.
'We didn't have a Jeremy Corbyn head because why would you? But that meant technically, we had no way of being impartial. It's ridiculous but these are the ways the rules work.'
Still, the disruption was nothing compared to that in the episode airing this Sunday, which features a contestant in a Boris Johnson head behaving boorishly
'We had two very competitive men in the heads of Boris Johnson and will.i.am, who actually broke the set, Chortle's source recalls. 'We ended up having to stop the recording for about 45 minutes.'
'It was the game where they're in the bed and the shark chases them. And we had to get guys in to fix it. They were so competitive that when the guy inside Boris Johnson lost, he stormed off and didn't do a post-game interview.
'You never see this on telly but there's a bit in the show where we actually cut to the test card, to just say we're just going to clear up the set. Then we come back and there's Jason sat on the bed, giving a bollocking to will.i.am and Boris Johnson for being over-competitive.
'When Boris stropped off, Jason couldn't do the post-game interview. So he just made a joke about Boris voting to Leave and it cuts to the next game.'
Chortle has approached ITV for comment but they have not yet responded.
- by Jay Richardson
Published: 5 May 2017
What do you think?