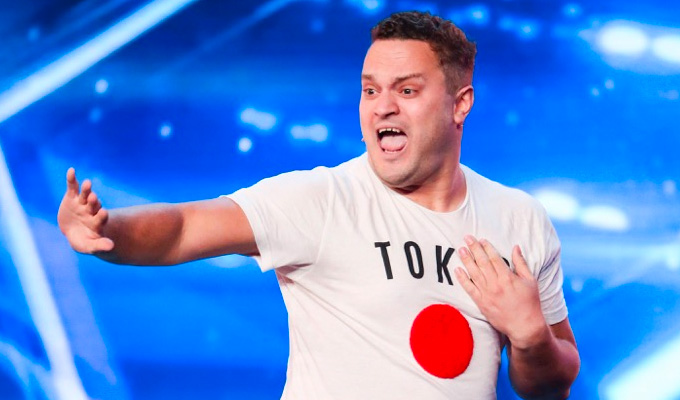 Britain's got (stolen) talent?
A contestant on last night's Britain's Got Talent has been accused of ripping off comedy circuit favourites The Raymond And Mr Timpkins Revue.
Adam Keeler attracted a standing ovation from judges David Williams and Amanda Holden for his routine, in which he acted out songs lyrics literally, using giant words and letters.
However, it is strikingly similar to the act which The Raymond And Mr Timpkins Revue have made their own.
'How clever of you all to put an act on that blatently [sic] copies our set,' the duo posted on Twitter. 'The press will love this.'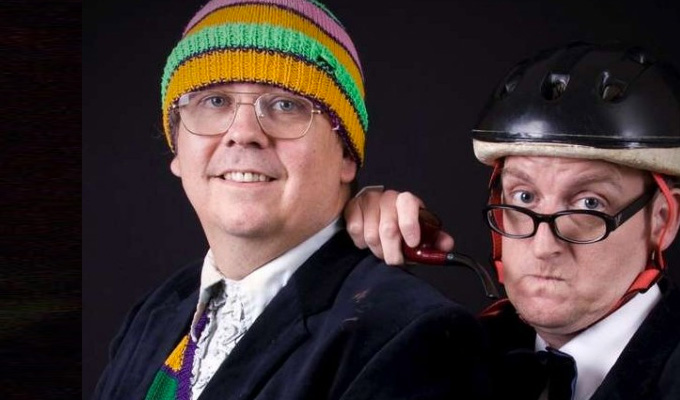 The pair also said they had previously been asked to appear on the ITV talent hunt, but 'consistently' turned producers down.
They told Chortle: 'Oh dear. Shame on you BGT and Adam Keeler.
'Either BGT have trawled the net to find someone willing to do our act for them in light of our constant refusals or Adam has seen our act, copied it badly and then decided to apply.
'Either way, neither comes out of this well but on the bright side we have never had so many hits on our website and the support and warmth from our comedy colleagues and, who knew we even had any, fans, has been really lovely.'
Keeler – who got 'yes' votes from all four judges – denied plagiarism, claiming he had never seen the original.
He told Chortle: 'I have never seen the Raymond and Mr Timpkins Revue act so I can honestly say I've not copied it; only 40 seconds of my audition was shown and I had many other props that weren't letters or signs, my normal act is 30 minutes long so unless people have seen both complete acts I would not know if they are similar.'
However, The Raymond And Mr Timpkins Revue have been a fixture of the circuit more than 20 years, with several clips of their act on YouTube.
Here is one of them:
And here is Keeler's performance on BGT last night:
A BGT spokesperson said: 'Adam auditioned for the show of his own accord so any suggestion we asked him to audition with a similar act is completely unfounded and incorrect.'
Comedians and fans were quick to point out the 'rip-off' on social media.
James Alderson posted: 'Nice to see a shit one man version of @raymondtimpkins on @BGT tonight. Chuck the guy off the show for sacrilege!' and joked: 'Next up on @BGT a comedian performs his brand new original routine 3 candles.'
The promoters of the Comedy All Stars show in Portsmouth added on their Twitter account: 'Anyone else see the crap one-man copy of the legendary @raymondtimpkins on @BGT - what a shame the show has stooped to this.'
And comedy fan Liam Yorke tweeted: 'What's clever about just ripping off @raymondtimpkins, this guys is even ripping off exact jokes from their set.'
Keeler started in entertainment playing roles such as a 'mad scientist' to visitors at Chessington World Of Adventure, and his most recent job has been at Shrek's Adventure in London's County Hall.
Published: 16 Apr 2017
Recent News
What do you think?