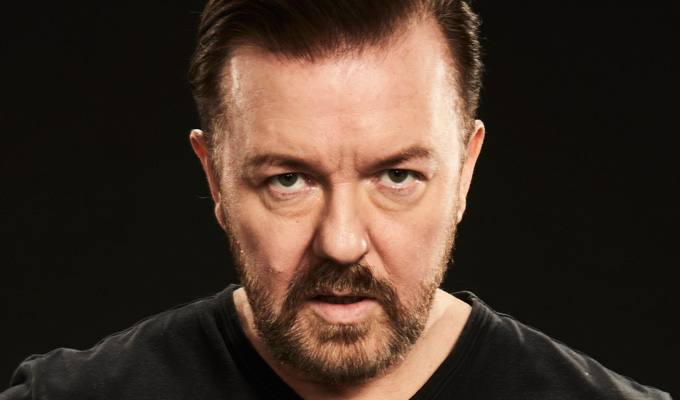 Ricky Gervais: My 'platinum' tickets will hit the touts
Ricky Gervais is to sell high-priced 'platinum' tickets to his new stand-up tour, in a move said to be designed to beat the touts.
A number of prime seats will be sold at a mark-up for each gig, with the difference from the usual ticket price going to charity.
Promoters Live Nation say the aim is to 'deflate the market' in which the touts operate, by giving those fans prepared to spend big money on good seats a legitimate alternative – without the money finding its way into the pockets of middle-men.
Gervais will donate the extra profits  to Macmillan Cancer Support and the RSPCA.
 He said: 'My frustration with touts is twofold: people spending way over the odds on tickets from illegal touts and, the association that ticket touts are connected in some way to my tour without my consent. 
'Platinum tickets feels like a good way to try and stand up against ticket touts making a fast buck by exploiting fans. and this way people willing to pay higher prices will at least know it's going to charity instead of some scummy tout.  
'If this scheme works it will take back some of the millions of pounds scalped every year by touts and divert it to worthy causes.'
Tickets for new dates in Gervais's Humanity tour go on sale this Friday, with the price of platinum tickets to be determined by dynamic pricing. 
Tickets for the first leg of the tour, now under way, are currently available on 'secondary ticketing' sites for up to  £130. 
The schedule of new dates is here.
Published: 22 Feb 2017
What do you think?