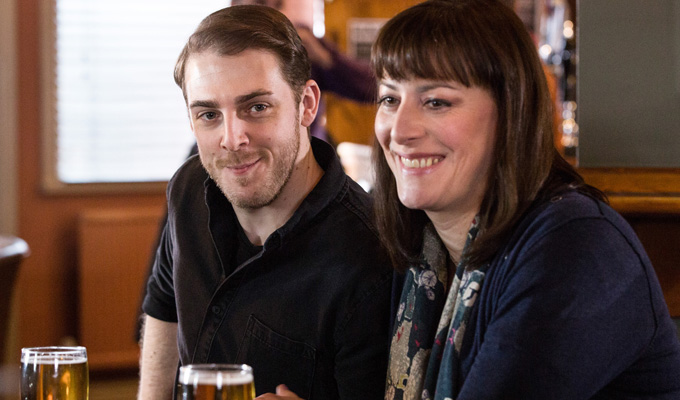 BBC axes Boy Meets Girl
Boy Meets Girl, the first British comedy to feature a transgender star, has been axed.
The cast of the award-winning BBC Two sitcom were told of the decision on Monday, with executives citing its declining ratings for their decision.
Rebecca Root, who played lead character Judy accused the BBC of 'selling us short' by axing the show after two series.
'Everyone's really sorry that the show's come to its end,' she told Chortle. 'We're all very disappointed.'
Series one launched in September last year with 1.5million viewers, but its return this July attracted 630,000 for its opening episode, slumping to a low of 328,000.
Root suggested that schedule changes, moving from an autumn to a summer broadcast and from 9.30pm on Thursday to 10pm on Wednesday, contributed to the ratings drop.
Audience figures were cited in an email to the cast from Kristian Smith, the show's executive producer and the BBC's commissioning editor for comedy in England, confirming the cancellation.
He also said the story had reached a natural conclusion with the wedding of central characters Judy and Leo (Harry Hepple) at the end of the second series.
However Root – who acknowledged that 'everyone at the BBC has been really nice about it' – said the show still had legs.
She said: 'I'm not a commissioner, but the way I see shows going is that you establish your territory with the first series, you consolidate with the second and then you develop things in the third series - you can then open it up and really get into the meat of the story.
'I felt that while series two didn't have quite the same tone as series one it was establishing a level. We were all looking forward to series three to get going… I felt that they were selling us a bit short by pulling it after two.'
Creator Elliot Kerrigan told Chortle he was 'so gutted' about the cancellation, but added: 'I think it's for the best. I want the audience wanting more rather than thinking "Is that show back again?"
'The ending we had for the end of series two will be hard to top. We even had a round of applause in the final scene to thank the audience for watching.'
Although he felt it was 'groundbreaking' to feature a lead trans character, it 'was really about two families and we did a good job of smuggling in a character that audiences hadn't seen before'.
The writer also suggested that he and co-writer Simon Carlyle have ideas for a third series if the sitcom were to be picked up by another broadcaster but reflected that 'I'm happy with that romantic ending.'
Boy Meets Girl was developed following the BBC's Trans Comedy Award sought out writers to promote a positive representation of trans characters, and went on to win other awards including the Stonewall  Trans Media Award.
A BBC spokesperson said: 'We are tremendously proud of BBC Two's Boy Meets Girl, but after two series feel the story has reached a natural end point.  
'We would like to thank the creative team behind the show and of course the entire cast.'
Its supporting cast included Denise Welch, Nigel Betts, Lizzie Roper, Jonny Dixon and Janine Duvitski.
– by Jay Richardson
Published: 28 Sep 2016
What do you think?