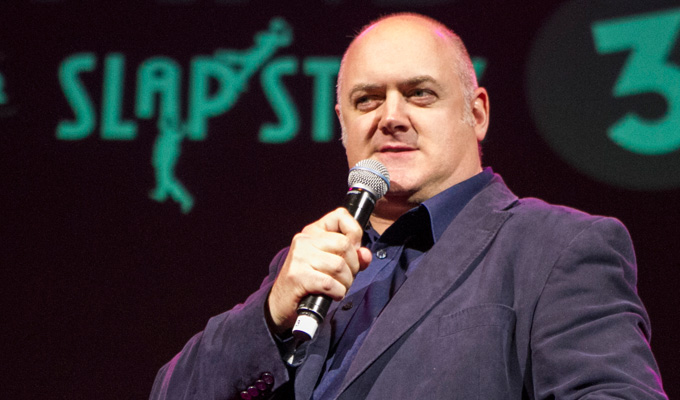 Was Dara O Briain a saint in a previous life?
• 'When I was doing Spitting Image, Kate Robbins threw a party and Des O'Connor was in the corner playing a white grand piano, wearing a white suit and I thought, "This is what showbiz parties are all about."' Hugh Dennis.
• Dapper Laughs is to become a dad. The laddish comic, real name Daniel O'Reilly, has been in a long-term relationship with model Shelley Rae, also known as Rae of Sunshine, and the impending birth was announced in the society columns of The Times. Kidding! Geordie Shore reality star Gaz Beadle revealed it in the Daily Star.
• Despite the cost of PR at the Edinburgh Fringe, most press releases go unread. So we have to applaud the comedian who sent us an unmarked package in the post; which opened to reveal a fortune cookie, with no accompanying note. But inside the treat, a plug for her show. Take a bow, Louise Reay, whose stunt was almost more apt since her show Que Sera? at Just The Tonic At The Caves is in Chinese, as it explores non-verbal comedy:

• Comedy, bringing people together. Jewish comic Lewis Schaffer has landed a Palestinian sponsor for his Fringe show. After securing the ideal with Arab Cargo, the New York comic said: 'I am unbelievably thrilled that someone has shown faith in me, even if it from someone who has deep disagreements with me. My own people - by that I mean the Jews and the Americans - have never supported me. You always hear how Jews look after their own but Spielberg hasn't called, nor has Woody Allen thrown me a bone. Even David Baddiel won't return my phone calls.' Though maybe the sponsorship isn't entirely a proud one as the owner said he wants to remain anonymous (public records show the company is owned by Mahmoud Agha) and when Chortle contacted them, they said: 'No comment.' 'God bless Arab Cargo,' Schaffer said. 'And may that be any God they want.'
• Could Dara O Briain be a direct descendant of St Brigid? One keen-eyed fan spotted this stained glass window and spotted an uncanny resemblance:
@daraobriain is it just me or did you model as St Bridget for a stain glass window?? pic.twitter.com/5tukl4lyUU

— Barry (@BarryA_82) July 25, 2016
• And talking of lookalikes... Is this the canine version of Mick Miller?


Spotted on Facebook by Hayden Parker.
• Jason Manford admits he might not have made it in a 'normal' job - after only lasting for five hours working for Burger King. He got the sack after just half a shift following a row over lunch, he told listeners to his Absolute Radio show. He was told he could have a free Burger King meal, but the 'proper battleaxe' of a manager only allowed him a kid's Junior Whopper Meal. So he duly made himself one with a slice of cheese, only to be called back. 'She took the top off, peeled the cheese off the meat and drops it in the bin,' Manford recalled, since employees weren't allowed cheese. 'What I did - because I was a petulant teenager - was I went to McDonald's in my Burger King uniform, got a meal, brought it back to Burger King and ate it in the front.'
• A US bakery has made a life-sized version of 'Weird Al' Yankovic out of doughnuts:

I've always WANTED a life-size replica of myself made entirely out of doughnuts… thanks, @voodoodoughnut! pic.twitter.com/2A3sdpT9rP

— Al Yankovic (@alyankovic) July 29, 2016
•
Tweets of the week
My wife is like a fine wine. I keep her in the cellar.

— Marty Lawrence (@TeaAndCopy) July 25, 2016
I got the UKIP version of Cluedo for my Christmas. That's the one where it doesn't matter who did it you just always blame the immigrant.

— John Scott (@JohnScottComedy) July 26, 2016
I remain steadfast in my belief that 'the Duchess of Cambridge' sounds like a sex position.

— Damien Owens (@OwensDamien) July 23, 2016
Published: 29 Jul 2016
What do you think?