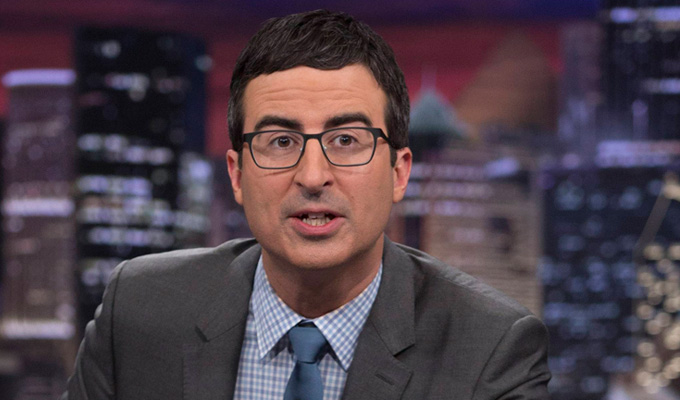 John Oliver's $15m giveaway!
John Oliver's comedy show has wiped out $15million of debt from the American public.
The comedian joked that his giveaway dwarfed the $8million value of Oprah Winfrey's stunt when she gave all 300 members of her studio audience a car in 2004.
His largesse followed an expose of the shady personal debt market in America on his HBO show, Last Week Tonight,
During last night's episode, the comic examined the companies that buy old debts which the original creditors have been unable to collect. The agencies, described as 'shockingly easy to start' then try to recover the money aggressively.
The industry has also given rise to 'zombie debts' which people believe to be settled, but come back to life. 'Zombie debt comes back from the grave, is incredibly hard to deal with, and seems to disproportionately affect minorities,' Oliver told his audience.
He then explained how his researchers set up a debt buying operation which acquired a package of medical debts totalling just under $15million - for less than $60,000. Oliver's debt company was then given the personal information of the 9,000 in that portfolio – which the comic described as 'terrifying'.
At the end of the segment, the comedian decided to wipe out the debts of those people. He said: 'It seems the least we can do with the debt I cannot fucking believe we own, is to give it away. You're about to watch me give away $15million.
Yelling: 'Fuck you, Oprah!', Oliver hit a large red button, releasing a flurry of notes. 'It is done!' he said triumphantly. 'I am the new Queen of Daytime Talk.'
On last night's show, @iamjohnoliver took on debt. A lot of debt. https://t.co/EWUTYwRfJh pic.twitter.com/jbZugAxpRG

— Last Week Tonight (@LastWeekTonight) June 6, 2016
Published: 6 Jun 2016
What do you think?