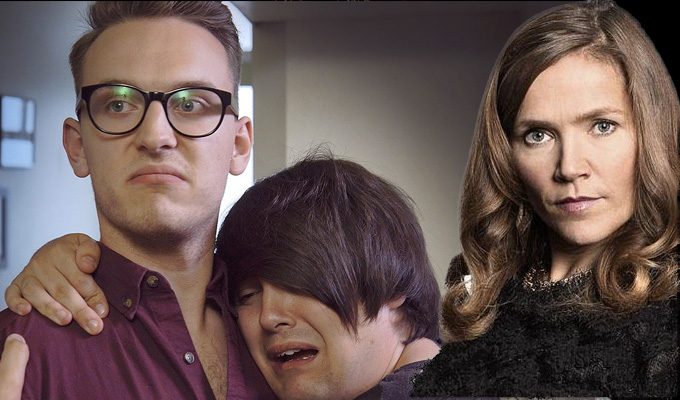 Jack & Dean & Jessica
Jessica Hynes is to star in a new comedy show with viral stars Jack and Dean.
The duo have been commissioned to make a series for new US on-demand service Fullscreen, which aims to offer a youth-orientated rival to the likes of Netflix.
Jack & Dean of All Trades is one of eight commissions the new service has announced ahead of its launch on April 26.
It will comprise six 11-minute episodes, based on the premise of Jack Howard and Dean Dobbs signing up to a temping agency after finding themselves unemployed after graduating from university. Hynes will play their 'esoteric and quirky' employment agent Marv.
Jack and Dean tackle jobs such as bakers, babysitters, and morgue attendants in each episode, which will also feature musical numbers.
Other programmes scheduled for Fullscreen's launch is a talk show hosted by internet star Shane Dawson; a reboot of 1970s superhero series Electra Woman & Dyna Girl;teen drama Filthy Preppy Teen$, set in a high school for the wealthy and beautiful; and nerdy discussion show Kingdom Geek.
The new commissions are part of 800 hours of programming available from the $5-a-month service – or rather 'video membership experience for the social-first generation', as it describes itself.
Its catalogue includes old TV shows such as Dawson's Creek and Saved by the Bell and movies such as Talladega Nights: The Ballad of Ricky Bobby.
Howard and Dobbs have been working with each other since 2008, and their YouTube channel boasts 500,000 subscribers.
They previously piloted a sitcom, Ghost Fighting Corporation, which was backed by Hollywood director Ron Howard, and have persuaded Amy Schumer to take part in one of their sketches.
Published: 31 Mar 2016
What do you think?