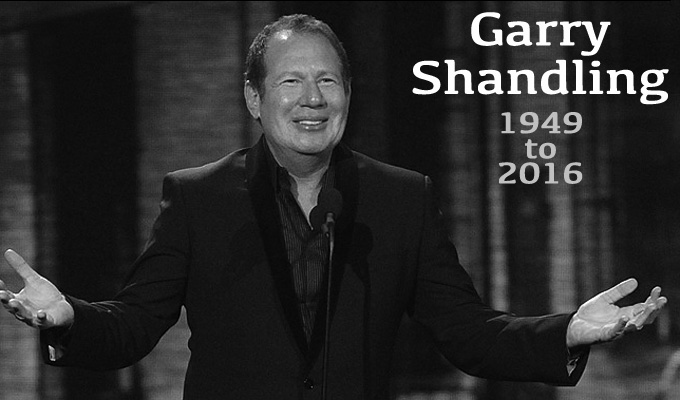 Garry Shandling dies at 66
Garry Shandling, inventive star of The Larry Sanders Show, has died at the age of 66.
No cause of death has been given. Reports say paramedics responded to an emergency call at his Los Angeles home, he was then taken to the city's St John's Hospital where he died.
Fellow comics were quick to pay tribute on Twitter.
Steve Martin said: 'Garry Shandling was a very special comedian with a beautifully unpredictable mind. He even voluntarily offered jokes and ideas for Oscars.'
John Cleese said: 'Sad about Garry Shandling. Larry Sanders was WONDERFUL,and at my daughter Cynthia's wedding he made the funniest bad taste speech ever given.'
Billy Crystal said: 'Garry Shandling was one of the most brilliant people I have ever known. A shocking huge loss.'
Ricky Gervais, who once interviewed Shandling in an awkward TV special, called him 'one of the most influential comedians of a generation'; and Matt Lucas called him 'a true television pioneer'.
Originally from Chicago, Shandling started out in advertising before moving to stand-up in 1978. He made his first appearance on The Tonight Show with Johnny Carson in 1981, and would go on to be a regular guest host until 1987 – an experience that informed his most famous role.
But before Larry Sanders, he deconstructed the artifice of sitcom in It's Garry Shandling's Show, which ran on the Showtime channel from 1986, its stars regularly breaking the fourth wall.
In 1992 he created The Larry Sanders Show, which ran for 89 episodes until 1998, to huge critical acclaim. It was nominated for 56 Primetime Emmy Awards, winning three, and even won a Bafta despite irregular scheduling when it was show in the UK.
Here he is speaking about the role:

After several years away from the spotlight, he recently began appearing in superhero films, playing Senator Stern in Iron Man 2 and Captain America: The Winter Soldier.
Shandling never married and leaves no children.
Published: 24 Mar 2016
What do you think?