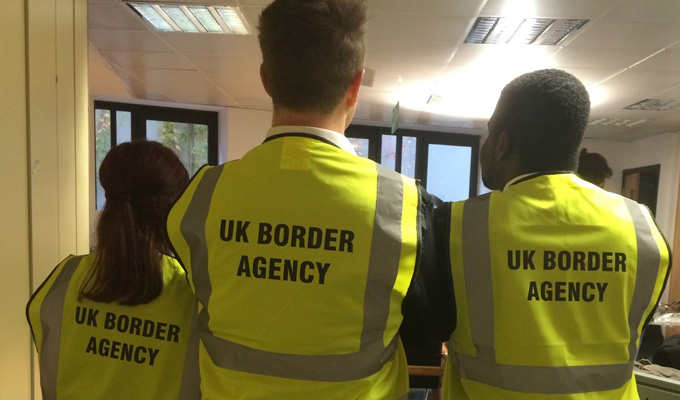 C5 orders improvised border guards mockumentary
Channel 5 has ordered an improvised mockumentary based around border guards. 
Borderline is the broadcaster's  first narrative comedy series in almost a decade and is set to feature celebrity guest stars alongside a cast of Britain's top improvisers.
The cast of a non-broadcast pilot last year included Briony Redman, Joseph Morpurgo, Paul Foxcroft, Phil Whelans, Rachel Parris, Brendan Murphy, Amy Cooke-Hodgson, Inel Tomlinson, Chris Gau, Mike Orton–Toliver and Ralf Little. However, it is not certain which actors will take part in the series. Morpurgo is no longer in the project.
Six half-hour episodes have been ordered by Channel 5 from Little's production company Little Rock. 
In an interview with the Press Association today, the Two Pints Of Lager star said: 'It's all improvised…It's a spoof mockumentary based loosely on the show UK Border Force and shows of that type.
'It's about a group of border agents and the minutiae of their job and how they try and do it as best they can while getting it wrong. I wish I could tell you if the scripts were any good but there aren't any. It's going to be interesting!'
The show was devised by Michael Orton–Toliver and Chris Gaul, directed by  Stephen Pipe and produced by Zoe Rocha.
A Facebook page about the show says: 'Borderline is a ground-breaking comedy series based on the hottest topical issue in Britain today - immigration. 20,000 dedicated men and women protect Her Majesty's borders, Borderline follows the inept agents that work alongside them. 
'It's ground-breaking because of the way it's made. The basic plot elements of the show are scripted, then the cast and celebrity guest-stars improvise the dialogue.'
Channel 5 has been out of the comedy business since 2007, when it aired Sharon Horgan comedy Angelo's and the comedy thriller Suburban Shootout. However, the channel is undergoing a transformation since media giant Viacom bought it in 2014 from Daily Star owner Richard Desmond. The broadcaster co-commissioned the UK version of Impractical Jokers with sister station Comedy Central last year.
Published: 10 Feb 2016
What do you think?