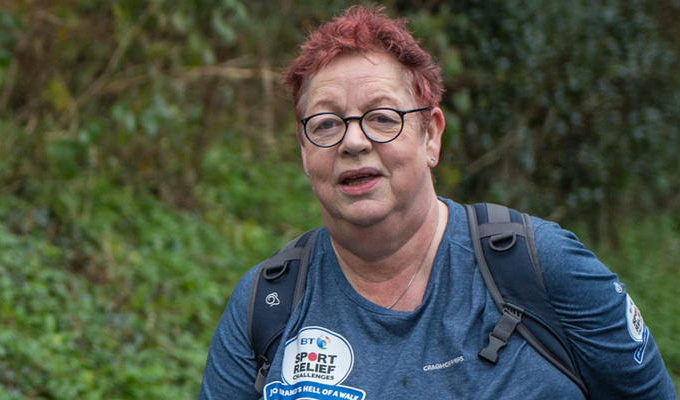 Jo Brand completes her 'Walk Of Hell'
Jo Brand has finished her 150-mile coast-to-coast walk for Sport Relief, ending up in Liverpool last night.
As she crossed the finishing line, she joked: 'People always say at the end of these things, "I didn't do it on my own," but honestly I did.
'I am so shattered now I don't know quite what I'm going do, but I might just sit down on the floor.'
For the final section she hiked the 22.5 miles from Warrington in nearly 12 hours.
In the seven days since setting off from the Humber Bridge she has braved 70mph winds and horizontal rain across the Pennines, while raising more than £650,000 for the charity.
Bill Bailey, Lee Mack and Alan Davies gave her support en route and John Bishop was at the Royal Liver Building to welcome her arrival just before 7.30pm.
Brand's trainer Greg Whyte said: 'She wasn't technically active before. She was such a long way from being where she needed to be to achieve this. For me she's come the greatest distance of any challenge we have ever done. Utterly amazing.'
Brand, 58, admitted she did the challenge to show "fat, old women' that they can walk.
The final distance she walked was revealed as 135.7 miles as bad weather forced her to take a different route than originally planned.
Here is Brand's arrival in Liverpool:
<iframe width="640" height="360" src="https://www.youtube.com/embed/DY5T1fLUIbA" frameborder="0" allowfullscreen></iframe>
Published: 29 Jan 2016
What do you think?