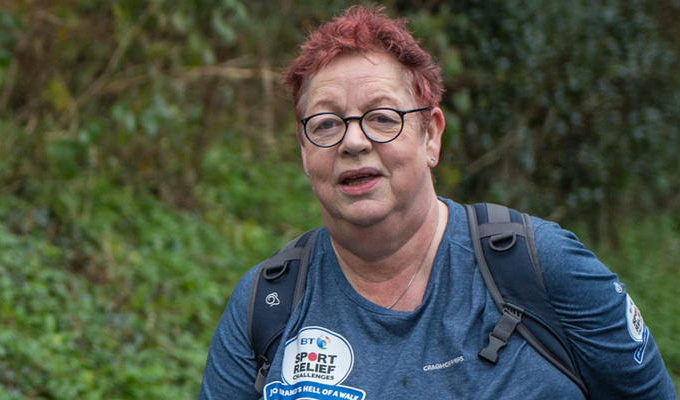 Jo Brand's 'Hell Of A Walk'
Jo Brand is to take part in a 150-mile coast-to-coast trek for Sport Relief.
With her 'Hell of a Walk' across the Pennines, she follows  pervious challenges undertaken by David Walliams, Eddie Izzard and John Bishop.
She will start her walk in in Hull on Friday and hopes to reach Liverpool within seven days.
The 58-year-old comic  said: 'When I first started training for this challenge, I didn't realise I was not the national fitness icon I'd always believed myself to be. My body is a temple - it's big and it doesn't move!
Brand could faces snow and ice during her walk, which will  burn around 6,000 calories each day and will be filmed by the BBC.
She is the latest comic to embark on a physical challenge for the charity. Eddie Izzard ran 43 marathons in 51 days in 2009; David Walliams swam the length of the River Thames in 2011; and John Bishop  cycled, rowed and ran the 290 miles from London to Paris in 2013.
But Brand's trainer Greg Whyte told the Daily Mail: 'Unlike any other challenger we've had she's utterly physically naive. She's in her mid-fifties, she's the mother of two teenage girls, and she's never done anything like this. 
'Even people who have proper experience of ultra-long walks wouldn't choose a coast to coast for their first big challenge.'
Brand admitted: 'The realisation is gradually dawning that I have to walk a very, very, very long way and that is a gruesome thought - along with many days back-to- back with only my poor little fat legs to carry me. 
'But the hope is that the walk will raise as much needed funds for people suffering from mental health problems, like depression, which will keep me going. And, if it doesn't, I will give Greg  full permission to push me off the top of a massive hill.'
Click here to sponsor Brand. 
Last week it was announced that Idris Elba will be playing Luther in a comedy sketch alongside Lenny Henry, Rio Ferdinand, David Haye, Denise Lewis for the Sports Relief telethon.
The actor said: 'I am so proud to be lending my support to this cause again. Over the past year I have seen how important the work that Comic Relief and Sport Relief do on the ground as they helped in the fight against Ebola in Sierra Leone.'
The skit will air on BBC One on Friday  March 18.
Published: 18 Jan 2016
What do you think?