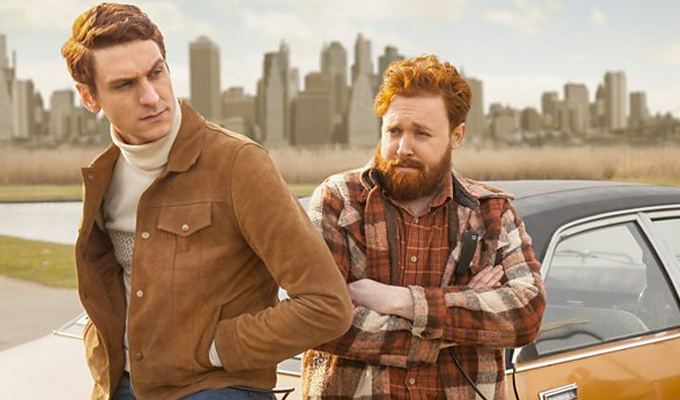 TV review: Top Coppers
Top Coppers invites comparisons with Naked Gun – or more specifically the Police Squad TV series that inspired the movie franchise. It's a stupid police procedural, packed full of daft jokes mocking the serious tones and melodrama of old American cop shows like Dragnet.
But that doesn't mean the show, starring live circuit favourites Steen Raskopoulos and John Kearns, doesn't have its own appeal. At first it seems cheap and cheesy, it's over-stylised retro look overpowering. And that includes both leads sporting a peculiar shade of orange hair not seen outside of 1970s wallpaper, giving the Top Coppers copper tops.
But like fellow 2015 BBC Three comedy Murder In Successville, the show has a preposterous, charm that grows on you. A couple of throwaway risque gags aside – the dubious video rental history of Raskopoulos's John Mahogany character for example, – Top Coppers has the innocence, energy and commitment of a children's TV show – and probably some of he same jokes too. And that's even before the cute hamster makes his unlikely appearance as a zipline daredevil. Cheesy, this most definitely is.
Some of the running gags we've seen before, the shouty black police chief meme is always mocked and Donovan Blackwood can't really do anything with it. But having the computer specialist played by a child, Rio Myers, amuses. Watch out too for Rich Fulcher as the corrupt mayor of Justice City, stand-up Phil Wang as a deadpan cop colleague McGockey, and character circuit regular Gabby Best last the unnerving forensics officer.
It doesn't match the excellent Brooklyn Nine-Nine for quick-fire sass, but Top Coppers could well be a grower in terms of undemanding distraction over the next five episodes.
- by Steve Bennett
• Top Coppers is on BBC Three at 10pm tonight
Published: 19 Aug 2015
What do you think?