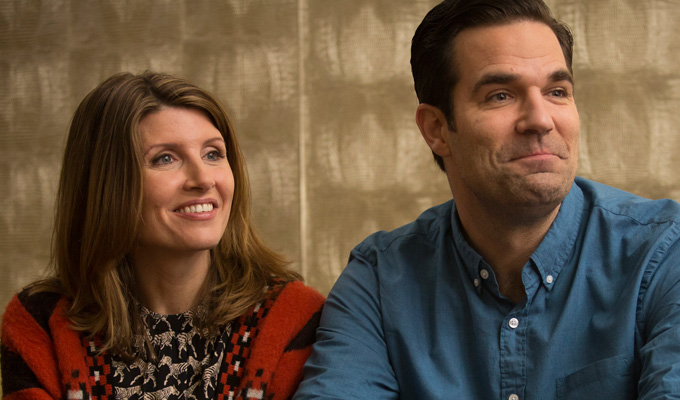 A global Catastrophe
Channel 4 comedy Catastrophe has gone global – signing deals to be shown in ten more countries.
The show, written by and starring Rob Delaney and Sharon Horgan, has just launched in the States via Amazon Prime.
Now the distribution arm of co-producers Avalon have sold it to Norway, Belgium, Canada, Sweden, Denmark, New Zealand, Iceland, The Netherlands, Finland and Luxembourg too.
The deal includes both the first and the yet-to-be made second series of the show – a total of 12 episodes. Channel 4 is bringing forward the second season to this autumn to spearhead a new season of comedy.
In a marketing first, Amazon made the pilot episode available to a US audience via its Facebook page for 48 hours earlier this week, where it was watched more than three million times. The series will also be shown on Prime Instant Video in the UK later this year
The comedy has won plaudits in the States. The Hollywood Reporter called it 'a charming and decidedly salty series…an awkward yet sweet romance'; the San Francisco Chronicle praised its 'great writing with a savvy juxtaposition of comedy and sometimes ugly everyday real life'; and Yahoo said it was 'one of the smartest, most charming and funny shows you're likely to see all year'.
Buyers include subscription video streaming service Shomi in Canada, Sky in New Zealand, Channel 2 in Iceland and AMC Networks for the Sundance Channel in Benelux.  In Scandinavia all of the public broadcasters (SVT, DR, YLE and NRK) have picked up the series with further deals expected to be announced soon. 
Made by Avalon Television with co-producers Birdbath Productions and Merman Films, Catastrophe is produced by Jack Bayes, directed by Ben Taylor and has as executive producers Richard Allen-Turner, Kara Baker, Rob Delaney, Sharon Horgan and Jon Thoday. 
Published: 19 Jun 2015
What do you think?