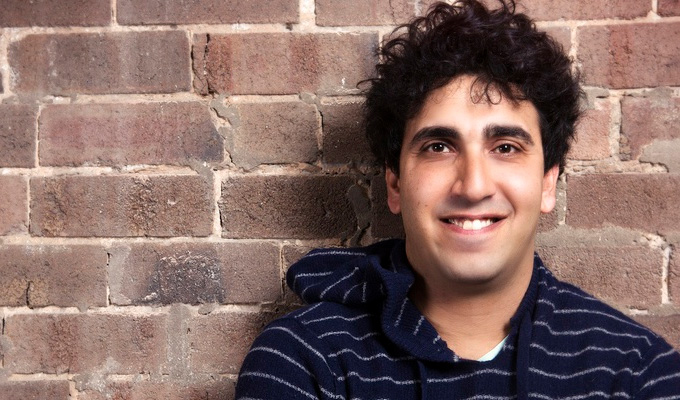 'You're a piece of shit and I hope you die'
A rape joke has sparked controversy at the Melbourne Comedy Festival – after an audience member staged a silent protest at the gag.
Sexuality and diversity student Cecelia Devlin left her seat and sat under her table after taking offence at the line.
In response comic Ray Badran said: 'Seriously, what's this girl's problem? Oh wait, you probably shouldn't ask someone whose just called out a rape joke what their problem is.'
He reportedly added: 'You're a piece of shit and I hope you die'.
The gag that sparked the outrage was: 'So you know how gay people can make jokes about being gay, and black people can make jokes about being black, well I can make jokes about rape.'
The incident came at an unofficial showcase night featuring comedians appearing at the festival, rather than during Badran's solo show.
Devlin told the Melbourne Age that her protest had 'clearly very much shaken him' and said she had to take a stand as it wouldn't be the only rape gag at the festival.
In a statement to The Age, Badran said it was the first time he had received a complaint about the joke in more than two years of telling it – during which time he estimated 50,000 people had heard it.
He added: 'Two weeks ago at the Sydney Comedy Store Chris Rock was in the audience and heard the joke and complimented me on the joke afterwards saying it was "one of the cleverest jokes he's heard".'
Some fellow comics sprang to Badran's defence, including Chris Wainhouse who tweeted: 'The joke in question isn't even about rape. It was about people being being stereotyped,' he wrote. 
However, other people backed Devlin. Newspaper columnist Clementine Ford tweeted: 'There is no one more over-sensitive than the whiny white male comics who insist everyone else just chill out and respect comedy's edge.'
And freelance writer and podcaster Anthony Nocera said: 'It'd be nice if just ONCE a comedian would apologise for being insensitive instead of starting a debate about censorship'
Published: 30 Mar 2015
Recent News
What do you think?