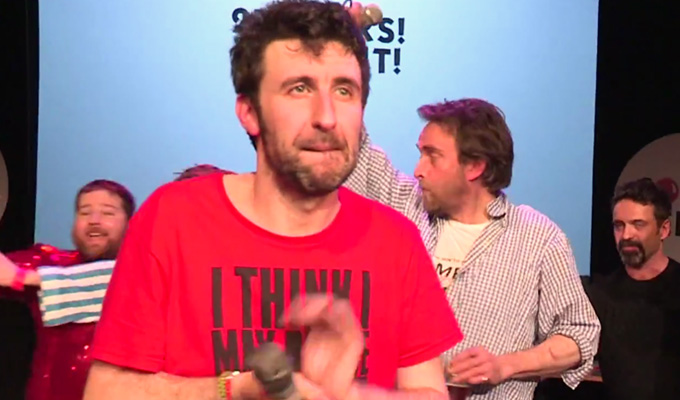 27 hours later...
Mark Watson's 27-hour show came to an end at midnight last night, raising more than £78,000 for Comic Relief.
Gillian Anderson, Jennifer Saunders, Tim Minchin, Miranda Hart and Russell Brand were among those who got involved in the marathon shenanigan.
X-Files star Anderson shaved comedian Tiernan Douieb's back (with hummus), Saunders brought her whippet along, and Minchin cut the hair of willing volunteers.
Speaking to Watson onstage, Brand declared: 'You are the core of British culture tonight,' before handing out ice creams to the crowd.
Anneka Rice also came along for a version of Treasure Hunt; Alison Moyet came to sing; Adam Hills put on a half-time show; Clare Balding taught the audience to ride invisible horses; and Mel Giedroyc delivered breakfast – distributing brioche to the crowd via a powerful tennis serve.
Lauren Laverne, Clive Anderson, Emma Freud, and Victoria Coren-Mitchell were among those paying a visit, while Susan Calman,  Emma Kennedy, Tim FitzHigham and Rufus Hound were among those on stage of the Pleasance Theatre in London for the full 27 hours. Marcus Birdman produced a mural of the event.
Other stunts over the duration included someone writing 'I am an idiot' over and over again, someone churning butter, someone trying to make as many new friends over social media as possible, and a Mark Watson-lookalike living as Mark while he performed live. See a rundown of some of the challenges  here.
Impromptu challenges involved stacking toilet rolls and 'the Great British Bend-Off'.
Partway through the marathon, Mark said: 'It's supposed to be a 27 hour stand up show, but there's not been a lot of what you could call comedy. So far, it's been mostly guinea pigs, hummus, and Gillian Anderson.'
And at the end, he said: 'It's been not so much a show, but more a collaboration between what ended up being quite a large number of people, so thank you very much for taking part. We raised quite a large amount of money for Comic Relief.'
The final total on the night was £78,257 – but donations are still coming in. Text MARK to 70005 to donate £5
The show was live-streamed from the Pleasance and the Twitter hashtag #watson24 also trended for the duration of the delirium-inducing show.
Here are some of the highlights:
Thanks to Zoe Fell and Katie Evans for providing this live blog for  Chortle.
Published: 1 Mar 2015
What do you think?