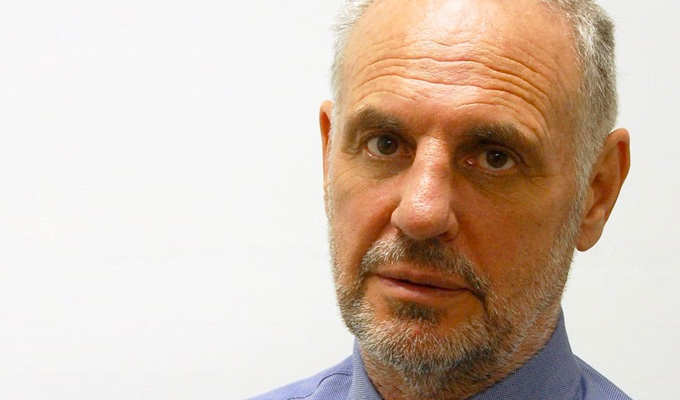 Dr Death's new career – as a comedian
The 'right-to-die' campaigner dubbed Dr Death after assisting patient suicides is coming to the UK – to perform stand-up comedy.
Philip Nitschke, the controversial founder of pro-euthanasia group Exit International, was the first medic in the world to administer a legal, lethal voluntary injection and has become known for inventing DIY suicide devices to allow ailing patients to end their lives.
Now Chortle can reveal that he is coming to the Edinburgh Fringe next year to perform a comedy show satirising some of the issues surrounding euthanasia.
The 67-year-old Australian admits some audiences will be shocked by his light-hearted approach to the subject, but says he has found that jokes help get his message – even in workshops advising patients about ending their lives.
'Yes, there will be some criticism for "trivialising" the topic,' he said. 'It's something we'll need to watch.
'I've seen this here [in Australia] as I tried to make the end-of-life workshops more entertaining. The 70-year-olds liked the jokes, but those much younger – often media doing stories – were often confronted or shocked at the apparent levity of these events. This says something about our inability to face our own deaths, except when we are forced to by age.'
He added that he had often been the 'entertaining' speaker at conferences, events and political rallies, saying: 'What I noted was the more the crowd laughed, the more the underlying issue got aired.
'With the euthanasia issue, meetings can become very funny affairs as the jokes are told, points made, and the 80-year-olds laugh along.'
In his 2013 autobiography Damned If I Do, Dr Nitschke talked about going into comedy if he ever got struck off as a doctor – and this year the Australian Medical Board suspended his licence; a decision he is currently appealing. However he said the suspension meant 'now is clearly the time' to embark on his new career.
The new show sprang from conversations with stand-up Mel Moon,who last year became the youngest member of Exit International – which has been dubbed a suicide club' by the media – at the age of 34 after contracting an incurable disease affecting the endocrine system.
'Mel has come along at the perfect moment,' Nitschke said. 'I like her style, and I'm keen to take to the stage under her tutelage. The fact that she has her own health battles makes the opportunity incredibly valuable and one not to be wasted.'
Moon was left in agony by a rare form of Polyglandular Failure – and she started preparations to end her own life to save her two children, now nine and four, from witnessing her pain when it seemed there was little that could be done to alleviate her condition. However an experimental treatment – yet to be approved by health watchdogs – has since allowed her to resume a more normal life.
'The drug started to turn my life around, but I don't know how long I've got,' she told Chortle. 'So I wanted to do a final great Edinburgh show; something spectacular. It has to be right.
'When I tell my story in club shows, it's the section about euthanasia that always gets the best reaction, so I decided to concentrate on that. I started asking Philip background questions, and it soon became apparent that he should be part of the show. And he was up for it.
'And despite his notorious reputation, he's actually quite funny. Not as natural as a stand-up, but more like a witty after-dinner speaker.We've been emailing stuff back and forward, and when he gets here in January we're going to work harder on it before our first preview in May.
'We're certainly going to prey on his reputation. We want it to be a ridiculous take on what some people think. We're going to parody some of the objections people have to euthanasia – such as the idea it'll be so freely available that everybody will want to do it.
'It is an awful, awful topic, but I think we can have a bit of fun with it. It's going to be a parody seminar with my story and various audiovisual elements. Think Brass Eye or Four Lions,' she says, citing controversial Chris Morris comedies. 'We want people to have empathy for the cause. There's plenty of room for comedy with purpose, but I'm aware we have to make the message palatable.
'We can be silly with it on stage, but we won't take the mick out of euthanasia itself, we'll take the mick out of people's reactions to it and take the mick out of my personal experiences'.
Moon, who has been a stand-up since 2007, is aware that she will face tough criticism for trivialising a serious subject – and even expects protesters outside the Edinburgh venue, Just The Tonic at the Caves, where she and Nitschke will be perfuming Mel Moon: Dicing With Dr Death throughout the festival. She often receives 'venomous' abuse for her views, particularly, she says, from survivors of chronic illness.
But she hopes that audiences will accept the humour since it stems from her first-hand experiences. 'I have overcome the darkness of my situation to say what I want to say, not say what will not offend other people,' she said. 'Comedy and tragedy go together for me. I've always been one to hide behind humour or else everything will fall apart. But when you're alone – or on Facebook! – that can be when darker thoughts can come.'
Moon says that the taboo covering the subject causes distress and even though her current treatment is giving her a good quality of life, she would not change her views.
'When I was ill, my biggest fear was not ending my life, but what people might think of it. I was terrified of people's reactions, but everyone close to me accepted as they could see the suffering I had to endure.'
'The stigma makes the situation worse; people considering euthanasia don't tell anyone. I wholeheartedly believe that if the issue was more open it wouldn't lead to more suicides since people believe in the sanctity of life and will not take the decision lightly. But when people are at their lowest they should be able to talk things though.'
Nitschke, who set up Exit International in 1997 after a stint campaigning for Aboriginal rights in Australia's Northern Territories, is currently awaiting the verdict of a medical tribunal into whether he will get his suspended medical licence back
The most headline-grabbing evidence concerned emails he exchanged with a suicidal but otherwise healthy man, Nigel Brayley, who subsequently took his own life. Nitschke was criticised for adopting an everyday conversational tone and not making any plea for Brayley plea to think again, although he argued he was being approached as a euthanasia advocate, not a medic.
Nitschke has helped four people end their lives, and provided advice to others who have subsequently done the same. When he came to the UK to lecture on voluntary euthanasia in 2009, he was detained for nine hours by immigration officials at Heathrow. And earlier this year police raided Exit International's offices in Adelaide, seizing computers they say they will confiscate for two years, after euthanasia advocate and terminal bone cancer sufferer Max Bromson ended his life in the South Australian city.
Published: 30 Dec 2014
What do you think?