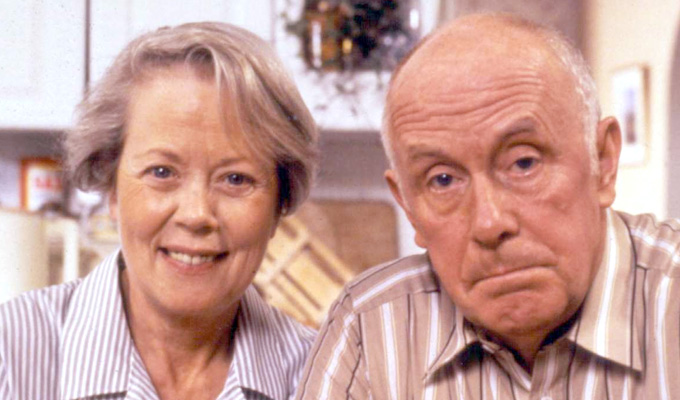 Les Dawson was almost Victor Meldrew
Les Dawson was almost cast as Victor Meldrew in One Foot In The Grave.
Writer David Renwick has revealed the comedian was his second choice for the role, which he had always written with Richard Wilson in mind.
However, the actor was resisted by BBC executives, and originally turned down the role himself – leading to the plan to use Dawson. 
In a documentary about the hit sitcom due to air on BBC Solent tomorrow, Renwick says: ''In the department there was some resistance to the idea of Richard being cast in the lead role. At the time he was regarded primarily as a supporting actor.
'And Richard famously turned it down after two scripts. We did go through this whole process of finding other people while trying to twist Richard's arm. But having seen more scripts, he finally came on board.'
Renwick knew Wilson as he had starred in the comedy series he co-wrote, Hot Metal, and was keen to continue the partnership. But when it looked as if the Scot was backing out, he started writing with Dawson in mind.
'[Les] would have been my second choice,' Renwick said. 'It would have been a different character; he would have taken it in a different direction. But he had the lugubriousness and the attitude which would have worked. Anyway that isn't happen.'
Producer Susan Belbin also revealed that BBC executives were not keen on Wilson either – after she signed the deal with Wilson while head of comedy Gareth Gwenlan was away on holiday.
When she told him, he said: 'On your own head be it! I'm not sure he's the right man for the part.'
Belbin replied: 'Oh, I'm sure you'll find he is'.
And she revealed that after One Foot In The Grave. became a huge success, she would always tease the commissioner with the phrase: 'On your own head be it!
Wilson has previously spoken of his reservations about taking the role, too, saying: 'I thought I was too young. Victor was 60 and I was 55. And there were some things about the script I wasn't sure about.'
'David wrote it with me in mind - it's hardly a compliment is it?'
Renwick also revealed there was a mix-up in the commissioning process after he submitted a speculative script to Gwenlan.
He said: 'I remember getting a bit twitchy and wondering if he would ever ring me back, so I eventually took the bull by the horns and picked up the phone, got hold of him. He said, "Oh yes, yes, sorry, I've been meaning to get back to you but I very much like it, and we'd like to commission you to do another script. I've only got one slight query which I think might be a bit more emphasis on why he's taken over this community centre in the first place and how he got in to that whole thing."
'I thought, "This doesn't sound like my show." It turns out he was talking about The Brittas Empire, which was also on his desk at the time. Then having been pointed out his mistake he says, "Oh yes, I like that as well…"'
Renwick also confessed that the Meldrew character was a 'blatant rip-off of Mr Hubley from Neil Simon's play Plaza Suite, as played by Walter Matthau in the 1971 film version.
One Foot In The Grave - A Celebration Of A Comedy Classic airs on BBC Solent at 3pm tomorrow. It will then be available on the iPlayer here
Published: 24 Dec 2014
What do you think?