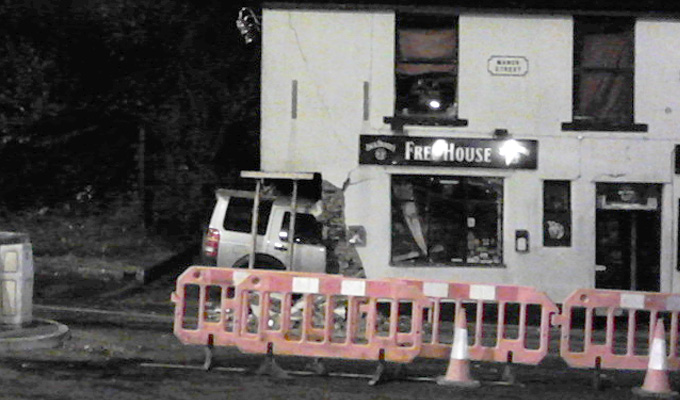 How was the gig? It was a car crash...
• A comedy night in Bolton was cancelled on Wednesday night - when a Land Rover smashed through the wall. The driver was arrested after the 4x4 smashed into the Dog and Partridge just before the Post Mayan Prophecy comedy night was due to start. Comic Ian Fox, who was booked to appear, said: 'I rolled up to do the gig and found this 4x4 in the pub. Luckily no one inside was hurt as they'd all nipped out for a smoke – proving it's not that bad for you.'
•
An advert for David Baddiel's current musical The Infidel printed in Metro proudly proclams that you should book tickets now – before it closes... 10 years ago. Huh?
• Mind you, not as bad as this printing error on a ticket for the Therapy Comedy Club:
• In the early days of Friends,network executives were worried that the character of Monica might be seen as too slutty – because she slept with a guy on the first date. 'They were really nervous, co-star Lisa Kudrow told Jimmy Kimmel this week. 'They said, "The audience won't like her cause she's sleeping with him on the first date! It's slutty!' Yeah! They actually made up a survey to give to the audience to ask them questions like, "So Monica sleeps with this guy, Bob the sales guy, on the first date, and how does that make you feel? A: I'm fine with it. B… something like that! It was a survey, and most of them were like, 'It's fine!' They seemed a little irritated like, 'Oh, knock it off!'"'
• In the wake of the Andrew Lawrence furore, this Buzzfeed quiz is fun: Which comedian are you?
• Mindy Kaling got mistaken for Malala Yousafzai at a New York party. A 'tipsy man in his 80s' came up to the 35-year-old comedian and told her: 'Congratulations on your Nobel prize', before expressing amazement at how well she had recovered from being shot by the Taliban. Kaling – who is twice the peace campaigner's age, said: 'Did he really think I'm Malala? And that if I were, I'd be at the Boom Boom Room?'
• When Armando Iannucci wanted to parody the vacuity of political TV programmes in 2006's Time Trumpet – a talking-head show set in the future – he filmed Stewart Lee imagining a Question Time masterminded by June Sarpong and featuring sock puppets. How preposterous! Fast forward to now and guess who's just joined the presenting team of Newsnight... And of course Cookie Monster has already made an appearance. Hat-tip to Time Trumpet producer Adam Tandy for reminding his Twitter followers of this clip:

• Chelsea Handler has accused Instagram of sexism – after the comedian posting a topless picture of herself riding a horse, similar to the famous Vladimir Putin image. The comic's picture was quickly removed for violating the 'community guidelines' – so she tweeted: 'Taking this down is sexist. I have every right to show I have a better body than Putin. If a man posts a photo of his nipples, it's ok, but not a woman? Are we in 1825?'
• A new addition to Dublin's sculptures was unveiled last weekend Mrs. Agnes Brown took her place alongside the likes of Molly Malone, Daniel O'Connell and Charles Parnell if only for one day. The life-size likeness was made out of polystyrene, and still took a sculptor and his assistant ten days to make. It was to mark the release of Mrs. Brown's Boys D'Movie on DVD.

• Aprospro of nothing, here's a new web series about open mics and semi-pro comics on the Australian circuit:

• Tweets of the week
Twop Twips (@TwopTwips via Pundamentalism): DAMAGE your postman's self-confidence this morning by complimenting him on his terrifying costume and giving him sweets.
Barry Arif (@BarryArif): Hello. I'm a top-class forger and I have a certificate to prove it.
Marty Lawrence (@TeaAndCopy): The first rule of Spite Club is – you know what, you don't deserve to know.
Published: 31 Oct 2014
What do you think?