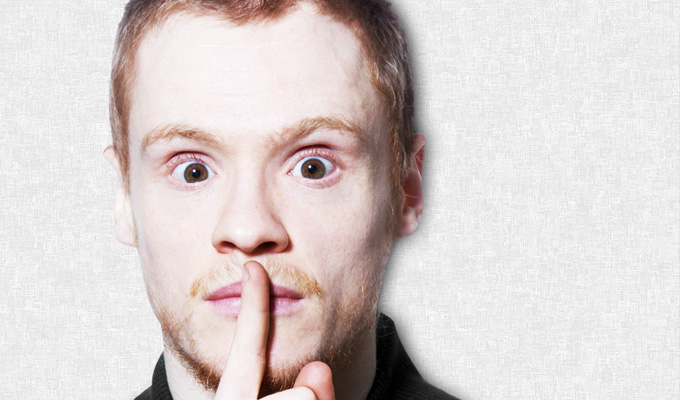 What a rant!
Stand-up Andrew Lawrence has sparked controversy after slating the 'unmitigated disaster' of immigration and blasting female and 'ethnic' comics on panel shows.
The comic faced a backlash after making a provocative post on Facebook, berating 'hack, boring and lazy' comics who crack jokes about UKIP. He claimed they only got work on the BBC because of liberal bias – while 'surreal diversity targets' determined who got to work on panel shows.
Lawrence – who makes much of his bitter disillusionment with the comedy industry in his act – also berated 'moronic, liberal back-slapping on panel shows like Mock The Week where aging, balding, fat men, ethnic comedians and women-posing-as-comedians, sit congratulating themselves on how enlightened they are about the fact that UKIP are ridiculous and pathetic.'
He went on to say 'there are far,far too many people living here' and that: 'The reason UKIP have resonated with voters is because all the other parties are too spineless to tackle the issue of immigration.
'Our elected representatives seeded [sic] control of the borders of this country to the EU and it's been catastrophic for us all, an unmitigated disaster.
'For every wonderful, welcome skilled worker our open borders bring into this country, there are also benefit tourists and criminals. For every person that comes here and contributes richly to our culture, there are those that refuse to assimilate, which breeds distrust and has led to a fractured, broken society, where people have lost all sense of community.
'Can't say that I'm a UKIP supporter, but I can see why other people are, and I don't disrespect them for it.'
Although his main beef was with 'out of touch, smug, superannuated, overpaid TV comics with their cosy lives in their west-London ivory towers taking a supercilious, moralising tone, pandering to the ever-creeping militant political correctness of the BBC with their frankly surreal diversity targets.'
When taken to task on Twitter over his 'women-posing-as-comedians' jibe, Lawrence responded: 'That's what they are. Open-spots who've taken easy breaks that have been gifted to them. Can't say I blame them, I'd do the same.'
Despite his complaints against the BBC, Lawrence won their new act competition in 2005 – and has made three series for Radio 4 – two series of What To Do If You're Not Like Everybody Else in 2010 and 2011 and one How Did We End Up Like This? in 2012. And he has another, There Is No Escape, coming this autumn.
His Facebook post went viral, attracting more than 700 comments – even after deleting many of the critical ones.
However the backlash was still prominent. Dana Alexander – a black comic and immigrant from Canada – raged: 'I get enough stick in this world without having to hear some entitled hetero sexual middle class white man to tell me I didn't have to work for my shit.'
Fellow Canadian Mae Martin called the post 'disgusting' and told Lawrence: 'You should consider immigrating to the States as your half-baked opinions would do well on a network more aligned to your political views: Fox News.'
And Mel Moon said his comments about 'women-posing-as-comedians' was a slap in the face for those who worked with him on the circuit. ' What you've done is make life harder,' she said. 'We expect comments like this from pissed-up stags who think they can talk when a bird comes on as "they won't miss anything". We expect that but how much harder is it to change their mind now one of the circuit's great comics (historically great I add) confesses publicly he feels the same.'
And Mock the Week host Dara O Briain said: 'Hey Andrew, sorry I'm so aging, bald and fat, but as an an immigrant I'll retain my disdain for anti-immigrant politics.'
Read the full post on Lawrence's Facebook page
Published: 26 Oct 2014