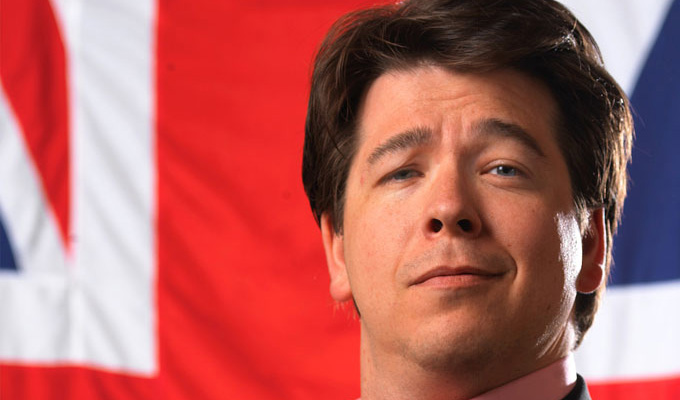 Loudmouth 'fan' drives McIntyre offstage
Michael McIntyre called a halt to a stand-up show last night – because of a woman talking persistently and loudly in the front row.
The comic came of stage at Darlington's Civic Theatre for several minutes towards the end of his show, designed to road-test material next year's Happy & Glorious tour.
He reportedly asked staff at the venue to address the situation saying: 'Security sort it out, I'll be back.' Some reports say she was on her phone, others that she was talking loudly to her companion.
Staff spoke to the woman after McIntyre left the stage, and some members in the audience chanted for her removal, the Darlington and Stockton Times reported.
The comedian returned to complete his set a few minutes later.
Audience members were supportive of his actions. Rachel Wright tweeted: 'Shame about the rude drunken woman in the front row.'
A fan called Kath posted on the newspaper's website: 'Michael McIntyre was brilliant and handled the phone lady very well throughout the show. She was an absolute embarrassment.'
And another fan wrote: 'Ashamed to be from Darlington tonight. Michael McIntyre will not come back and word will spread, rest assured that his management and anyone in their network will not send any more status acts to Darlington ever again. It was not just rude phone woman (who had been making loud, irrelevant interruptions from the start), it was the HUGE number of audience members who seemed to think it is OK to go to the loo in the middle of an act.'
According to another audience member, the disruptive woman wasn't on her phone but having loud conversations with her niece sitting beside her. When confronted by McIntyre, she allegedly told him: 'It's my show and if I want to talk to my niece I will, thanks.'
McIntyre has had a tough weekend after his stepmother went to the papers to reveal that his father, Kenny Everett's writer Ray Cameron, took his own life. The comedian said he was 'heartbroken over the release of 'painful and personal' information, which had been kept secret for more than 20 years. Cameron's widow Holly, now 58, told McIntyre and his sister Lucy the truth four years ago, although making the information public was a blow to the comic.
Published: 14 Oct 2014
Recent News
What do you think?