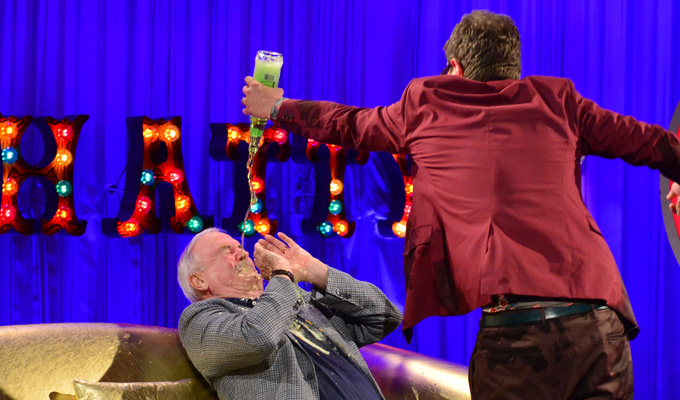 I can't believe I just did that to John Cleese...
• 'British comedian
Eddie Izzard
visits Ryman'. Headline in a US newspaper (Turns out it's a venue in Tennessee not a stationery store).
• It's time for the annual 'arbitrary censorship' story from the Edinburgh Fringe programme. Pretending Things Are a C*ck is clearly too much for Fringe-goers, so appears online as that. No, what your show needs to sneak past is a cunning disguise… like an umlaut. The student comedy show Mrs Thundercünt's Splooge Adventurers! got through unhampered by the blue pencil (well, until the powers that be read this, probably…) And Shit Of The Fringe gets through, but Sh*t-Faced Shakespeare doesn't.
• It started as a radio station promising great comedy talent, but now FUBAR radio – which they want people to pay for – has announced it's signed Amy Childs as a presenter… following woman-harasser Justin Lee Collins and shock jock Jon Gaunt. Just what demographic are they going for?
• Alan Carr and John Cleese get into a drink-flinging flight on Chatty Man tonight.. here's how it got started:
Afterwards, Carr said: 'Oh I can't believe I just did that to John Cleese. I'm so sorry…' And exasperated Cleese said: 'What a way to treat a guest!'

• Following the 'Prozziegate' row over whether a promoter introduced an act as a prostitute, Bob Slayer recalls one night when he introduced an act TO a prostitute. He says: 'Sometime last year I was MCing a gig above a pub in Maida Vale. During the course of the night I introduced Tom Webb on stage and popped downstairs to grab a pint. Down in the bar I found an attractive tall black lady plying her trade, she was asking punters if they "wanted any business". I approached her and invited her to come upstairs, she took my hand and I led her up into the function room. Tom was in full swing and so I waited until there was a suitable gap in his set. I then delivered the nice prostitute to him on stage with the words: "I have bought you a lady". Tom who is 5ft 5in looked up at her, looked at me and then back at her. "Please pick me up..." he asked, which she promptly did and that is how the rest of his set was performed.'
• It looks more like a novelty napkin to us, but the Daily Mail caught Jimmy Carr using what looks a bit like a £10 note as a takeaway coffee holder…
• There's an art to choosing the right person to take part in audience participation, as this old clip from Whose Line Is It Anyway? proves…

• An app has been launched off the back of animated ITV4 series Warren United offering cleaned-up versions of football chants to 'save parents' blushes' if they take their children to matches. Example: 'The ref-er-ee's an anchor; he holds the match in place.'
• About 600 people were evacuated after a blaze broke out at Stables Market in Camden, North London, on Monday night – including comedians Stuart Laws and Chris Boyd, who were previewing their Edinburgh shows at the Berluskoni's venue there. Ironically, they both regularly perform a show together themed around disaster movies, entitled Natural Disasters. And perhaps in preventative move, Laws' show in Windsor on Tuesday is at the Firestation.
• Rob Brydon is selling off the 'disappointingly small' shoes he wore on The Trip To Italy for the St. Patrick's Mental Health Foundation. The size eights are being auctioned on ebay, where bidding currently stands at €56.50.
• Tim Vine has joined the ranks of the City bankers. He's been given £2,500 by spread betting group City Index to trade over the month, raising money (hopefully) for The Cure Parkinson's Trust. It's not entirely new to him, as in 1987, at the age of 19, he worked at the Stock Exchange for six months 'making tea'.

• Meanwhile, an aspiring teenage comic has landed some bookings after Vine invited him up on stage during a gig. The punmeister was chatting to the audience at the Connaught Theatre in Worthing when he learned 17-year-old Daniel Edison wrote jokes, so gave him the spotlight. The youngster – who had never been on stage before – opened with: 'This morning I made my friend an offer of £10 to use his Stannah stairlift and he took me up on it…' and landed enough laughs to prompt promoter Russ Bravo to offer him some future spots.
• Tweets of the week
Leah Kreitzman (@ lkreitzman ): Can't organise a steel band at a carnival is the new 'piss up in a brewery'. #ukipcarnival
June W (@rejunevated): I'm not buying the new Lego Twitter kit. It's full of blocks. Hahaha! *Laughs alone* :-(
And if you are despairing of the election results…
The QI Elves (@qikipedia): In 1967 in the Ecuadorian town of Picoaza, a brand of foot deodorant was elected as mayor
Published: 23 May 2014
What do you think?