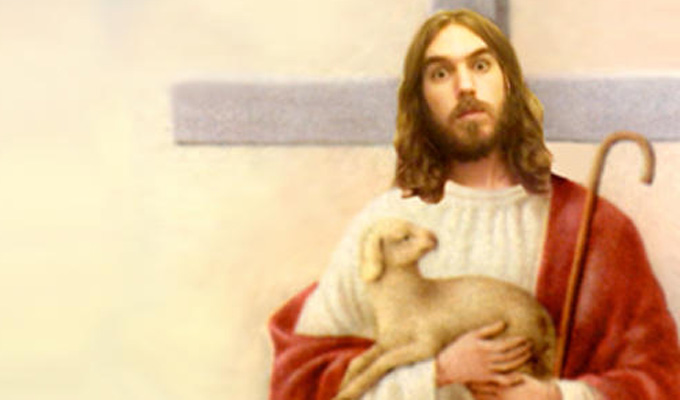 'Religious hate dressed up as comedy'
A comedy show in which the audience are invited to hurl abuse at a man dressed as Jesus has caused a storm down under.
In Come Heckle Christ, which is being performed at the Adelaide Fringe next month, comedian Joshua Ladgrove stoically braves the brickbats as he invites comments, questions, vituperation – and even projectiles –  from the crowd.
But several Christians are up in arms at what they see as the mockery of their faith, and have launched a campaign targeting BankSA, which sponsors the huge arts festival.
Many of the complainants say they will be withdrawing their custom, urged the bank to use its clout to censor the show, and claimed the institution would never support a similar show about Islam.
Father Joseph Michael Mary McShane of Perth said: 'I am disgusted you are sponsoring the "Come Heckle Christ" play at Adelaidefringe. Why don't you sponsor come heckle Mohammed or come heckle the homos! You make me sick and I will not be silent.'
Politician Fred Nile, leader of the Christian Democratic Party, waded in calling the show 'anti-Christian hate… dressed up as comedy'.
Dozens of protesters took to BankSA's website to post comments such as 'I bet if the tables were turned and Mohammed was mocked, there would be a Muslim riot. Shame on you, this is religious hate of the worst kind.'
Another wrote: 'I think you are to be very aware that not only Christians are watching what you will do in this decision, but that ultimately CHRIST Himself is watching what you do. I think if you go ahead in supporting the Fridge festival [sic] in general, let alone the 'Come Heckle Christ' act, you will find judgement in that you will loose A LOT of support and customers, but more than that, you will be judged of God on the day of judgement for your blasphemy.'
In reply to each complaint, the bank said: 'BankSA provides its support to the Fringe as an event comprising over 900 shows which has broad appeal to South Australians and visitors.
'We sponsor the entire event, but do not examine individual shows. Given the open access, non-curated nature of the Fringe, any artist can register an event and be a part of the festival.
'Please be assured we acknowledge and respect your concerns expressed about this particular show and have passed those concerns to Fringe organisers for their consideration.'
The Fringe has similarly stressed the open-access nature of the festival and that it 'does not censor any artist's work and it is up to the public to choose what they go and see'.
Ladgrove – who also performs as Dr. Professor Neal Portenza – has been revelling in the attention, posting on Facebook: 'This is the most fun I've ever had!!! I'm just worried that the hype won't match the reality! Such a stupid show... Christians are great.'
And he told Yawp magazine: 'I'm glad that the conversation has got people talking about it. Art is about creating controversy and conversation. But more than anything else, I've actually been surprised by the reaction. I thought Jesus was quite a passé topic. I myself am a moderate Christian agnostic and if people actually came to the show, they would see that the show is pro-Christianity.'
Ladgrove performed the unscripted show at the Melbourne Fringe in October without incident. Reviews called it 'tantalisingly controversial' and referred to how it played with taboos, testing 'just how far people were willing to press blasphemy' as they levelled vitriol at Christ. The unnamed critic for Heckler magazine called it 'the most memorable and daring performance I've seen at any Fringe:
In reaction to the protests, BankSA has also been showered with praise for backing the largest annual arts festival in the Southern Hemisphere.
Arts reviewer Richard Watts posted on its Facebook page: 'Congratulations on sponsoring the Adelaide Fringe. Artistic practice and diversity of opinions are an important aspect of modern democracy, and it's great that you're allowing such freedoms to flourish through your support of an institution like the Fringe.'
Aspiring comedian Bert Goldsmith added: 'Hi BankSA, just wanted to say good work for supporting Fringe in general, keep up the great work.'
The storm comes after politicians in Northern Ireland banned the Reduced Shakespeare Company's The Bible: The Complete Word of God (Abridged) – only to have it overturned.
Come Heckle Christ will be performed at the Adelaide Fringe on February 27 and the following two Thursdays.
Published: 31 Jan 2014
What do you think?