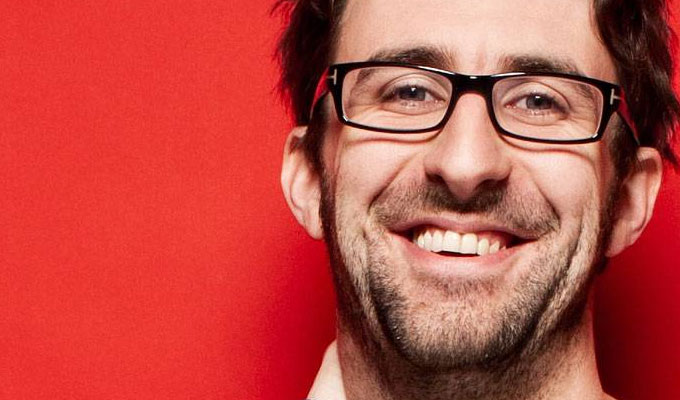 The novel with 100 extra stories
Mark Watson has written an interactive, Choose Your Own Adventure-style novel, described as 'The Great Gatsby with computers'.
Hotel Alpha will be accompanied by an ebook of 100 extra stories connected to the main plot like internet links, providing an 'alternative version', and allowing the reader to follow minor characters and digressions.
The comedian is planning a typically ambitious live show to coincide with publication next summer: an event with 100 performances running in parallel in one venue.
The launch – an 'epic' version of his critically acclaimed 2012 Edinburgh Fringe show The Hotel – will 'probably' involve a London leg and an Edinburgh leg, following a revival of the original play in the English capital.
Hotel Alpha, which will be Watson's fifth novel, is set in a five-star central London hotel against the backdrop of the internet revolution, spanning the Nineties to the present day. Run by Howard York, a 'slightly Gatsby or Willy Wonka-like' inventor of his own 'fabulous' life story, events are narrated by his blind adopted son and the concierge, who are forced to 'confront some awkward facts about the man who's their hero'.
'I wanted to do something enormous and ambitious,' Watson explains. 'And in order to tackle the subject of the internet and the changes it's brought upon us, it felt like I needed to do something huge and sprawling and interactive.
'And that's where it seemed to tie in with the idea of a hotel, because the rooms of a hotel are linked and co-dependent and yet they're all independent cells of activity at the same time.
'I wanted the electronic version to contain a huge amount of information which you can dip into. You won't have to read it, it's not essential. It's like deleted scenes or DVD extras - but I'm hoping it'll be slightly more than that, a sort of shadow version of the book, capturing the linked nature of the internet and the way a hotel works.'
Watson is still writing the 100 additional stories, which will be narrated in an 'omniscient' style similar to that in his novel Eleven – and he says that he suspects that at least one of them will feature a touring comic because 'statistically, one in every 100 people in a hotel is definitely a comedian.
'It seems a wasted opportunity not to plant myself in one in a tiny way, though it could also be really wanky to do so. I'll probably end up with one about a stand-up who's obviously not meant to be me, that's probably a good compromise.'
Influenced by novels with 'flawed, extravagant, self-mythologising figures', Watson reasons that if his 'elevator pitch' for the book doesn't catch on, he 'can always downgrade it to, I don't know, "Moby Dick with computers"?
He admits to being 'obsessed with hotels … this neutral space where pretty much anything can happen, this huge range of humanity, this traffic. But you never really know what anyone's up to, there's this melting pot atmosphere that's always attracted me.
'The difference with the Edinburgh hotel show is that there's lots more detail here, whereas at the Fringe we were allowed to do pretty much anything without thinking it through at all.'
Currently writing a new stand-up show, Watson is about to embark upon a short book tour of his latest book, The Knot and has drafted his next, provisionally titled Unhappy House, about 'the insanity of the property boom and the consequences of the crash', focused on a 'seemingly cursed house in Bristol'.
Before that, he will publish his first graphic novel late next year. Dan And Sam is 'a love story with a supernatural twist', which he's been collaborating on with illustrator Oliver Harud since 2007, 'a literary-ish thing with a couple of magical realist elements that mean it's better suited to that format'.
By Jay Richardson
Published: 2 Oct 2013
What do you think?