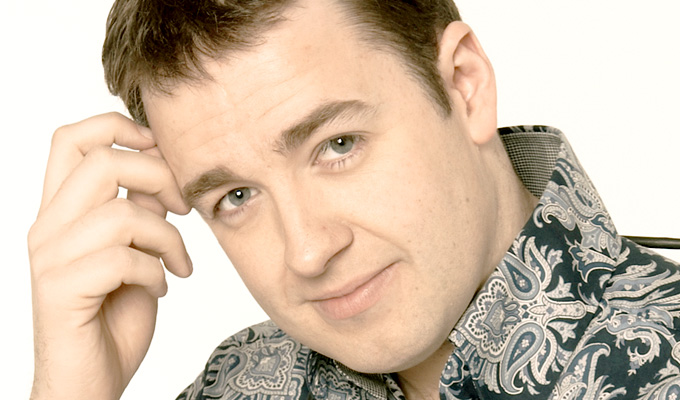 Don't feed the parasites!
Jason Manford has told his fans NOT to come and see him in Oxford – because of the extortionate booking fees charged by the theatre.
In an outraged post on Facebook, he raged against the New Theatre's owners which added a 'whopping' £8.90 on top of the £22.50 face value of the ticket.
Saying it's a rip-off that makes his 'blood boil', Manford wondered what the agency 'parasites' were doing for the money, since theatre-goes book online and print off their own tickets.
The theatre is owned by the Ambassadors Theatre Group, and tickets sold through its subsidiary ATG Tickets. Fees comprise a £3.90 per ticket booking fee, a £1 a ticket 'theatre restoration levy', and £4 per booking transaction fee's.
The comic – who is playing the Oxford theatre on Tuesday and Wednesday next week – wrote: 'Please, please, please do NOT buy these tickets. These booking agents are parasites of the highest order, over charging you and making it look like it's the performer. I can only apologise for the people already booked, God bless you I will of course put on my best show as I do every night. 

'I just wish I'd have spotted it bloody sooner but all that is left to promoters and such like but just know that after this tour I will never play an ATG venue again until they lower their preposterous booking charges. 
'I mean, you do it all your fucking self! That's what gets me, you log on, you choose your seats, you even print the bastard out at home! What are they charging for?!!? How are they getting nearly half of what I get when I'm the one who spent a year writing and perfecting it, driving to the gig, paying travel, accommodation, tour manager, promoters, agents, advertising, not getting to put my kids to bed 6 nights a week for 10 months!
'I do my best to never rip anyone off but this makes my blood boil. I'm kicking myself for not noticing it sooner! Argh!'
Fans can avoid all but the £1 restoration fee if they went to the box office in person, which Manford later discovered and added to his Facebook page.
This is not the first time ATG's booking fees have angered comics. Sarah Millican has refused to take her current Home Bird tour to any of the company's venues because of the fees.
When she announced her tour last year, she wrote: ''I don't agree with the extra charges ATG put on top of the face value ticket price to you the customer and a number of other restrictions they have in place so that's why I've avoided their venues this time round.'
As well as ATGtickets, Ambassadors Theatre Group owns 11 West End theatres and 20 others around the country including the King's in Glasgow, The Palace and The Opera House in Manchester and New Alexandra in Birmingham – and the biggest theatre on Broadway, The Foxwoods Theatre.
Last year the company reported profits of £7.4 million and net assets of £21 million. It has been named as Britain's second fastest growing privately-backed company.
An ATG spokesman said: 'ATG's ticketing operation is selling tickets on behalf of the producers of shows bringing their shows to our venues. All, or the vast majority, of the sales income from the ticket goes to the producer, hence the need to charge for ticketing operations separately.
'ATG and its ticketing arm also provide an extremely high level of customer service and the ticketing fees cover the costs of providing this service including the staffing, systems, UK-based call centre and associated administration costs. However booking fees only apply to customers who buy on the phone or online. The range of fees can vary depending on show genre and ticket price.
'Substantially more than 50 per cent of our customers do not pay booking fees. These are customers who buy their tickets in person at our venue box offices.'
'ATG is also on the board of STAR, the official ticketing  industry organisation,  which agrees procedures (i.e. a code of conduct) to ensure consumers get clarity over what they are paying and  to protect consumers against opportunistic and unofficial ticket selling and touts.'
He also plugged the £30-a-year ATG Theatrecard, holds of which avoid booking fees for most shows, among other benefits.
Published: 17 Sep 2013
What do you think?