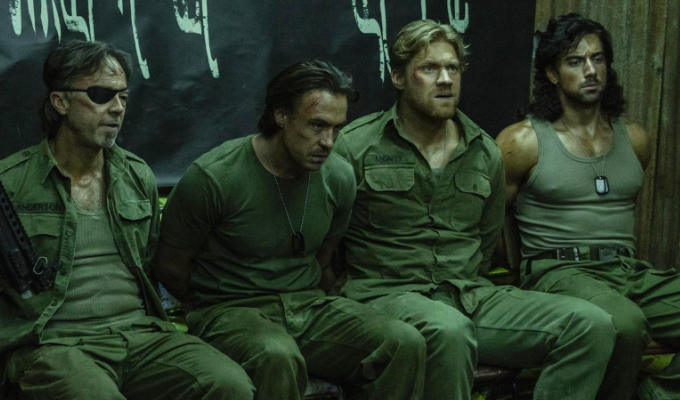 'This show is a bonkers deconstruction of fame and identity'
Australian comedy series C*A*U*G*H*T – about soldiers kidnapped on a secret mission to a war-torn island – arrives on ITVX next week.
And the twist is that the hostages enjoy the fame their ordeal lends them, so team up with their captors to make viral videos.
The comedy – whose cast includes Sean Penn and Susan Sarandon – emeged from a friendship between the four young Australian actors who play the hostages: Kick Gurry, Lincoln Younes, Alexander England and Ben O'Toole. They hit it off while sharing a house in Los Angeles in 2016 as they tried to make it in Hollywood.
Gurry, who is showrunner and director, said: 'The central kernel was that I was fascinated by why everybody seems to love Australians.
'What I decided is that Australians are not chameleons. When our environment changes, we don't change with it. Whether it's a funeral or a wedding, we tend to behave exactly the same way. I think most cultures have a game face and a non-game face – a way they act in front of their friends, and a way they act around people they don't know. I don't think Australians do that.'
His idea was to put a bunch of Australians in 'the wildest situation I could put them in' – captured by freedom fighters on the fictional island of Behati-Prinsloo – 'and have them still exist as they would if they were on a footy trip or at a wedding'.
He said that the contrasting real-life personalities of the four actors was key to the comedy.
'We are all so different, but when the four of us are together, there's a dynamic that's magical in the weirdest way,' co-star Younes said. 'When Kick posed the idea of C*A*U*G*H*T to us, we talked about our own personalities, as well as characters we had auditioned for, and how ridiculous it would be to hone different parts of each of us, to create heightened versions of ourselves.'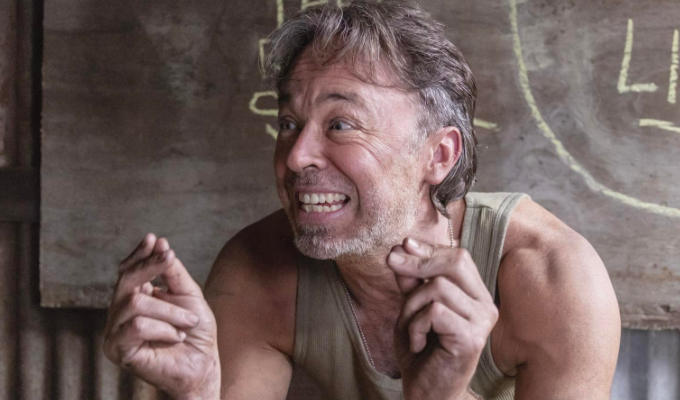 Gurry, above, wrote the script during lockdown, which he says 'was a time of great upheaval globally, but also a time in which I felt there was a fair amount of censoring and self-censoring of creative content.
'The show for me was an attempt to reconnect to an idea which I firmly believe: that a lot of social progress happens through comedic deconstructions of reality.
'When you watch something like Life of Brian – although the Catholic Church resisted it and some people thought it was very inappropriate – a lot of what Monty Python were joking about and commenting on we now take as absolute gospel, so to speak.'
Another influence - obvious from the stylised title – is M*A*S*H, which Gurry used to watch with his parents,
'That was the show, for me, that broke the mould of the serious deconstruction of war,' he says. 'Some episodes of M*A*S*H are the most heartbreaking television you can watch. They're devastating, but it's also a comedy.'
Gurry says his show capitalises on the modern global obsession with fame and identity, both as individuals and groups.
'I think many of us wonder what the hell's going on at the moment – where we belong, which side we're on,' he says. 'This show is a bonkers deconstruction of this moment, which can ignite conversation. For me the only way we evolve, intellectually, is to challenge and to provoke ideas, and C*A*U*G*H*T comes out of a desire to do that.'
After coming up with the idea, he teamed up with producer Brendan Donoghue to shoot a 15-minute sample, which they could tout around.
'It was perfect timing for me,' Donoghue says. 'I had been looking for a long-form project and suddenly Kick was there with this epic idea. I knew we just had to go do it. Within a short time, we had put a crew together and we rolled cameras for three days.
'Out of that period came a proof-of concept film that just seemed to gather steam and fans wherever it went. Sean Penn saw the 15-minute piece and immediately recognised the potential.'
Through what Gurry calls 'a series of unbelievably fortuitous events… Sean Penn contacted me and said, "I want to help you get this made." To have such an uncompromising creative maverick champion this show was amazing.
'This is the first show I've made, but I quickly realised you face at every hurdle two options – one can progress you forward quite easily and the other is difficult. And usually, the difficult route is the one you want to do, because every compromise dilutes the project.
'Sean would say: "if we're doing this, we go all the way." That was a huge, huge creative support and mantra. It made it easier to lean into those difficult moments of trying to push forward along the more difficult road.'
Penn came on as an executive producer as well as playing a fictionalised version of himself. 'I wanted to break down the idea of movie stardom and how the world sees him, and his humanitarian efforts, and subvert that a little bit,' says Gurry. 'So he's playing Sean Penn, but he's not really playing Sean Penn.'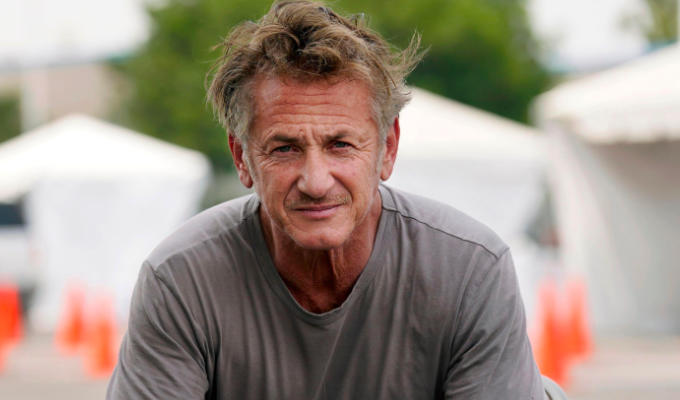 Penn himself, above, says: 'Kick's brand of irreverence is so charged by an enthusiasm for all things considered inappropriate – from ball-sacks, to fame, idiots and intellectuals, and finally to that creepy-crawly continuum of war. C*A*U*G*H*T captures the comedy that is generally confined to fox holes.'
Many of the characters in C*A*U*G*H*T were written for the actors who play them. 'When you leave a set as an actor, everyone always says: "if you ever make anything, I'll come and do whatever you want me to do," Gurry says. 'It's a nice thing to say, but the heartwarming thing has been that everyone who said that actually came and did a role. That was probably the best part of the experience – very talented friends really showing up."
Alex England, who plays Phil Choi, sees the four central characters as 'bonded by a shared idiocy'.
'That's their common language,' he says. 'And in that sense, it's a fraternity. They're brothers in madness and nonsense. Family comes with love, but also sometimes hard conversations need to happen. And we see all of that play out through the season.'
His character was raised by Korean parents who until recently he believed were his biological mother and father.
'Phil has gone through life holding onto a belief which was ripped away from him,' the actor says. That sent him into a spiral where he doesn't know what's real and what's not. Phil questions everything that happens in front of him and we see what that does to his sense of self.'
Younes – who played Casey Braxton in Home & Away for three years – is Albhanis Mouwad, described as 'a pansexual Lebanese Australian with a giant dick that his father has always resented him for'.
He says: 'They're all flawed and broken and they all have strengths and weaknesses, but the four of them together create one solid human.
'It will be really fun for the audience to watch – to see how their assets and flaws help or sabotage their mission. Beyond the four of us, we had an embarrassment of riches in terms of talent. The cast was amazing. To turn up and see what each person brought to the day was a wonderful thing.'
Ben O'Toole plates Rowdy Gaines, a 30-year-old man-child with a hair-trigger temper and a never-ending thirst for misadventure. He has a sick daughter, Indy, and sees the plan to become famous as his way to find true freedom and save Indy.
'Rowdy is a beautiful character in that he asks the question: "what would you go through to save your child's life?" That grounds the events in the PoW camp in reality, and gives us permission to do absurd things, but for every absurd moment there is a moment of truth and gravitas,' he says
'I think that's what Kick's scripts captured beautifully. We're putting the audience's heart in their throat, then the very next line they'll be pissing themselves laughing.'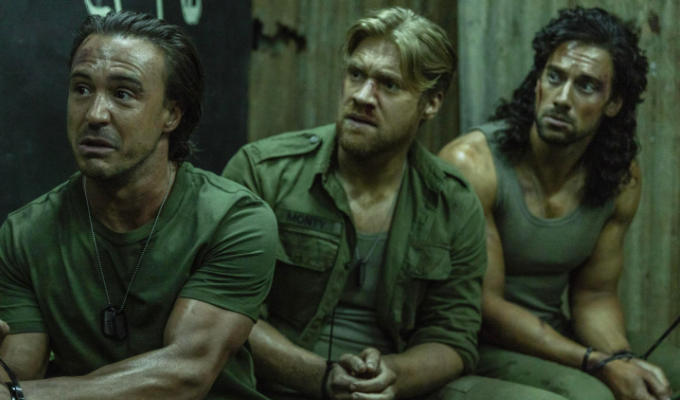 Gurry's own character, Dylan Fox, was an aspiring actor on the cusp of his big break who became a laughing ​stock when a breakfast television skit went terribly wrong.
'Dylan is a failed actor, and I had some good source material to draw upon over a long period of time working in the industry,' he says.
On what he hopes viewers will get from his show, he concludes: 'The hope with C*A*U*G*H*T is that the audience will have no idea what's going to happen next. The television and films that I grew up loving, like Monty Python films and M*A*S*H, you didn't know where the story was going to go. They're the stories I've always loved and hopefully C*A*U*G*H*T will have that same quality to it.'
• C*A*U*G*H*T is on ITVX from October 12. It was released on Stan in Australia last week.
Published: 3 Oct 2023