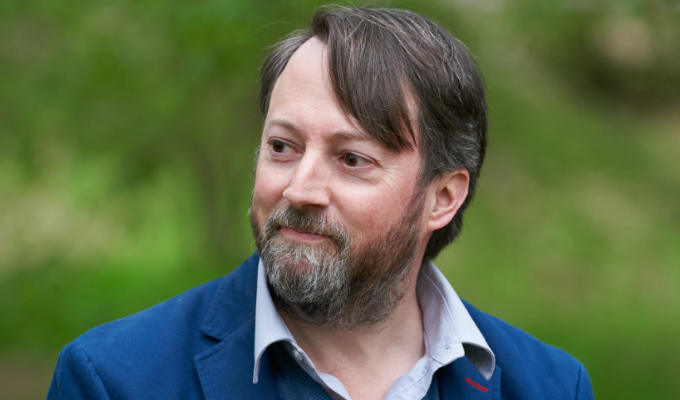 'People assume comedians are nasty... but they are actually quite supportive'
Comedians get an unfair rap by being portrayed as competitive, self-centred and jealous, David Mitchell says.
He said: 'People assume that comedians are slightly nasty but they are quite fun and supportive in general, I find. Comedians are more supportive than people think.
'You think of them as sarcastic people cutting others down but if you're trying to make people laugh as a job, your instinct when someone else is trying to do the same is to laugh and be supportive.'
Mitchell said he was particularly struck by their camaraderie during the filming of his new Dave show Outsiders, in which comics had to undertake a series of Boy Scout-style outdoor challenges, such as cutting down trees.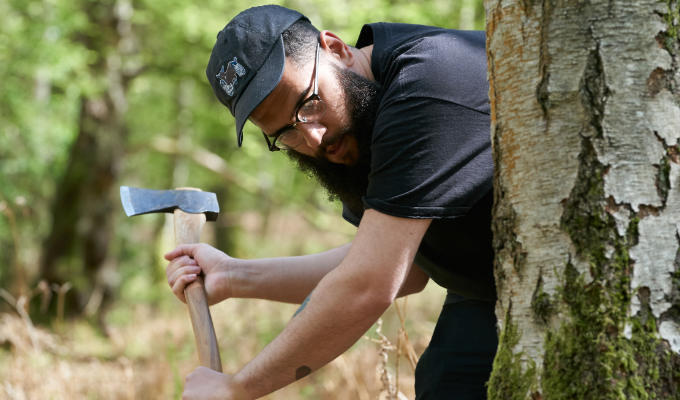 'Something I noticed, watching the edited shows, was how much people are laughing at each other's jokes,' he said.
Mitchell plays a Taskmaster-style role on the show, judging the efforts of the competitors Ed Gamble, Lou Sanders, Kerry Godliman, Jamali Maddix, Jessica Knappett and Toussaint Douglas.
He also had a hand in shaping the show's format after he was first approached by the producers.
'The scouting idea wasn't my idea and then I adapted into something I modestly describe as "better",' he said.
'When we were first discussing the show, the idea was more just about getting the comedians involved in some outward bound experiences,' he said.
'I thought that could be quite funny, but what would give a bit more grist to its mill is if it was about the human condition – which we're all thinking about more than we were before there was a global pandemic.
'We're all, thinking about what it means to be a human organism and what the means of survival are and what we do if there's no loo roll. Suddenly we realise we can't make loo roll and are relying on huge numbers of things to stay alive all the time and maybe that's not wise.
'I thought that approach rather than just an adult Scout approach would be more funny because it's more serious. Good sitcom is fundamentally about some quite frightening, dark things about people who are trapped in existences they don't like.
'I think if you don't have any sense of nastiness and the fear and the failure of life underlying comedy, then it's just a cracker joke. The contemplation of mortality.'
His comments about an ominous undertone come as something of a shock to Godliman, who was also present at a screening to launch the series.
'While David is going down the apocalypse route, we were there having a lovely time,' she said. 'The apocalypse? That was not in the brochure!
'I did keep mentioning it,' Mitchell responded.
'It was a real downer!,' she said.
'Yes, I kept on reminding everyone we're all going to die… The contemplation of mortality. This is spoiled by that. I'm sorry.'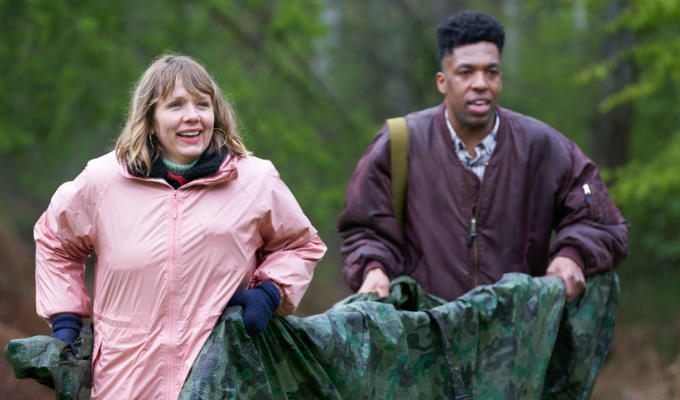 Mitchell added that as well as choosing comedians to take part because they are 'funny, fun, nice, collaborative people' – they were also among those who had been 'most existentially threatened by the lockdown'.
'Because, stand-up comedians, they go into rooms with lots of people, and tell jokes, and the people need to sit next to each other and laugh and laugh and expel lots of virus molecules,' he said.
'So I felt that this was particularly appropriate that this group of people would be made to think "well hang on. If you know society starts to break down, then a living cannot be made talking into a microphone in a crowded room".'
Asked who was his favourite of those who took part, Mitchell said: 'I don't have any favourites among my children… but they're not my children so I can say Ed Gamble's my favourite, he's a very respectful young man.
But he joked the comic had fallen into 'bad company' by being paired with Sanders, 'a troubled, troubled woman'. 'Before you know, all the respect has gone,' he lamented. 'All the desire to succeed has gone.'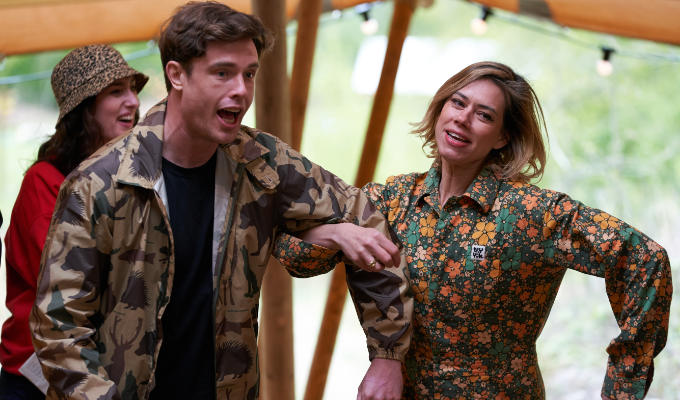 As for his own role, Mitchell said: 'I like being the failing authority figure because I think all authority is a bit funny. It's ridiculous I'm in charge – I don't know anything.
'I think we live in an age where we know that all authority is deeply flawed. I feel that when I'm put in a position of authority, there's no one more frightened that I am. And the best thing to do is acknowledge it and hope someone's stronger will take charge.'
Certainly his own outdoorsiness might be open to question. For while all the comedians slept in tents during the filming of the show, Mitchell was whisked back to his own bed every night, given that his own experiences of camping amounted to one night in his friend's garden at the age 11.
'I got to go home every evening and no one else did,' he gloated of his experiences on Outsiders. 'In most contexts getting to go home every evening is the least you expect isn't it? But suddenly in the land of the blind the one-eyed man is king! They are in tents and I'm not in a tent. I mean Henry VIII didn't have a DVD player but he felt rich because he had more venison.'
He said of his love of modern comforts: 'I'm going to enjoy this civilisation while it lasts and then I'll be killed in the first wave of looting. When there was a nuclear threat I found it comforting that I lived quite near Brize Norton. I'm not interested in a nuclear winter. I just want to be incinerated in the first wave of things. I think that's the sensible thing.
'That is the message of the show. Instant incineration.'
• Outsiders starts on Dave at 10pm on Wednesday September 29.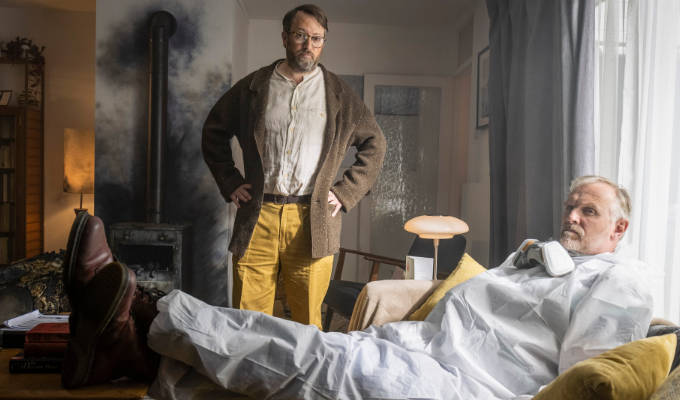 'A lovely return to pre-pandemic life'
David Mitchell also appears in tonight's episode of The Cleaner on BBC One, alongside Greg Davies.
'I play an irascible and self-involved writer apparently oblivious to the gory family tragedy that just happened in his living room,' he said. 'When I read the script, the character's lines really leapt off the page as immediately funny and speakable. That's extremely rare, so I was immediately keen to be paid to say them on TV.'
And in keeping with his love of home comforts he said the best thing about filming was breakfast, saying: 'On location shoots, there's always a fried breakfast available at the start of the day and, having not done any location filming for ages because of Covid, I felt justified in really tucking in. The whole experience of filming a funny script in a house for a few days was such a lovely return to pre-pandemic life all round. We were shooting in April and it was one of the first things that made me believe that life really could get back to normal.'
The Cleaner is on BBC One at 9.30pm tonight.
Published: 17 Sep 2021
What do you think?