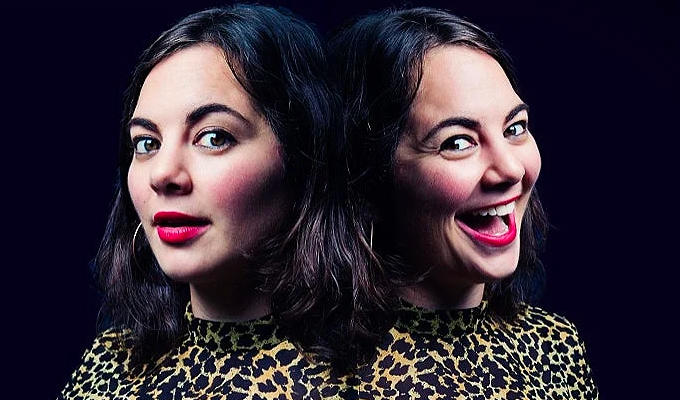 This show is my most raw self laid bare...
Isabelle Farrah is a British-Lebanese actor, comedian, and writer, whose Edinburgh Fringe show Ellipsis, at Assembly Roxy, looks at the public and private faces of grief, suicide bereavement, and authenticity…
What have you learnt about yourself and your comedy during lockdown? Has it changed anything?
Lockdown was really hard. I'm a classic extrovert, so not being around people was tough. I'd also just left my day job to commit more full time to comedy and take my show to the Fringe last year, so I was devastated not to be able to do much.
That said, I learnt a lot about myself and so the material that I'm writing now is a little more nuanced and not rooted in the mundane day-to-day.
Did you do any Zoom or drive-in gigs? How did you feel about them?
I did a lot on Zoom and streamed. It wasn't ideal, I like being on stage and in front of a live audience but I still got a huge amount of adrenaline from them. I wouldn't pick it and I didn't love them, but it was an outlet in a difficult time and I was grateful for them.
What does the Edinburgh Fringe mean to you?
The Fringe in 2007 when I came with an awful student play was where I first saw stand-up comedy. It's an incredible place where you can experience things that wouldn't come onto your radar in London.
I've always tried to see a mix of things: all kinds of theatre and comedy. I think this can really inform your work as a creative. It's also amazing to be around other performers full time. This job can feel very isolated because you work on your own, but being around others doing the same thing every day is great!
What would your perfect Fringe day be, in a normal festival year?
A quiet breakfast without a hangover. Maybe catch an early-ish show, have a macaroni pie for lunch! Then I'd have an existential panic about how I haven't eaten any vegetables for three days and buy a banana.
I'd watch some stand-up in the afternoon/early evening with every intention of going home to make myself a nutritious dinner. I inevitably wouldn't have time and just get another macaroni pie, or, if I was feeling fancy, find a falafel wrap.
I'd watch more stand-up in the evening and then, after thinking that it would be a good idea to go home early and watch TV, I'd probably end at the roast battle, or some other comedy with some people from the London circuit.
Finally spend about seven hours in Pleasance Dome debating whether Katherine Ryan is a British or American style comedian before rolling home ten hours later than I intended to. As I get into bed I promise myself I will never eat a macaroni pie again.
What's the best experience you've ever had doing comedy?
The weekend before lockdown in March last year, I MCed a gig for 300 people at Rich Mix in London. It was at a point where I suddenly really felt like a comedian, and the first time I'd MCed for a crowd anything like that size. It was a great line-up, with Maria Shehata headlining. It went really well and I came off stage feeling on top of the world and like anything was possible.
What does your show reveal about you?
Everything. It's my most raw self laid bare. It's about grief and bereavement and comedy - if I'd hidden anything while writing it it would have been obvious, so nothing's left out.
If you have special walk-in music for this show, what is it, and why did you choose it?
I generally stick to something non-descript and upbeat. Maybe Motown? I talk about this in the show though - you have to pick something that puts the audience in a good mood.
Describe your show in the form: 'the bastard child of X and Y on (drug Z)'
The bastard child of Daria and Coco on Rosé and a hash brownie.
• Isabelle Farah: Ellipsis is on at Assembly Roxy - Central, 4.15pm, until August 14. More details.
» Chortle's listings of all the comedy at the Edinburgh Fringe
Published: 8 Aug 2021
What do you think?