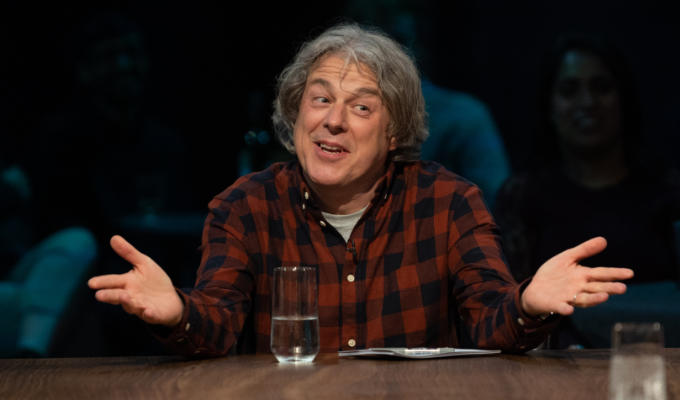 'We normally tape an hour of absolute filth that doesn't air'
Alan Davies' comedy chat show As Yet Untitled is returning to the Dave channel later this month, after a four year gap. Here he talks about the new series, which was recorded at the Roundhouse in Camden, North London.
How does it feel to be back?
It's very exciting… because being out the house itself has been exciting. And all of the guests seem to be terrifically excited to be in the company of someone other than their families.
We've had to wait quite a long time for another chance to do the show, so it feels really fresh. It feels new, especially with the new venue, so everyone is very upbeat. It can only go downhill from here.
Can you remind people what to expect?
They really are about funny people trying to be funny while telling stories that are generally funny, they are the butt of the joke or something humiliating has happened.
I'm always surprised by what comes my way, I never know what the stories are going to be, which is the best way to do it.
And what's been nice is that we've got a bigger table this year, there's a bit more room, people talk to one another perhaps more than they used to or maybe I'm imagining that I don't know.
It's free flowing and it's all off the cuff apart from everyone's little anecdotes that they have come with, so it's quite intimate, you do feel like you're part of the chat.
Who's joining you this series?
Well, Joanne McNally and Harry Hill, Sara Pascoe, Ade Edmondson, Darren Harriott, John Kearns, bags of people, really good people. Sarah Keyworth, lots of new people that I haven't met yet. Helen Bauer, who's hilarious, Rachael Fairburn and then lots of really well-known people, some of whom are coming back. We've got Richard Ayode, Dara O'Briain coming on, so we've got a really good bunch.
So, in the Roundhouse this series, how does that feel?
There's lots of space in the Roundhouse but because it looks so nice and because it's famous and much loved, I think people just like coming here. It's just a nice place to be, you say to people, 'We're doing it at the Roundhouse' and they say 'oh, great!'
Are there any stories since we last saw you that you can't wait to tell us?
My dog caught a crow... it's been quite a low-key year! It got away by the way, because I think that might be an offence under the 1981 Wild Birds Act. It easily fought her off.
Who would be your absolute dream guests?
Well, I've got so many comic heroes, like Chris Rock, Steve Martin and Tina Fey but they're all locked down in the United States. I suppose it would be great to have all the cast of Ab Fab – we can't have dear old June Whitfield, but Jennifer Saunders and Joanna Lumley would be great.
But to be honest, we've had most of the people that you'd want to have! One of the nicest things about this show is that people want to come on and they enjoy being on.
This time the series is also a podcast too, how will that differ from the TV showt
I think that there is more in the podcast, there's more stuff. We record quite a lot and on Dave they have to cut it down to four relatively short sections for an hour of Dave telly and we've normally got at least another hour of absolute filth. So, look forward to that!
We don't aim high but you know Radio 4's output is extensive.
• Alan Davies: As Yet Untitled returns to Dave at 10pm on Tuesday July 27. Guests in episode one are Darren Harriott, Sarah Keyworth, Angela Scanlon and Dara O Briain.
Published: 8 Jul 2021
What do you think?