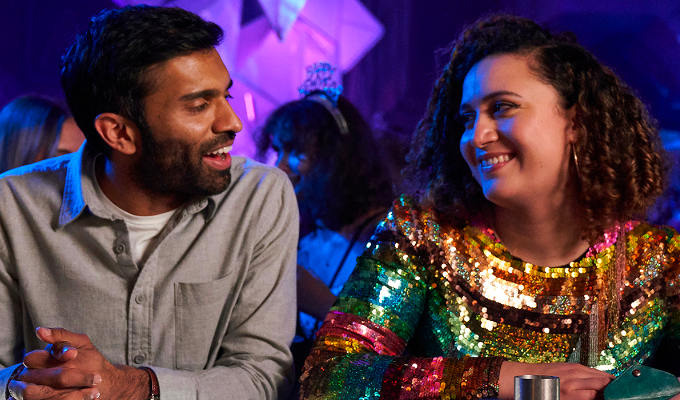 'I'm a nerd - this is all theoretical!'
As an unabashed fan of romcoms, it was perhaps inevitable that Rose Matafeo would write her own.
But while her breakout 2017 stand-up show, Sassy Best Friend, lamented the fact that she was probably too unconventional to be anything but a kooky sidekick in a Hollywood tale, in the BBC's new Starstruck, she puts herself (or rather her alter ego) front and centre of the faltering love story between a flighty twentysomething and an major movie star.
Given the trend for autobiographical comedies, especially from stand-ups known for their no-filter honesty like Matafeo, the London-based New Zealander has to admit the plot is entirely fictional.
'People have been constantly asking, "So who was it?, when did this happen to you?",' she says. 'I'm like, "It didn't happen to me. I swear to God!"
'But then I'm now feeling: is that pathetic? That's the most pathetic answer because the alternative to that is that I made it up. It's wish fulfilment. Okay! This is my dream. My secret.'
With her customary frankness, she adds that the fictional romance awkwardly playing out on screen between her character, Jessie, and the A-list actor Tom – played by Nikesh Patel – is the only one happening in her life right now..
'I'm a nerd and this is all theoretical stuff to me,' she explains. 'I've figured out that Nikesh is the only person I've kissed in the year. So that's cool. That's awesome. And that's the worst thing of my life.'
'I overshare,' the 29-year old admits – a trait she shares with her creation, who hooks up with Tom for a one-night stand at a nightclub. The rest of the six-part series revolves around them trying to figure out what their relationship is, through playful, endearing encounters and clumsy, misunderstood attempts to express their feelings.
'My taste in comedy is that I love naturalistic performances and stuff that feels "real world",' she says . 'There's quite a lot of truthfulness in Starstuck. If you ask an audience to invest in this sort of love story, there has to be a large element of truth in the characters.
'Jessie's slightly outrageous, and in many ways quite unlikable. She's almost like a female version of what you see in Albert Brooksor Steve Martin films. It's really fun and freeing and amazing to be this outrageous character and have so many elements of myself in it and see what happens.'
That said, she says writing a narrative comedy is 'supremely different' from writing a stand-up show based on herself.
'You have to really take care with characters and building a world; to not ruin them and just be be a conduit for you having a conversation with yourself,' she sayss: 'It's really something to be aware of when you you're so used to talking to yourself.
'Sometimes I'd find myself writing a line and think, "that's a stand-up line and it does not work for that character". Or "this is a joke, but I had to sacrifice this joke for the story". And that was a real learning curve, I think. Alice [Snedden], my co-writer always complains that I'm always taking jokes out of the show.'
Speaking at a virtual press conference to launch Starstruck, Patel says the naturalistic feel of the comedy was what attracted him to his part: 'Reading the scripts, it was like, "Oh, this is this is how people talk",' he said, pointing out that sitcom dialogue can tend to be 'a bit frilly, or a bit escapist'.
'It's great to see to see recognisable tropes of the genre play out, but with people who talk about very openly and very frankly,' he adds. 'I think these characters, and the relationships are very infectious.'
Matafeo has no qualms about writing a 'genre' show, but hopes 'there's some slight subversion of those tropes a bit… not intentional, but just more to update it and reflect the people making it.'
That includes an hilarious sex scene in episode one in which Jessie constantly seeks reassurance that Tom is consenting to their encounter.
Matafeo says the comedy in the scene was crucial to her performance, too, admitting: 'I would find I would find the earnestness of a deeply serious sex scene like "I'm not doing that!"
'But if I'm on top of [Patel] and I'm reiterating whether or not he wants to have sex, over and over again, at least that is a joke.'
Patel agrees: 'Filming sex scenes, they're excruciating. There's no, two ways about it. Because you're trying to recreate a moment of intimacy, let alone the added layer of two characters that are kind of awkward around each other, and hammered or whatever in a roomful of - in Covid times - masked men and women.'
Ah, the new C-bomb! The series was shot between lockdowns last year, and looks for all the world like a different time.
Co-star Emma Sidi, who plays Jessie's flatmate and best friend Kate, recalls: 'I remember location filming was so difficult as there's so many random normal people on the street just doing their business in masks. But then when you see that on the on the camera, it looks like you're suddenly filming in a zombie apocalypse. This is not about that!'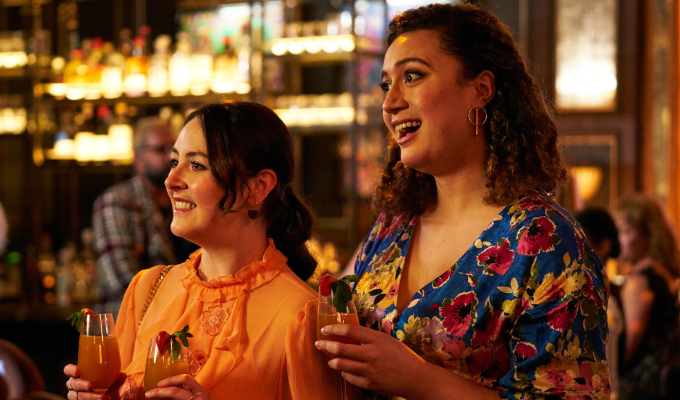 'It's either set in an alternate universe or 2019,' Matefeo offers by way of explanation for the lack of social distancing apparent on screen.
But filming after months of being locked away had its upsides 'When we were shooting it, it felt really natural and fun - almost too fun,' Matafeo recalls. 'We hadn't been out for a while so seeing other people we were like, "Oh my god, this is incredible!" It was like being in a bubble for a bit away from the predicament of the world. It was quite strange.'
'Nobody had got to socialise or meet anyone new or just get to laugh about something random with someone they've never met before,' Sidi recalls. 'So there was this energy on set that people were barely on their phones - and I know that silly thing – and I can think you can see it in the show, this sort of energy.'
The situation was slightly different for Sidi, though, as she is Matafeo's real-life flatmate, too.
'YIit doesn't feel like I'm trapped!', she insists, tongue-in-cheek. 'We've literally been together relentlessly every second of every day for months, and months and months… we're both prisoners together!'
Matefeo adds: 'We go to work together and then we go home together, and then talk about the day that we just spent together. So we did that… and lockdown just extended that for four months. So basically, we became one unit. Now we are a blob. We do everything together.'
'We say "we" a lot,' Sidi interjects. 'That's the worst thing about it' – before adding: 'Actually we're quite good at keeping the personal and professional separate. And by that, I mean, we watched Dawson's Creek in the evening.
'The last thing we wanted to do is come home and revisit the things that we were doing at work,' Matafeo concedes.
While Sidi might have been considered a shoo-in for her role, Patel recalls auditioning for his part via Zoon.
'Super weird,' he says. 'Especially for something like this, which relies so much on chemistry. Then the next step was to be in the same room but we were still like, "I guess we should be however many metres it was from each other".'
But Matafeo said the fact he was 'so good' over the tough medium of Zoom helped him land the part. 'I can't believe how amazing our cast was,' she adds. 'I'm a very harsh judge and I was astounded that there's just not one person on this show that isn't spectacular.'
In something of a casting coup, that cast includes Minnie Driver who play's Tom's very LA agent, Cath… the same name as Matefeo's agent 'a bit of an in joke - but Cath is like livid about it,' the writer confesses. She also admits she kicked herself for making the scene a two-hander between Tom and Cath, so she never got to act opposite the well-established star.
'All I can remember of the day was being really nervous,' Patel recalls. 'Then also just having a real sense of like, "if this is if this is a tennis match I'm going to keep the rally going: just don't drop my racket."'
He was asked about what he feels about taking on a rare sex-symbol role for a South Asian man, which leaves him slightly lost for words, but tries to explain: 'I think I think it's difficult when you start thinking about the significance of representation in that way.
'As an actor, you've got to respond first and foremost to "does it feel real?" And then it's me in that situation, and you have to leave it to other people to draw their conclusion from it.
'So I do think there's something to be said for "sex positive" depictions of South Asian characters on screen. It's pretty rare. But it's not like I'm going out to my agent saying "find me something really sexy!" But it's great when something like that does come along.'
And as for the question of whether a second series will come along, Matafeo is coy – pointing out that romcoms, by their nature, tend to have a definite endpoint.
'It's a single narrative: from episode one to episode six, it's this whole story,' she says of Starstruck. 'It's a question of whether you can make a sequel to to a romcom.
'And you'll have you'll have to see how this show ends. You don't even know if our characters survive! I killed myself off! And I'm really starting to regret that…'
- by Steve Bennett
• Starstruck will be on BBC iPlayer from Sunday and then on BBC One at 10.40pm on Monday. It will also air on HBO Max in the US, ABC in Australia, and TVNZ in New Zealand
Published: 20 Apr 2021
What do you think?