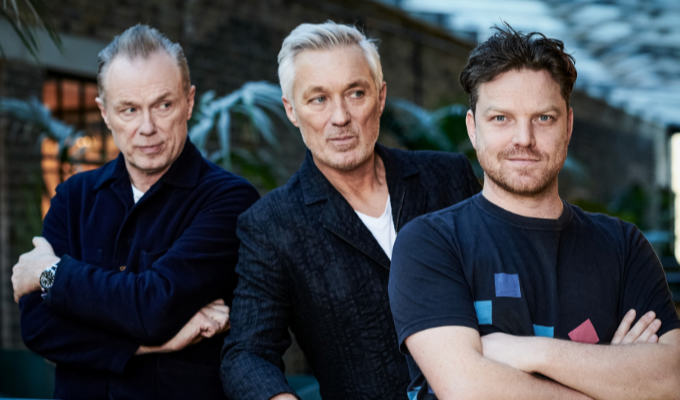 This ISN'T a reaction to the Bros documentary...
In The Kemps: All True, Brian Pern co-creator Rhys Thomas interviews Gary and Martin Kemp about their lives and careers following Spandau Ballet's 40th anniversary celebrations, which might take a few liberties with the actuality. Here he talks about how the show came about, his reasons for picking the brothers, and the sizeable list of guest stars the show attracted…
---
How did this project come about?
I made a TV series called Brian Pern starring Simon Day and Michael Kitchen which ran from 2013-2017. It was a mock documentary about a prog rock star based very much on Peter Gabriel with a bit of Eno, Roger Waters and a few others thrown in. It was a big cult success, but when lots of rock stars died in 2016 I thought it would be funny to kill him off too (perhaps it was too soon, who knows?). Anyhow, it felt like the joke had worn out a little.
The BBC asked me what I wanted to do next. I had an idea that maybe we could make a Brian Pern-type show but with a real rock star at the centre. Creating a fake world around him or her and a fabricated history. They liked that idea and asked me to write something. My initial thought was to approach a musician from the same era as the Brian Pern character. However, this felt like I was treading the same ground and didn't feel right.
It was Alex Moody [BBC Commissioning Editor] who suggested moving from 1970s rock to 1980s pop. It was a good idea and I immediately thought of Gary and Martin Kemp. I even started writing it for them before we approached so they could see a sample of the style/comedy. That Christmas, the Bros documentary After The Screaming Stops came out. Although people may assume this project, The Kemps, is a reaction to the Bros documentary, it actually came about long before.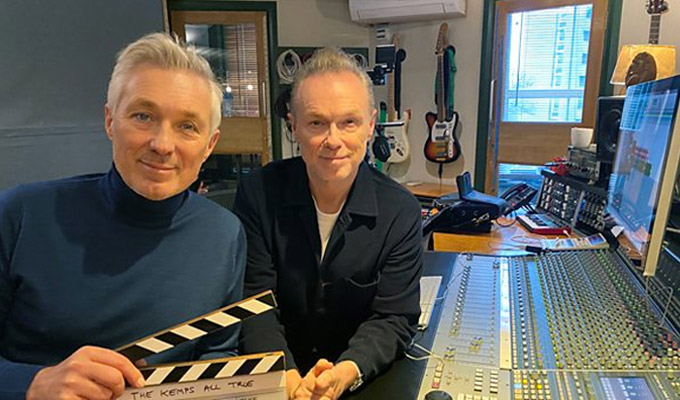 Why The Kemps? Did you know them beforehand?

The Kemps were my first choice for two reasons: one, I knew they could act and were funny. They have both had such a varied career from films, music and TV so there was a lot of material to be mined. They were actors before they were musicians. There aren't many pop/rock stars who can do both. A lot of them THINK they can, but they can't. Gary and Martin are a revelation in this.
Two. They were part of a genuinely massive band and I loved their music. I grew up listening to them and the story of their working-class background, rising to the top, their famous break up and reunion – it's all well, gold.
Martin had appeared in Brian Pern. He was in two episodes in the second series. He only did two scenes and he was so funny I thought how much I'd like to work with him again. I'd never met Gary and I had assumed he'd be more reserved or take himself quite seriously, only from what I'd seen in interviews. He's totally the opposite. In fact, he did a brilliant job playing himself as a character.
How much do you worry about offending people making a show like this?
From the outset I wanted to make something that was fun in spirit rather than a cynical comedy. I didn't want to delve into their personal lives and mock aspects of that. The same applied to Brian Pern, which is why Peter Gabriel and a lot of pop stars appeared in it, it didn't ridicule them. If anything, it celebrated them/their music and showed what good sports they were. The Kemps is no exception.
I wasn't worried about offending them too much as I never went down that route. Having said that, I was still worried when I sent the script to them in case they didn't think it was funny. That would have been a real problem. To be honest I was more worried about meeting Gary and Shirlie [Martin's wife, from Wham! and Pepsi & Shirlie] as I had starred in Star Stories on Channel 4. Both Wham! and Spandau Ballet feature in that and if you have seen the series you'd know why I was scared. Luckily, they saw the funny side.
There's also an amazing wider cast - did you know anyone before working with them? How easy was it to get them involved?
I wanted to round up a lot of the excellent people who had starred in Brian Pern or who I work with regularly. We didn't have a big budget or a lot of time to make this so it's great to work with people who a) you like, b) are brilliant and c) don't mind doing it for peanuts. They all said yes! It was amazing.
Tony Way I'd l known since school and we were in a comedy group together and he is funny no matter what he does. He plays Rag 'n' Bone Man in this and they are dead ringers.
Lucy Montgomery is one of the funniest comedy performers I know and she can sing. She had a scene with Martin in Pern and they worked really well together.
Perry Benson knew Gary and Martin as kids. They're all from Islington. He was our first choice as Ross Kemp (not that one) their long lost brother. Perry had also starred in Lucy's sketch show pilot for the BBC a few years back and was fantastic.
Anna Maxwell Martin, Christopher Eccleston and Alan Ford were all guests on Brian Pern and stole the show every time. Since then I've worked with Christopher a few times, he did a great turn on my BBC Two end of year show on New Year's Day as himself, in Radiator Bleeding With Christopher Eccleston.
Shirlie Kemp, who is a revelation in this, was originally only supposed to do a small cameo, but was so good I wrote more scenes for her.
Daniel Mays was the only actor I hadn't worked with but it turns out he was a huge fan of The Krays. It's his favourite film, so he jumped at the chance and happened to be free.
Simon Day agreed to be in the show, as did Michael Kitchen. I thought it would be fun for Brian Pern fans who would get the references. I've worked with Simon since 1996 when I was a runner on The Fast Show.
Michael Kitchen is barely recognisable as he does his bit upside-down. He told me about this kit he has, where he hangs upside down which is great for your back and I just thought - come on - to see one of our country's greatest actors, Inspector Foyle himself, acting upside down - you don't see that every day.
Lucy Montgomery and I had also worked with Amanda Redman recently on Bumps for BBC One. She founded The Artists Theatre School in Acton. She asked us to do a comedy workshop with some of the students. They were so impressive I cast them in lots of the smaller roles. They'd never been on TV before or had a professional job as far as I am aware, and it was great to give them all a chance.
How much do you script or let them both run free?
The script was very carefully structured and written, more so than any Brian Pern script. However, I usually film the scenes as scripted, but run on a bit longer in case there is something funny that comes out or we do a take where they are free to improvise around what has been written.
An example of this is the Shirley and Martin row. Half of that is scripted, but we let the camera run and walked off as if it were real and they carried on improvising/arguing. The scene with Gary showing us his art was very loose on the page but we basically improvised that. They are two of my favourite bits in the whole show. Gary and Martin came up with some great lines on the day. They're brilliant comedians. I'd love to see them do more comedy.
• The Kemps: All True airs on BBC Two at 10pm on Sunday.
Published: 3 Jul 2020
What do you think?