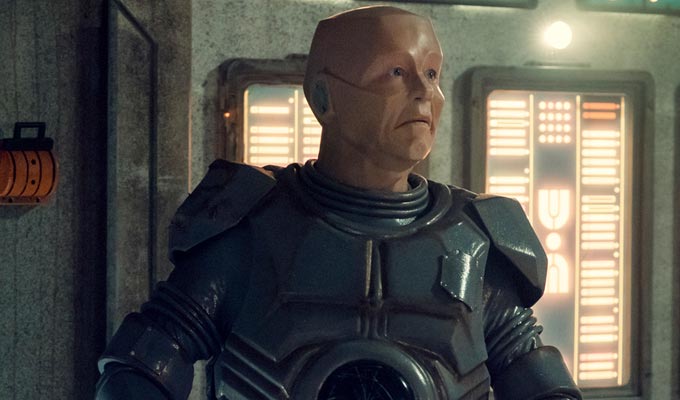 Being Kryten is knackering, so if we are going to make more Red Dwarfs we'd better be quick
Red Dwarf returns to our screens on Thursday, with a feature-length episode entitled The Promised Land. In a series of interviews with the cast, ROBERT LLEWELLYN, who plays Kryten talks about being hospitalised during filming, his relationship with the rest of the cast, and how he's come to love the Red Dwarf legacy.
---
This special has been a long time coming…
It has although I think we're quite used to the fact that the gaps between us doing Red Dwarf are quite long! During the 1990s it was very regular thing and now every few years we get back together and do some more, which is an extraordinary thing. Writer Doug Naylor and the team have made this look amazing. I know it's something that Doug has always wanted to do.
Did it feel quite different making it?
It didn't really because we recorded it in front of an audience – that's our main concern and when Red Dwarf comes alive. That's to do with the kind of shallowness of our showbusiness personalities: we need a load of people to show off to and then we'll actually make an effort.
Recording two large chunks of it in front of an audience made it feel like two episodes of a sitcom. We were pre-shooting stuff, then rehearsing stuff to shoot in front of an audience, then camera rehearsals, so that was very normal for us. Then the audience came in and the response we get as performers is brilliant. That makes it for me – it's terrifying and stressful doing it in front of an audience but it makes such a big difference to our performances.
There's more pressure not to get things wrong…
Yes but of course they love it when we do get things wrong. In a way I don't think we got enough wrong this time, we got through it quite well. But when something goes wrong there's a massive cheer and a round of applause! Sometimes people see us doing a camera rehearsal and are quite shocked at how lazy, unprofessional and ridiculous we can be, and then once the audience is in they can't believe the difference because we're then very focused and hit the mark.
What can people expect from the special?
It refers strongly to the original, primal story of Red Dwarf. To Lister smuggling a cat on board Red Dwarf and being put into stasis. So it rounds off a lot of the backstory of Red Dwarf, which is really good.
There's one tragic moment where Kryten feels he's been accepted by the team when everyone can see they're putting up with him rather than accepting him. That is the genius of Doug that he'll write the threads of our real lives and relationships between the cast members woven into the plot. It's so cleverly done and very subtle. The little things often make us laugh because we know the truth of it when we read through it.
What's going on with your character in it?
Well it was all very apposite in a way to my own life. Kryten is in need of a service (laughs). He's patched up and a bit battered, he's been around for three million years, stuff goes wrong and he's definitely the worse for wear. It ties in with the reality of the performer! I'm still going and can still do it but I'm a little bit battered and knackered!
Would you say The Promised Land is more serious than other outings?
I think there are serious elements within it and there's an existential thread running through it. Why are we here? What are we doing? And a lot of discussions around religion and belief and faith and things like that.
Doug's scripts always cover an amazing amount of topics. It's quite a difficult journey for Lister with a lovely twist at the end. Certainly Lister's character will carry any emotional weight of any episode or series we've done. Which is Craig's amazing skill to be funny but to also carry a genuine emotional thread through an episode. That side of it is very fulfilling, it isn't just a series of gags that Doug writes and we deliver. It always has an underlying thread that gives it some emotional weight.
I think it's harder to make that work in a mechanoid! There might be an enormous amount of admiration for human emotions coming from Kryten but it's hard to know whether he really has them. He's highly sensitive, aware and empathetic but they're all learnt systems.
Has your outfit changed much over the years?
I'm very ashamed to say it's expanded a little as one rather cruel viewer once commented: 'It looks like Kryten has downloaded one too many apps'. Which I thought was a little bit unnecessary! So it has got a bit roomier around the midriff but in this special in particular it is quite bashed up.
It must help to get in to character…
Yes it does. Occasionally I'll get told to shut up – Craig will go 'Bobby you're not Kryten now, we're out the back!' I'll say 'Oh sorry sir'. It just takes over. I think that happens with all of us in a way – when Danny has his teeth in, Chris has his H on and Craig has his ponytail on it's so familiar to us. It really is the oddest thing.
I've worked with a lot of different people but certainly when we all get together I'm instantly in hysterics because they just make me laugh a lot.
I'm like the quite well-behaved boy that enjoys hanging out with the naughty boys, who always gets in trouble when the naughty boys get away with it. That's always been my role from very early on!
How have you all changed since your first outing?
I think we have all matured a bit, although it's hard to say it. One of the things which is a remarkable aspect for four men who work in showbusiness is we've all been with our partners for a long time and we've all brought up our children. Because I think if you took a random selection of any four blokes of our age in showbiz one of them would have a 26-year-old Russian wife somewhere. I'm quite proud that we've managed to do that.
We talk about that a great deal about how we've struggled – and none of us have had an easy ride, we've all been through problems - but we've all got through it which is quite intriguing.
So I'm terrified to say it but I think there's a level of emotional maturity among us and I feel very safe in their company to talk about things that aren't funny. We can talk about difficult stuff, which is really good.
How has Red Dwarf defined your life and career?
There was quite a big gap, about 10 years, where it was what I used to do. I was doing a show called Scrapheap Challenge on Channel 4 and my whole world had moved on, I wasn't doing acting and didn't have to wear weird costumes. I was doing TV presenting and quite enjoyed it.
But then Red Dwarf suddenly became the thing I'm doing now, which is really unexpected. I didn't think that we'd carry on doing it and it's been the most privileged I've ever felt with the scrappy bit of old rag that I call my career to end up in a show that's such an iconic thing.
Because I never really had a career, I just stumbled from one thing to the next. I'm happy that if nothing else ever works that I do I'm really proud of what we've achieved on Red Dwarf and I've been involved in it.
How did getting ill affect the filming of the special?
Oh it messed it up big time. In the first week of shooting I was taken to hospital in an ambulance and I was in hospital for four days so it really did screw things up. The recovery from it was slow and grim so it really did delay things. We were meant to finish two weeks before Christmas and we finished about six weeks after Christmas.
I was very lucky and very well looked after in St Mary's Hospital in London. Then you think how important it is with what's going on now. I've been so lucky to get to my mid-60s, I've had stitches and a bad back but I've never had to spend a night in hospital. Then to be suddenly hospitalised and to be cared for with such amazing skill and kindness I think is an extraordinary privilege we have in this country.
Will there be more Red Dwarf?
Oh I haven't got a clue. I certainly hope so. When I'm asked if I want to do another Red Dwarf, my first thought is it's really hard, the mask is tough, the makeup, the hours are long. But then I spend the day with Craig, Chris and Dan, brilliant!
At my age now I have mixed emotions about it because it is a pretty tough thing to do. It's kept me fit because I have to train to do Red Dwarf because it is knackering, which is good. I go to the gym and go running and for long walks.
But it's becoming more challenging as every year passes so my only comment would be if we're going to do more can we do it quite soon because I'm getting knackered!
More interviews with
Published: 7 Apr 2020
What do you think?