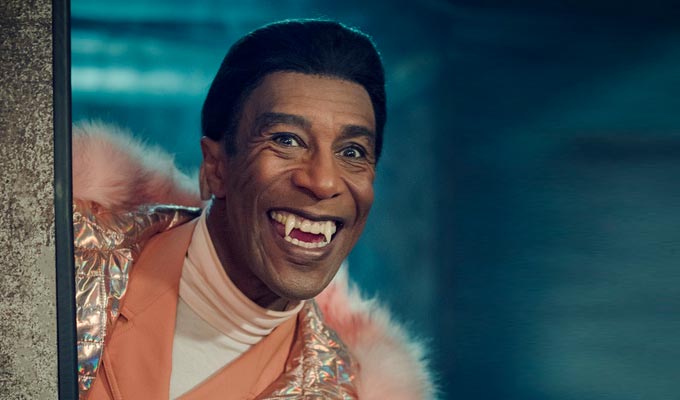 All these people talking about diversity in TV, Red Dwarf has been kicking your ass for 32 years
Red Dwarf returns to our screens on Thursday, with a feature-length episode entitled The Promised Land. In a series of interviews with the cast, DANNY JOHN-JULES, who plays Cat, talks about diversity in the cast, how the show came back after cancellation and whether this is the end of the line for the 'boys from the Dwarf'…
This special has been a long time coming…
Yeah but timing is everything because what everybody needs now is a good laugh and we have it. For me as well it's the same thing. I'm sitting here thinking what it's going to be like because filming something is one thing, but the proof is in the watching. It's nice to see it has a different feel and I would be very worried if it had the same feel as we had in 1988. The world evolves even in space.
What can people expect?
The people that know – the 12-year-old kids who were watching it in 1987 who now have grandchildren – those people don't have to be convinced because they've been on the ride with us from the beginning.
We have our core audience that is unshakeable and we're in that fortunate position - they're also the most critical people out there. We have those kinds of conversations with our audiences at forums and places they can address us directly to tell us what they think.
It's why we have a head start and have been going for 32 years because it's not only a sitcom but far more social that any show out there with its fans.
How does it feel to be back together? You have quite a special relationship…
We do. When you get back in to a room with 'I told you so' T-shirts on it's great. We laugh about it all the time. You hope we've helped open up the doors for the people that have always been doubted. Red Dwarf is a good barometer to say it can be done.
Nobody gave up, even though they were told 'no'. Then what happens when you do get commissioned is you all workdouble hard to prove these people wrong. It's now down to these four wacky guys, who at the time [we started] none of whom were so called traditional actors to get this show where it deserves to be.
Tell us about your relationship with the others.
I'd never met any of them until the first day of rehearsal. We walked in as four guys who knew nothing about each other. The only thing we had in common as artists and people was Rob Grant and Doug Naylor's script. Those characters were developed out of those four personalities in the room.
People say 'Red Dwarf is based on you guys' characters' – no it's not - I just read what was in the script.
What happened, of course, was as we went along we started noticing more and more of our '-isms' turning up in the script. You'd read a line and go, 'hold on a minute – that's what Craig did in the restaurant the other day', or 'hang on, that sounds like Chris Barrie'. So that would inspire the differences in the characters.
The characters work with each other and there's no one character who could hold Red Dwarf as the leading man. It's an ensemble piece. When we all sat down originally we all agreed that the two shows we wanted to be like were Porridge and Rising Damp and you can see the similarities.
There was a black character who was more posh than the white characters in Rising Damp. And the black guy in Porridge was Scottish. I wanted to be in shows like that, going against the protocol.
It's the most diverse show that's been on British television. All these people running up and down talking about diversity in television – Red Dwarf has been kicking your ass for 32 years, flying that flag for so long that it's either gone over people's heads or people don't want to see it.
Diversity is when colour doesn't matter and in 32 years the colour of a man's skin has never been mentioned in Red Dwarf.
Will there be more?
That's driven by Doug. If he has a great idea then it will come about. There's always logistics as well. We did series 11 and 12 and everyone was raving about them but it's taken three years to do another instalment and that's after everyone saying it was the best of the best.
So it's about everyone coming together and for it to be commissioned but I think it's time for people to see another Red Dwarf.
More interviews with
Published: 7 Apr 2020
What do you think?