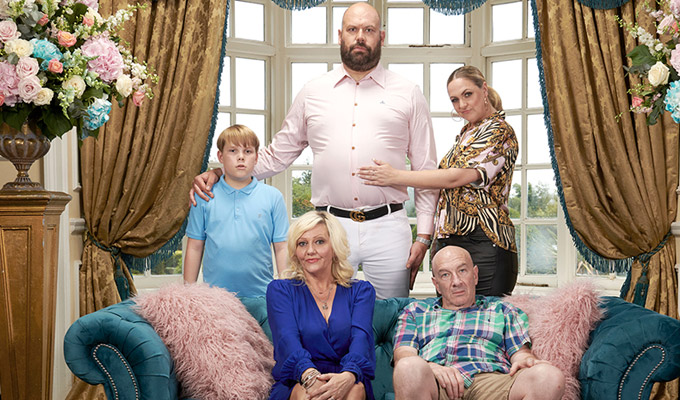 'You don't see a lot of working class comedy… but this is a world we're proud of being from'
Next year BBC One launches its new sitcom King Gary, following a successful pilot 12 months ago. It follows Gary King (Tom Davis, who created the series with James De Frond) and the love of his life, Terri (Laura Checkley), as they bowl through family life in suburbia. It co-stars Simon Day, as Gary's Father Big Gary and Camille Coduri as Denise King. They all gathered to speak about the new series as it was unveiled to journalists…
Pretty much one of the hardest things to pull off is a mainstream BBC One family-friendly sitcom. Were you scared when you decided to do it?
TOM DAVIS: You're terrified. I mean, growing up those BBC sitcoms are hallowed things. Me and James grew up in a working-class background where things like Only Fools and Horses are so prevalent. You know a Del Boy, you know a Trigger.
Genuinely, I think it was the hardest thing to write. When you're trying to make that for a modern age and make it your own way. It's nothing short of terrifying.
But we've got together a great group of people and we're immensely proud. A BBC family sitcom is where it's at and that's where we started this whole journey.
Are you writing from what you know? Because you used to be a builder before you became famous...
DAVIS: I didn't wear glasses until I was 32. I've got astigmatism and I test-drove them at about 26 on a building site and everyone was like 'What you gonna go university now? You think you're brainy all of a sudden?' and someone would plonk The Guardian down in front of me at lunch which is seen as a big insult.
A lot of this is mine and James' lives. When the pilot went out someone said 'Oh some of the characters feel a bit heightened' and I said, 'Come and meet my Dad, come down the boozer and meet the people we grew up with.' If anything, we had to play them down a bit.
DE FROND: Because we've known each other since we were 15 and we're from the same neck of the woods. This is close to the heart because we know the characters well. For me, the main thing was that these characters take small problems in life and they get blown up into melodramas. So that inspires us to film it in a more cinematic way.
For us the characters clicked first, rather than an idea or a situation. There are Garys and Terrys and Big Garys out there. They're relatable characters and a relatable world. We'd been playing around with the character of Gary for a long time.
Do you do study those larger than life characters on TV and see how they behave?
DAVIS: Yeah, with things like Arsenal Fan TV you can see someone getting so pent-up about such a small thing. But they're the characters you love.
In King Gary, there are so many people that James and I have grown up with. People who I know who aren't necessarily always represented on television. The amount of phone calls after the pilot went out of people going 'That's me innit?' and I'm like 'Um it's not actually, you come up in episode four!'
SIMON DAY: Literally everyone, all our family and friends just assumed it was them.
DAVIS: My Dad won't watch… In some ways Simon's become a second father even though he's only five years older than me.
DAY: They just kept saying 'He's too nasty!" and then like 'No, be more nasty'. Usually you get the horrible Dad and the Mum comes in like 'Leave him alone'– but she's actually horrible to [Gary] too so it's brilliant. She's actually more nasty.
It was easy for me to play because it's very well written. I know a lot of these people and I've had a similar sort of life to Tom so the characters are very real and I think that's one of the strength.
LAURA CHECKLEY: They write really well for women, I've never worked with a set of writers who can really write for women. All the female characters in this are not subsidiary, they're very funny.
DE FROND: Well all the women around where we're from are funny. They're funnier than us. They're strong, funny and big characters and you don't see enough of that so it was easy to write.
Terry's an amalgamation of lots of women from our lives. The penny-drop for us was a husband and wife that just love each other and that's the heart of the show.
Everyone's always going to be a nightmare for Gary, he'll always have his rivals and his dad but if he's got a wife who just loves him, rather than like a normal sitcom where the wife comes home and she's like 'what've you bloody done?' she'll come in a go 'ah I'm proud of you' It's different, they're best mates and they're solid. That for us is where it all made sense.
DAVIS: Everyone in the show is authentic to the world we've created. There's a big thing at the moment about working class actors and we've got people who are up and coming and those who are more established – but they're all from the world that we've written. This is a world we're proud of being from.
So is it a working-class comedy?
DAY: Yeah. It's not something you see a lot of. That sense of humour doesn't seem to be that prevalent but maybe that's a conversation for another day.
The script feels so naturalistic. Was it all there on the page?
CAMILLE CODURI: It's a different language. I felt that the script was sort of Orton-esque. You have to find a rhythm with that language. Sounds really poncified but it wasn't easy. If you're working with your idols, you have to be on your toes and you have to make it natural but inside you're dying thinking oh my god am I doing it right?
DAVIS: I'll take that. I don't even know who Orton is. I'm gonna Google it as soon as I get out.
You think of all those times you sat watching Only Fools And Horses or Blackadder with your family. Those are very special times when a family can come together and laugh, especially now.
So one thing we changed was getting rid of the swearing. For example, if someone calls you a marrow, for me, that's worse than call you a dickhead and also it requires some thought. Y'know if someone calls you a marrow you're like 'what does he mean by that?' There's a thought process there. He's not just picked one out of his pocket that he uses for everyone. He specifically says I'm a marrow. There's an episode where Laura calls me a Trevor and that hurts.
DAY: No one really knows where slang comes from. You could go too far and get into sort of Nick Love territory where it's all slang and you don't know what they're talking about. But there's generations and slang changes doesn't it?
Apart from episodic stories, you also have a through line. ..
DE FROND: We wanted to do a story of the week so that it doesn't matter if you've seen the last episode. But there's subtle story arcs like father and son with Gary and Big Gary and the rivalry with Gary and Stuart (Romesh's character). They're subtle, like Modern Family, but the final couple of episodes are satisfying as regards to characters' journeys rather than a comedy drama arc.
Do things get a bit emotional?
DAVIS: You really want to believe them. That's important. The silliness of it and you want to feel that they're real. They're not just mates, there's a love there.
CHECKLEY: It's like in Only Fools and Horses when Rodney gets married and Rodney and Del boy have that dance. That scene is so iconic and you care about them.
DAVIS: You're Rodney.
CHECKLEY: Well I think I'm Del...Terry's definitely Del.
• King Gary airs on BBC One at on January 10
Published: 27 Dec 2019
What do you think?