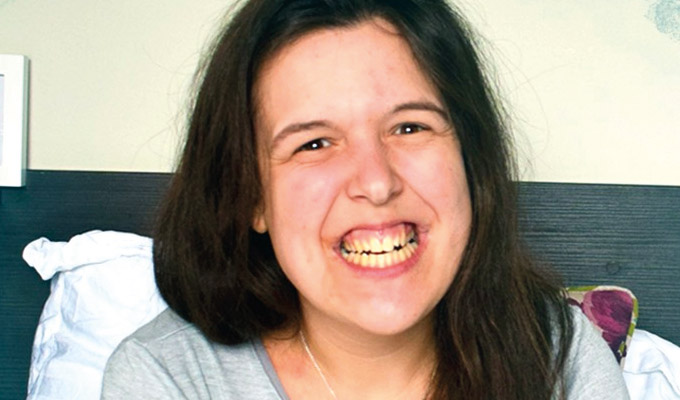 'Growing up, there was nobody on TV who looked like me'
Comedian Rosie Jones has said that she only rarely felt sad about growing up with cerebral palsy – and even counted herself 'lucky' she wasn't even more disabled.
Speaking on a new BBC podcast, Duvet Days, she also spoke of how her fame has changed people's perceptions, and the importance of being the role model she never had.
She told presenter Abby Hollick that she credits her mum and dad for helping her never feel sad about her condition : 'Growing up, I think I always knew I was different. I just knew I had it, but my mum and dad were always great and it was always a thing I had but a thing that wasn't bad.
'It was just saying like, I have brown hair, I have brown eyes, and I've got CP (cerebral palsy). It was part of me and I never remember ever feeling sad about it. I just got on with it.
'I really think there's a difference between people born disabled and people who become disabled. It's like me saying to you, "Oh, you can't fly? Oh poor you, how do you get up in the morning?"
'You're very much like, well, I never had it, so I never missed it. Maybe I'm looking back in a positive light, but I can only count about two or three times where I ever thought that. My mum would let me cry for about 10 minutes, and then it was, right that's that, let's move on.
'It's easy to think, "Oh I could be able-bodied', but throughout my life I always thought, 'Yeah but I could also be even more disabled." So I just felt lucky...I always thought about what I could do, rather than what I couldn't do.'
Rosie has appeared on TV shows including The Last Leg and thinks this exposure means she's less patronised that she has been in the past.'A lot of people think because I speak slowly that I am slow. But I'm not. And I think it's getting better now, but a lot of people do patronise me and with my job, I'm alone quite a lot, so people say to me, "Oh, are you okay? Where's your carer?"
'Sometimes I get, "Oh, where's your mum?" And I'm like, "Oh I don't know, she told me she was going to Matalan today up in York, [laughs] but who knows?" They don't get it...
'Actually in my head I think I'm better than them, so really it's them that don't understand. It's getting better and it's interesting that now that I'm getting a bit known, and people know who I am, I now meet people who know me before they've met me, so I no longer have to break through that barrier.'
She previously worked in TV production. and while she always loved comedy, it wasn't until years after working in the industry that she decided to give it a try:
'Growing up my two heroes were Victoria Wood and Caroline Aherne…I worked in TV for six years. I really enjoyed it, but there was a part of me that always wanted to do more.
'And I think I've always been a show-off and an attention seeker. But I always thought because I speak differently, the comedy world would be shut off. And I remember thinking "I could never do radio, or podcasts" …and here we are'
Rosie frequently talks on stage about her sexuality and disability, and feels a responsibility to be the role model she never had:
'Growing up, there was nobody in TV or radio that looked like me, that sounded like me. There was Francesca Martinez in Grange Hill, but that was the only person really.
'And also my sexuality came into that, like when there was a disabled person they were very much the victim and they didn't have a sexuality, they were very much the stock disabled person. That meant growing up, I didn't accept my sexuality because I thought I'm not gay and disabled.
'So now, I get on stage and I say, this is me, this is my sexuality, to show that disabled people are sexual beings. They can be gay, they can be straight, they can be bi, they do have sex. So if people see me and say "Oh, yeah, that's like me!" then that's great."
'I recently met a girl in a wheelchair who came to one of my shows and she was with an able-bodied girl, and she said to me, "Thank you so much, this is my girlfriend and when we're out together, people assume she's my friend or my carer and thank you for getting up there and saying look, we're just like you".
'It sounds obvious, but even for me, and I've been disabled all my life, I questioned a lot of what I could and couldn't do. There was nobody I could follow and Look Up to so I decided to be that person, to be the leader. If we were in the media more, it would make disabled people's lives much easier.'
Rosie's stand-up show Backward is currently on at the Pleasance Courtyard at the Edinburgh Fringe.
Listen to Duvet Days on BBC Sounds.
Published: 3 Aug 2019
What do you think?