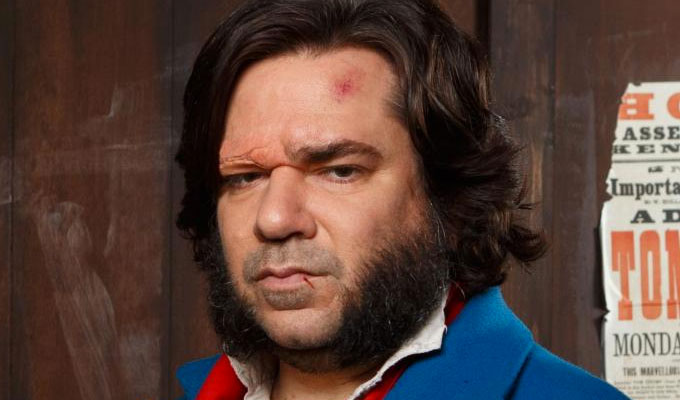 'Period dramas never have a sense of humour... What if a Peaky Blinder did a pratfall?'
Explain a bit about Year of the Rabbit...
It's a Victorian sitcom based around three people, two of whom are police, solving crimes in London's East End in the 1880s.
How would you describe Inspector Rabbit?
He's typical of the time but with a warm heart. He only really has the job, that's all that he has. And he's only got one eyebrow.
Is he your cliché hard-drinking maverick cop?
I hope he isn't, because I wanted to do something different in as far as you think that's what he is. But he's actually very generous and very warm with Mabel [the ambitious daughter of the pilice chief, played by Susan Wokoma] and with Strauss [his partner played by Freddie Fox]. He protects both. Everyone else is an enemy but he's kind of protective of those two.
What was the inspiration for the show?
What happened was, myself and Ben Farrell at production company Objective are both obsessed with The Sweeney and both thought about doing some kind of prequel to that show. I know that show backwards, as does he, we've watched it so many times. I love it, I love the warmth between the characters in that which was the inspiration for this.
Those kind of shows based around that time, they're always dramatic and without much of a sense of humour.
If you were to watch Peaky Blinders and one of the characters did a pratfall, followed by a forward roll, some kind of physical comedy, you'd think it was odd. But that was what I wanted to do. That was my inspiration. I just wanted to do something you hadn't seen before with that backdrop.
Was there any improvisation in the show?
Yeah, there is. Not as much as I would like or am used to. That's mainly down to how tight the plot is. You can't deviate that much because everything is sewn together.
I'm always happy for everyone to try things out but you've got to have half an eye on the fact that everything is linked. There is scope and people did it, but you always had to be careful.
Did you do any research?
Yeah, lots of research. One of the episodes was based on Dirty Harry. Someone shooting from the roof. I was watching Dirty Harry and was inspired by that: what if we did that in Victorian times?
I worked in the London Dungeon for a year before I got into all this. You have to know your history there because people would ask you.
I don't know what it's like now but it certainly was back in the early 2000s, when I was there, you had to know about Jack the Ripper because people would ask. It just stayed with me. Then my interest in Victorian London widened. You use bits and pieces.
• Year Of The Rabbit starts on Channel 4 on June 10 at 10pm. Interview courtesy Channel 4 Press
Published: 4 Jun 2019
What do you think?