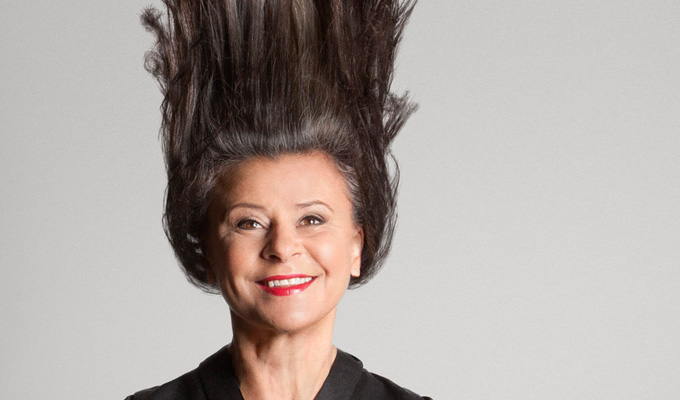 'I'm not a comedian, I'm an actress'
With more than 35 years in the business, and being one of the few British entertainers to genuinely break America, you might have thought Tracy Ullman would be inundated with offers of work.
Not so, she insists. 'Nobody ever calls me up and casts me,' she told an audience at London's BFI last night. 'I have to do my own thing.'
Still, the DIY ethos has served her well, with three separate hit US series to her name, a singing and film career, and her recent return to the BBC. Although how this came about is a slight contradiction to her assertion, since it was prompted by a call 'out of the blue' from the BBC.
It came soon after her husband of 30 years Allan McKeown, a TV producer who worked on all of her shows, died of prostate cancer at the age of 67 on Christmas Eve 2013.
'I had a difficult time five years ago when my darling Allan died,' she said. 'I was at a difficult stage of life.'
She was initially reticent about returning to Britain, more than 30 years after she graced UK screens in her breakthrough shows Three Of A Kind and Girls On Top.
'I thought. "Oh my god, I've no profile in Britain,"' she said.
But she had a meeting with Charlotte Moore, at the time controller of BBC One, and was happily surprised that 'now women run the BBC' compared to the fusty men in suits who ran the Corporation when she was last here.
And Ullman found a new producer Caroline Norris, a woman with a 'terrier-like tenacity', who persuaded her to return to TV despite her grief.
'I was sad, but we did it,' the star said. 'It was the first show I did when Allan wasn't with me, but he sort of was.'
She also revealed that her move to the UK was also driven, in part, by her daughter, explaining: 'While my son loves living in the US, my daughter much prefers being in Britain.'
Mabel has become a political activist, spurning her mother's profession. Ullman recalled: 'When she was eight I asked her, "Do you want to be an actress like your Mummy?" and she replied, "No I want to be something useful like a nurse.'"
And when Ullman brought her mimicry skills to bedtime stories, Mabel would ask impatiently: 'Do you have to do ALL the voices.'
However, Mabel can indirectly claim to have been responsible for her mother's success Stateside – as Tracey spent time immersing herself in US culture rather than doing any direct work when pregnant, which gave her a detailed insight into what makes the country tick that would prove invaluable when she launched The Tracey Ullman Show on Fox – the programme that made her fortune, and also gave the world The Simpsons.
Explaining how she came to be a star in America, Ullman told interviewer Samira Ahmed: 'My life didn't start until I met my husband. He was a brilliant person. He wanted to live in America because he had some deals there.'
She developed a pilot at CBS – a show about a wacky British woman working in Manhattan entitled I Love New York – but admitted she hated it. 'It was that corny stuff – "I learned so much today",' she complained.
But a meeting with legendary comedy producer James Brooks sparked the idea of a sketch and variety show – but first she had to become Americanised.
'I was really fortunate that I had a base in the US and didn't just fly in and out,' she said. 'But I did no work there for two years.' When I was pregnant I would go to the Museum Of Broadcasting on Fifth Avenue, and immerse myself, watching things like Your Show Of Shows. I saw Gilda Radner on Saturday Night Live and thought, "That's what I want to do".'
On how she perfected American accents, she said: 'This was before YouTube where I could listen to accents so I would call up a car dealership in Brooklyn just to listen to them and steal them.
'And in my down time I'd say, "send me to Toledo" so I could meet real people.'
For all the success – and reported £75million fortune – her American TV adventures brought her, Ullman says the one thing that's eluded her has been a major movie role in which her character drives the action, like her heroes Peter Sellers or Alec Guinness.
But there's also plenty about the movie business she doesn't like. 'Film is slower, TV is like "go, go, go",' she said. 'Plus everyone has go a trailer and a pecking order… there are people who behave so badly [in the film business].'
She is also worried about the longevity of film, saying: 'If a movie is bad, it sits there. With TV it's "let's do another one next week.'
Ullman – who insisted 'I'm not a comedian, I'm an actress' – has had some notable big-screen successes in supporting roles, alongside Meryl Streep In Plenty, in the Stephen Sondheim movie Into The Woods and in Woody Allen's Bullets Over Broadway and Small Time Crooks.
She offered some platitudes about working with Allen, but did not address his offscreen reputation – even though more generally she praised the #MeToo movement.
'It really is a watershed moment,' she said. 'I hope it doesn't go too far the other way, but it is a big deal.'
And it has had resonance throughout the industry, given that when she first got into TV 'it was so male dominated'. 'It is better for women now,' Ullman said. 'Maybe it is tokenism, bit we are getting more opportunities.'
However she also claims her gender has not been a significant factor for her. 'Now everyone talks about [the role of] women within things,' she said. 'I never thought about it.'
Men also gave her encouragement early in her career, notably her Three Of A Kind co-star Lenny Henry and – unlikely as it seems – Les Dawson. 'I used to dance for Les Dawson,' she said. 'We'd smoke and drink in the dressing room and he told me to give it [comedy] a go.'
Another topic she didn't address squarely was her portrayal of women of different ethnicities, having 'blacked up' to play Sheneesha, an African-American airport security guard in her US show which also featured her as one Mrs Noh Nang Ning.
'You couldn't do that now,' she laughed after a clip of Shenessha was played, but quickly moved on from the minefield of political correctness.
However, elsewhere in the 90-minute session she claimed that no one had ever taken offence at her work – except for members of Labour's Momentum wing who took issue with her portrayal of Jeremy Corbyn as 'a terrorist sympathiser who is not bothered by antisemitism'.
Campaigners even claimed David Baddiel wrote the sketch – perhaps fitting their narrative that it had been created by a Jewish writer – when in fact it was penned by Laurence Howarth.
'Momentum are the only group that ever got pissed off,' Ullman commented: 'The lefties, man.'
She contrasted their reaction to Huffington Post founder Arianna Huffington, who she would relentlessly mock. 'She told me, "people like you being me more than they like me" – but she wasn't offended.'
Another target who loves her portrayal is Dame Judi Dench, who Ullman depicts as a kleptomaniac who gets away with her crimes as she's a national treasure.
'Judi Dench told me she had a new lease of life from this,' Ullman said. 'But she does get funny looks in supermarkets now.'
Despite the protests, Ullman said: 'I began to really like playing Jeremy Corbyn… people would follow me when I was him. People are drawn to him.
'I also like being Michael Gove, the Creature from the Black Lagoon.' And if you think that description is harsh, she calls Theresa May 'a cross between Nosferatu and Oscar Wilde.'
All things considered, Ullman, 58, said she was enjoying her life back in Britain, saying: 'I've got a lot of energy, I'm having a lot of fun, I'm having a good time.'
And as Tracey Breaks The News has been revamped with a shorter production schedule to allow for topical sketches to be filmed on the week of transmission she gushed: 'It's my own little Saturday Night Live, my Gilda Radner moment.'
• The BFI's Comedy Genius season runs until January. Click here for all their activities in London (including an interview with Jo Brand on November 27) online and across the UK.
Published: 15 Nov 2018
What do you think?