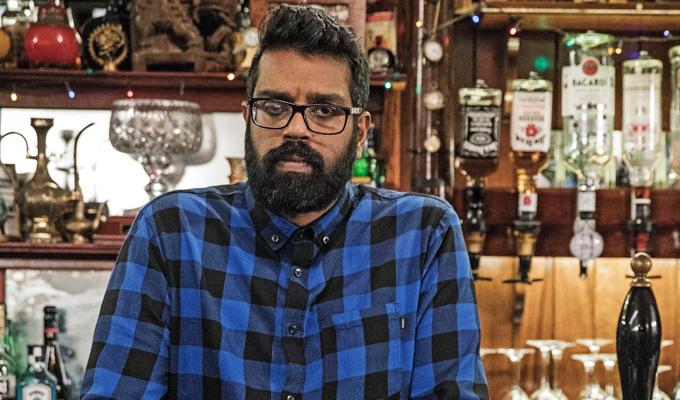 'For the record, she didn't actually black up...'
Romesh Ranganathan's semi-autobiographical comedy, The Reluctant Landlord, starts on Sky later this month. Here he speaks about the show which he co-wrote and stars in...
---
What is the premise of the show?
I was told that the sign of a successful sitcom is if you can summarise it in one line. So: a man is forced to run a pub left to him by his late father and he struggles to balance the challenges of that with his family life. I've smashed that.
My dad was a pub landlord for about 15 years. He passed away and then we inherited his pub for a while. The sitcom comes from the idea of what might have happened had I carried on running the pub instead of sacking it off after a few months. This is a sitcom about a Romesh that has a better sense of family duty.
I think that there are two main elements to the sitcom: hanging out in a pub with the regulars; and the family sitcom element, when he is upstairs in the flat. When we sat down to write this we just told lots of stories about being in or working in a pub, as well as the various issues of having a family.
Everything in this sitcom either happened exactly as it appears or like it. What you can glean from that is that it is hopefully relatable because it's real. And also that we lack any imagination.
What is the difference between working on a scripted sitcom to non-scripted TV and stand-up comedy?
The lack of immediacy is something I had to get used to. When you do stand-up or non-scripted you immediately know if it's funny because you get an audience reaction. When you write a script, you have no idea.
Then you send it to the other writers and the producer and they say it's funny but then in your head you're thinking they've all met up and are going, 'What shall we do about Romesh? He's crap.' And I don't mind that. As long as they never tell me to my face.
What about your co-stars?
I have always wanted to do a show with Nick Helm and I felt very lucky he agreed to do it.
Alison Steadman is obviously a legend, and we had worked with her on the pilot and had a lot of fun with her on set. For someone with such pedigree she is incredibly down to earth. I know you'd expect me to say that so it effectively means nothing but it's true.
Sian Gibson is an incredible talent who makes everything funny and real and I cannot believe she agreed to do the show. I was nervous every day that she wouldn't turn up.
Does the fact that the premise is based in truth influence how you play your character?
I play the character as if it was really me because it is. This makes it easier than if I was playing a gay white woman, but it's still a challenge playing alongside a cast as talented as the one assembled on this. I really don't want to stand out for being unable to convincingly play myself.
Were there any scenes during this shoot that stand out?
There is a scene where Alison Steadman has to put on a Jamaican accent and it might be my favourite thing I have ever seen. It was our idea for her to do the accent but it was totally her decision to completely black up.
It was offensive enough to make everyone forget about the whole Jamie Oliver jerk rice thing.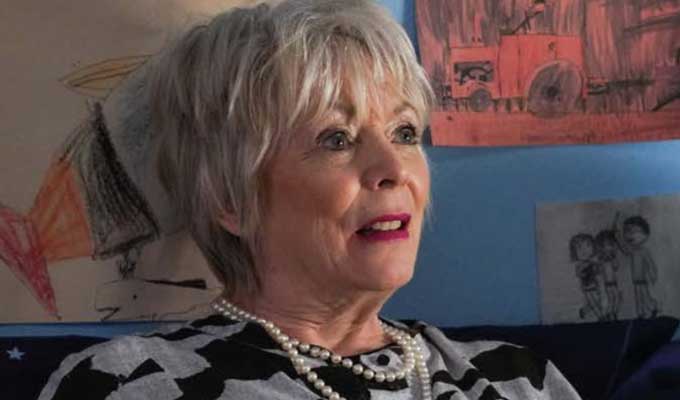 For the record, she didn't actually black up.
You are a huge fan of hip-hop and have worked with Loyle Carner on the show. Tell us a little more about his involvement.
I have become really good mates with Loyle and I know he has some acting chops. There is hip-hop all over the show so it made sense to have a hip -op star cameo. He was great, and we'd love to have him back. He'd have to be playing the same guy though as it's horrible when people come back later down the line as different characters.
We were also lucky enough to have a bespoke rap tune for the title sequence of the show. Verb T and Pitch 92 were kind enough to do an amazing theme tune for us and I'm delighted with how it's turned out.
Who do you think would be the best pub landlord – dead or alive?
It feels like an obvious answer for me but I really think that Richard Pryor would be an amazing pub landlord, although I think it would end up becoming quite a seedy venue. What a laugh though.
If you had a pub today, what would it be like?
My pub would be called Closed Until Further Notice.
It's really hard to run a pub well and I have deep admiration for those who do. I mean, don't get me wrong, it's not working for the NHS, but I still admire it. I would love to run a relaxed hip-hop-themed bar though. Maybe one day when I feel like jettisoning a shit-tonne of money for no returns.
• The Reluctant Landlord is due to begin on Sky One at 10pm on October 30.
Published: 21 Oct 2018
What do you think?