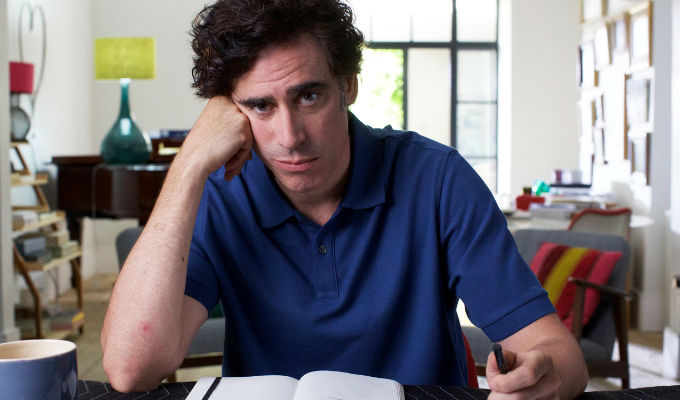 'Comedy can tackle the most difficult issues in a really profound way'
Explain a bit about the show – what's Hang Ups all about?
It's the story of a therapist, Richard Pitt, whose group therapy practice has disastrously folded a few weeks earlier. So he's reinventing himself as an online therapist.
We join him on the first day of his new venture. He's working from home, and he's giving therapy via online video calls, to new clients and old clients of his. But what's almost more difficult for him is that he's made a catastrophic decision to borrow money off somebody when his last venture failed, so that is coming back to haunt him.
He's got a house full of teenage kids who all want his attention, he's got a supervisor on his back, his parents are causing him problems, as are his siblings. He's got a mountain of problems of his own, and he's trying to stay calm and help his patients deal with their problems at the same time.
What attracted you to this?
I've always really loved improvisation, I think it's a fantastic way of working, and I've used it in various projects in the past, in different ways. We used it on Green Wing, on Alan Partridge, the film Confetti was entirely improvised, and I think it can produce some fantastic results.
However, it's very unwieldy, inevitably there's a lot of stuff that needs cutting out. But those moments where somebody says something for the first time ever, and somebody reacts completely naturally in the moment – it's what you're trying to do as an actor, to recreate that. It's like trying to explain a great night out later to your friends. You had to be there.
And improvisation allows you to be there at the moment something is created. The fact that it's mostly shot through online video calls means that you can edit it in the way that you would edit, say, a panel show.
Basically what excited me about this idea from the beginning was that here was a method of using improvisation that was manageable. And then it was a case of casting actors who could work in that way. Not all actors can improvise – there are some brilliant actors who couldn't improvise a single line! But I've been doing this for a while now, and you come across people, and you know who can do it and who can't. So the show is just stuffed full of people who I knew would be able to handle working like this, and it's really been everything I hoped it would be.
In fact, we had far too much stuff – we could have made three series out of all the footage we had – and we've had to throw away some very funny stuff.
We've done a lot of the writing in the editing suite. It was a joy.
And it's always interesting to see somebody onstage and off, as it were. So you see Richard, with all the trauma and chaos in his private life, and you see him having to put that on the back-burner and try to be there for his clients. And also the way we interact these days, through our phones and computers, texts and emails, it just feels that the ways of communicating have multiplied and multiplied, but in many ways we're actually properly communicating with each other less, so this is a way to explore how technology is affecting the way we talk to each other.
Much of the action happens on online video calls - what was it like to film? Did you have to act to a blank screen?
No! We deliberately didn't do that. So every single conversation was being recorded, both sides at the same time. We shot the whole thing basically in one house in Queens Park, in North West London.
I'm downstairs in the living room, they're in sets we built upstairs. We had these things that allowed me to look at the camera lens, but also see and hear the person upstairs, and they can see and hear me, and we just start talking to each other.
It also means it's a very quick process. The camera doesn't move, you don't have to re-light it. With this, once you're set up, you start filming.
The first Sarah Hadland session we did, the first take was 25 minutes long! We just let her talk and talk and talk. That was such a joy – these conversations, the improvisation were done for real. I think there's something inherently fascinating about watching people actually talk to each other.
And the other upside was that we could film people very quickly. Charles Dance is in all six episodes, we shot his entire series in one morning. Richard E Grant is in every episode, we shot his entire series in one morning. David Tennant was there for an hour and a half. That really helped us to get the stellar cast we got.
If you want someone for three months, that's one thing, but if you want them for a morning, that's a totally different thing.
Did you take your inspiration from Lisa Kudrow's US show Web Therapy?
Yes. They asked if I'd like to do a British remake of Web Therapy, and I said no, without even looking at it, because for me, ideas have their best incarnation by the people who thought them up. Often a remake in another country is just a pale imitation, because the impulse that drove people to make that programme isn't there. You're taking on someone else's idea.
But then I watched it, and I realised that the format, online therapy, allowing a lot of improvisation, was so brilliant that I just had to do it. I think our show really has very little in common with Web Therapy, apart from the premise of it being online therapy, and much of it being improvised.
I knew it would give us a chance to take it in a completely different direction and give it a British sensibility. I think the original is fantastic, but I didn't want to make a version of Lisa's show, I want to make my own show. So I went away and wrote this.
Your brother-in-law, Robert Delamere was co-writer and director, and your wife, Louise Delamere produced it and contributed to the writing as well. Does that make for a more or less harmonious process?
It has its pluses and its minuses. This is the first series commission I've had for something I've written, so this I a very big deal for me. I wanted to surround myself with the people that I knew, on the acting side and behind the camera, who I knew would help me the most. I didn't pick them just because they're related to me!
Rob's a brilliant director, he directed our pilot, he's great with performers. And Louise is a fantastic producer. So it worked very well.
Obviously, when you know each other that well, emotions can go from nought-to-sixty very quickly, because you aren't as polite to each other as you might be if you'd only just met. But the reason I work with them is that I trust them and their artistic judgement totally. And we are all still talking to each other!
Is it fair to say that Richard Pitt is as screwed up as most of his clients?
Yeah. I think he's not a great communicator. For a man who's a therapist, who's trying to get people to open up and examine themselves, he's not honest with his own therapy. He's not honest with his wife. He tries to push problems into tomorrow rather than dealing with them today.
It's a difficult balance to get. Lisa Kudrow's therapist was clearly an appalling therapist who was only out for her own selfish ends – which is obviously very funny. We wanted to see if we could actually make some of the therapy a little bit more genuine. We wanted him to be quite a good therapist. So I learned as much as I could about therapy, given the time constraints. But yeah, he's a total mess. You want to see that contrast between him trying to deal with these people, and him trying to deal with his own life. Everything seems to be coming at him at a hundred miles per hour, all the time.
If you had issues you needed sorting out, would you go to Richard?
No! No I wouldn't. The idea is not that we're anti-therapy, it's just that it's like with any profession – some people are better than others. And you don't know which one you're going to get. We put ourselves in the hands of people who may not be the best people to have holding us. And a series about a really successful therapist doing really competent therapy isn't going to be funny.
If you're dealing with people who are having a difficult time, do you have to tread a careful line to make sure you're not treating mental illness with too much levity?
Absolutely. That was something we knew was a very real danger. People who have proper, serious issues, you don't want to be laughing at those issues. You want to be laughing at the way those issues are being handled by the therapist. You want to laugh at people's lack of self-awareness.
This show is not about laughing at the mentally ill or the vulnerable at all, no. It's more pointing a finger at how poorly we listen to each other. And therapy is ultimately a listening exercise. Families should listen to each other, husbands and wives, brothers and sisters, fathers and sons. But our chaotic modern lives – we might have more ways of getting in touch with people all over the world than ever before, but it's not necessarily producing a more connected, tolerant, understanding society.
There is an element of sadness running through proceedings. Do you like doing comedy that has a good dose of pathos in it as well?
I think comedy is the best vehicle for tackling almost any subject, really. I think comedy can allow an audience to talk about difficult things. In Britain, I think we deal with things with humour, that's how we deal with life's hardships. I think comedy can tackle the most difficult issues in a really profound way.
Hang Ups will begin on August 8 at 10pm on Channel 4.
Published: 31 Jul 2018
What do you think?