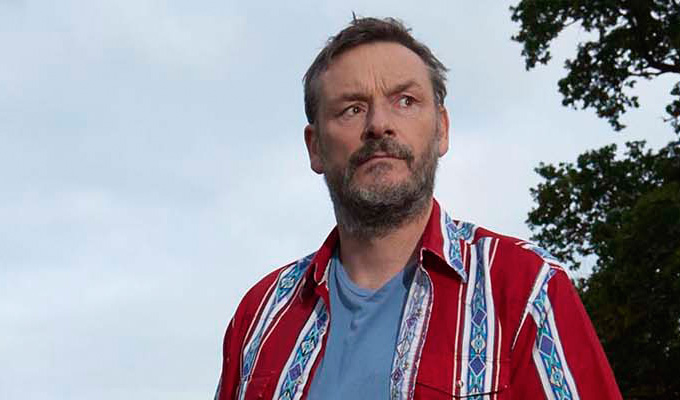 'I'm not ambitious, I'm just happy to fade away'

The dark comedy Flowers, with its theme of how mental illness affects an unconventional family returns to Channel 4 at 10pm on Monday, with its six episodes stripped across the week. Here Julian Barrett speaks about the show, and his future projects…
How did you feel about the way the first series of Flowers was received?
I don't read any press for things I'm doing really, but I got a lot of response from people in the street, which was really nice.
It's interesting because it deals with mental health. A lot of people were quite vocal about that when they came up to me and said, 'Oh it really helped me.'
I think because it's dealing with that issue, it hit home with a lot of people and they were grateful that people were talking about it in the way that it was. I think people were just grateful we were talking about it in a funny, measured sort of relatable way.
Will [Sharpe], he's a good writer. He knows whereof he speaks, you know. I think it's just good to get it out and talk about it and have it be part of the fabric of entertainment and conversation and comedy and whatever else we're doing. It seems like it's been a bit hidden, especially in this country.
Where do we find your character Maurice in series two?
Things have happened and his life has changed. He's trying to be a different type of person, and trying to show, that he's changed. There's quite a lot of humour in people who are pretending that they're really healed and really strong again and that they've found themselves when in fact they haven't.
He's trying to attack it, trying to deal with things, and use the language of self-help or emotional health. But it's a bit too soon really, so there's quite a lot of comedy in that. But he's just trying to keep his head above water as usual. He's in the midst of it. In the second series he's very tumultuous and it focuses on his daughter.
What attracted you to the role?
I would have done it anyway, just from the scripts. I met Will and he was such a nice chap and funny and he has all sorts of influences, things I was interested in, things he was interested in.
The second series was great fun because we all had this shared experience. It's really good fun to come back and meet a group of people again and carry on the story.
When I did The Mighty Boosh back in the day, it was such a sort of family thing and we were all mates. I'm always searching for that kind of thing, which is hard. With Flowers as well it's really sort of a bunch of friends and family. It's really nice to get that kind of thing happening.
It was always clear the tone was somewhere between comedy and drama. That's partly why I was so excited by it. It was so tonally different from stuff I'd done before.
I was really intrigued to see… and was quite happy to let [Will] guide me in that way and tell me stuff he wanted me to do because I trust him as a director.
I do like the idea of doing stuff that isn't totally comedy, but maybe that's just a midlife thing and I want to do some more serious things. I've got kids and we just watch really silly comedies all the time.
What else are you working on?
I'm acting in a show my other half Julia [Davis] has written and is directing [the Sky comedy Sally4Ever]. I'm doing a bit of acting and writing music for various thing… and maybe some sort of live show involving music. I'm also writing scripts, trying to get them away. It's an ongoing process.
Sometimes I think I don't want to do anything. Happy to just fade away now and just read a lot of books. Got quite a backlog of books I haven't read. I'm not quite as ambitious as I used to be.
I quite enjoy the ebbing of a certain amount of ambition. It's strange you end up getting quite… sometimes the less you try you end up stumbling into these really interesting jobs. Flowers for instance, that was only because I bumped into Will. I'm not gunning for parts. I'm not doing that anymore.
I'm really bad at auditions, I've come to terms with that now. It's just a weird thing as an actor. I'm more into music at the moment.

• 'He's a genius... and he's about 12' Olivia Coleman pays tribute to Flowers creator Will Sharpe
Published: 6 Jun 2018
What do you think?