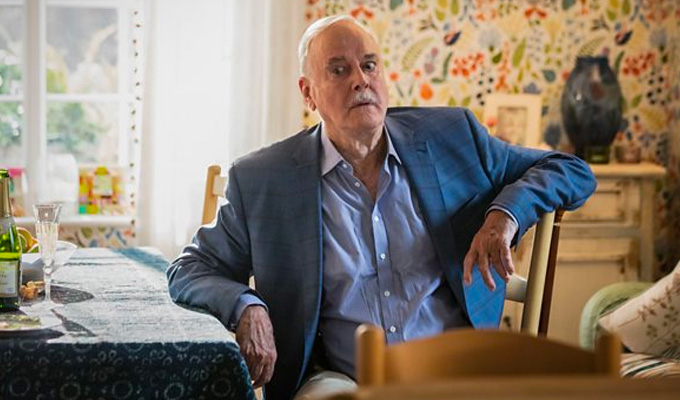 'It doesn't matter that the others are funnier than me'
John Cleese makes a return to sitcom this weekend with Hold The Sunset, his first BBC comedy since Fawlty Towers 44 years ago. Here he speaks about why he made the comeback, his character, and the reunion with his wife from Clockwise, Alison Steadman…
What drew you back to TV?
The producer Humphrey Barclay is an old friend of mine. We've known each other since 1961 when we were both in the Cambridge Footlights. He came to me and said he had found this great new script and asked… It was the best script I'd read in a hundred years! So of course, I said yes immediately.
You have known writer CharlesMcKeown for a long time, too, haven't you?
Yes. I have worked with him many times. He played Mr Ingrams in Fawlty Towers. And in The Life of Brian, he played the blind man who throws away a stick and says, 'I was blind, but now I see,' and then promptly falls into a pit. He gets the biggest laugh in the movie!
How would you describe your character in Hold the Sunset?
I've only just realised that Phil is almost exactly like me. When you stop reading it and start playing it, you can immediately see that. Phil sits around making sarcastic remarks - that's exactly how I am in real life! I keep thinking: 'I know how to say that line because that's exactly how I'd say it in real life.' It's been an absolute pleasure to play him.
Are there other sides to Phil?
Yes. He's also capable of great tenderness. He's really in love with his old flame and current neighbour, Edith (Alison Steadman). She is this lovely woman. But when her son Roger returns home having left his wife, Phil (Jason Watkins) starts to get very worried indeed. The sudden possibility pops up that his relationship with Edith might not work - and that scares the heck out of Phil.
You worked with Alison Steadman more than 30 years ago, when you portrayed a husband and wife in Clockwork. How have you found it being reunited?
It's been complete heaven. It's nice to play affectionate scenes every now and again, and I don't have to act affection with Alison. She is absolutely lovely and highly entertaining.
Do you feel any pressure on Hold the Sunset to live up to Fawlty Towers?
No, because I'm not writing this. I come to Hold the Sunset just as an actor. It hasn't been my creation. Instead of looking at me and three others on Fawlty Towers, the audience have five or six other key players to watch in Hold the Sunset.
Is it similar to any of your other work?
I see a parallel with A Fish Called Wanda because in that film, Jamie Lee Curtis and I were the emotional centre. In the same way, Alison and I provide emotional the heart of Hold the Sunset, and the others are funnier than we are. I've never minded that. If you have a scene that everyone laughs at, it doesn't matter who's getting the laughs.
How would you sum up your experience on Hold the Sunset?
It's been absolutely wonderful. I've never seen so much laughing on set. In fact, there has been more laughing here than on any other set I have been on, even Monty Python.
Anne Reid, for instance, has the wickedest sense of humour! Whenever I make awful comments about work, she is so funny. There is a great warmth among the cast and crew here. It's been a very, very happy experience.
• Hold The Sunset starts on Sunday at 7.30pm.
Published: 13 Feb 2018
What do you think?