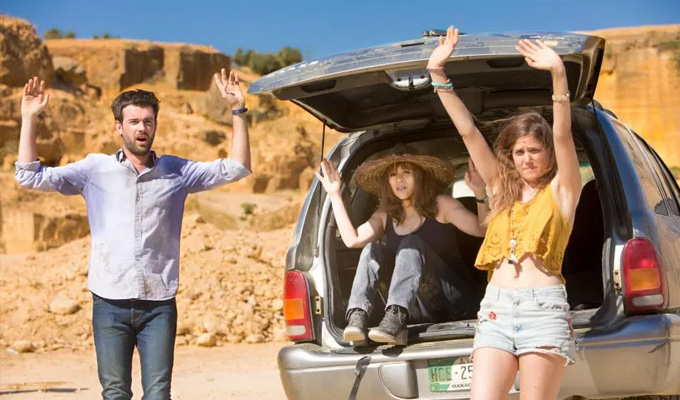 'It's The Wire meets Mr Bean'
'We start with a sequence that could be from The Wire,' Jack Whitehall says of his new Sky comedy Bounty Hunters. 'Followed by something that could be from Mr Bean.'
That is the clearly the balance the comedy-thriller is trying to strike.
'We wanted it to feel like high stakes, real-life situations where comedy all comes from character,' he adds. 'It needs to be funny but also to be genuine peril, which we think there is. There are a couple of people getting killed. We set out our stall in the first couple of minutes.'
'We' is him and his old pal Freddy Syborn, who previously wrote Bad Education together. 'Growing up our favourite films were ones like the Coen brothers or Midnight Run,' he says. 'So we were inspired by those in terms of the tone.'
To fill in the plot, he explains: 'My character, Barnaby Walker, is the son of an antiques dealer who unwittingly purchases a statue that has been looted from Syria. To try to get his money back he enlists the help of Nina, played by Rosie Perez, who's a tough New York bounty hunter.'
Sounds like it might be another posh-boy character for Whitehall?
'Posh?' he acts offended. 'I don't think anyone's going to say that. They're not even going to notice the posh thing...
'For me, what makes Barnaby different is that he's really highly strung and he's got a lot of pent-up frustration. He's this forgotten figure within his family, no one trusts him and no one thinks he's capable of doing anything. He's a bookish intellect.
'Over the course of the six episodes, you see him go on a bit of a journey. I like that element of him as a character. Hopefully, people will recognise that.
'We wanted a culture-clash comedy as well. It's a very posh, uptight family who don't talk about their emotions and have so many secrets, coming into contact with this fiery Puerto Rican family that wear their heart on their sleeve and talk about everything and we want those two worlds to collide. That's the heart of the comedy.'
In Barnaby's family, the father Nigel is portrayed by Robert Lindsay. 'He plays a real shit,' Whitehall notes. 'He's really, really good at it.'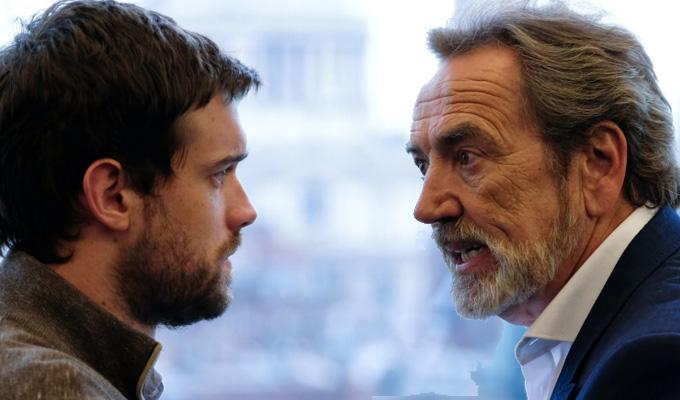 Any similarities with Whitehall's own father, Michael, who sometimes appears with him on TV?
'Yes. My father deals in blood antiquities,' Whitehall deadpans. 'History will judge him very badly.'
There is more family similarity between Charity Wakefield, who plays Jack's on-screen sister Leah. 'Charity looks identical to my real life sister but they are very different people,' the comic says. 'She's never slept with a drug dealer… as far as I'm aware.'
'Leah is a hard character to play,' he adds at a press screening to launch the series, explaining that it requires a delicate balance between being playing the crazy character for both drama and laughs.
'You need to sympathise with her, you need to believe her, but it's quite big and Charity just pitched it perfectly,' he said. 'Leah is one of the most pivotal characters across the whole series. I don't think anyone else could have done it or made it as funny and believable.'
Charity admits: 'It was quite hard for me to keep a straight face sometimes. Jack's so funny, the lines are so funny, You are on that borderline of being very emotional and trying to play the story as real as possible with the jokes that undercut everything. I did corpse quite a lot during filming.'
Tone was key for director Will Sinclair too: 'You always knew straight away if a scene became too overtly comic, it wasn't quite right,' he said. 'But if you started wallowing in the drama, that wasn't quite right either.
'There were a lot of discussions about the tone.We went "play it seriously…" and then these two [Syborn and Whitehall] would say "it's got to end in a knob joke". So we'd put it in. Then in the edit they go "Why is that knob joke there? Let's take it out… Now it needs to be funnier.'
Whitehall agrees: 'There was that fear of being desperate to cram in more jokes and trying to add in funnies. But the key is the story, making sure it's always believable and truthful and always from character.'
The shoot was ambitious, taking in 112 locations in three countries: the UK, the US and Spain, standing in for the Mexican home of a drug cartel. One chase scene starts in the Tate Gallery, another scene 'an homage to The Third Man' takes place on the London Eye.
'It was quite stressful because we only got two rotations, so we had to get the scene in about 30 minutes,' Whitehall says. 'There was physically not enough space in the pod for everyone. The producer was in the pod above us just peering down, calling in notes on her phone.'
There is even a car chase on the ridiculously tiny battery powered G-Whizz car that Barnaby drives.
'That car was an absolute nightmare,' Whitehall laughs. 'We had to have two on standby because the battery runs out in five minutes. That was, I'd say, the biggest challenge [Will] had, making us a movie-style chase in a car that can only do 40mph and has five minutes worth of battery. And he did it, it's amazing. It's funny and a genuinely dramatic car chase.'
Scenes from the cartel compound were shot in the same place where they film some of Game of Thrones. 'That is both exciting, as a fan, but also very unexciting,' Jack says. 'People kept looking over when they walked past like "Ooh are they shooting Game of Thrones? Oh no, who the fuck is that? That's not Khaleesi."'
They might have seen Rosie Perez, though – quite the casting coup for an Oscar nominee to do a British sitcom. How did the get her.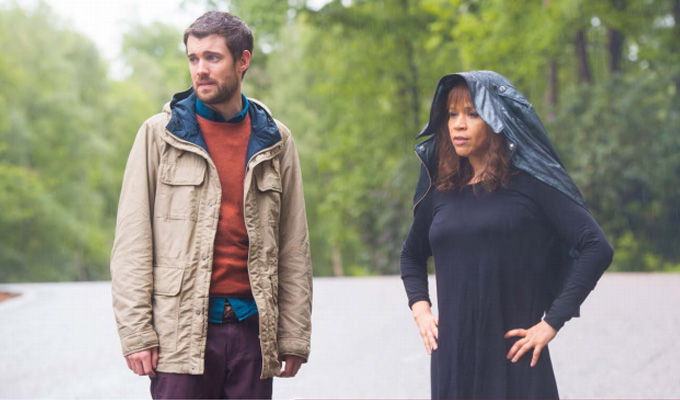 'We did a pilot together many years ago in America and she was fantastic. The pilot wasn't great, but we had these scenes together and they were the best things in it,' Whitehall says, skipping over the fact that the pilot was An American Education, the proposed US remake of Bad Education.
'So after that we were like "we've got to write a show for me and you". It took a while.. the kind of show we wanted to write was something that was a little bit more sophisticated and ambitious.
'I don't think she really believed we would write it, but the script arrived on her desk and she was like, "I love it" and she came on board very early, which was very helpful, and she was able to help create her character from the ground up. To make sure her family's story felt authentic, it didn't feel like that storyline was written by two white public school boys in London.
'She was very on board with everything; the dialogue, the character tics within that were things that she brought to the table and it made it feel very authentic, real and truthful.
'She's amazing to work with, she's an incredible actress. She can be really funny, really fiery and a big force of nature, but then she can bring an incredible vulnerability to her character and you really feel for her. She's got the softness as well.
'She found London quite a confusing and odd place. She once told us she had a great time visiting "Madder Valley". "Maida Vale?" "Yes that's the place."'
In return for showing her around London, Perez took Whitehall to the boxing in New York with - fisticuffs. With all her cousins and all her friends from Brooklyn. Or 'fisticuffs' as Whitehall calls it. 'I stuck out a little,' he admits with understatement. 'I usually go to Lord's'
Whitehall himself is increasingly getting noticed as a proper actor, not least in the adaptation of Evelyn Waugh's Decline and Fall earlier this year. Not that he's very comfortable talking about himself as a thespian, protesting that he felt like a 'fraud' on set.
'I'm hugely self-conscious,' he says. 'I always feel nervous about talking about myself in those terms [as an actor] – but I really want to! I'm very British.'
'Another actor said to me, "You should probably stop telling everyone you're shit." But I just can't get it out of my system just because I feel that should be the default setting: I'm an arsehole and I'm not very good.
'I can't help but be self-deprecating because I have insecurity. Now I'm going to sound depressed again! Every time I talk to journalists..., he sighs. 'Whenever I do an interview and read it back again, I'm like "What the fuck is wrong with this guy! Just get over yourself"
'I'm actually really happy I liked Bounty Hunters and I'm really proud of it.'
• Bounty Hunters starts on Wednesday October 25 at 10pm on Sky One.
Published: 20 Oct 2017
What do you think?