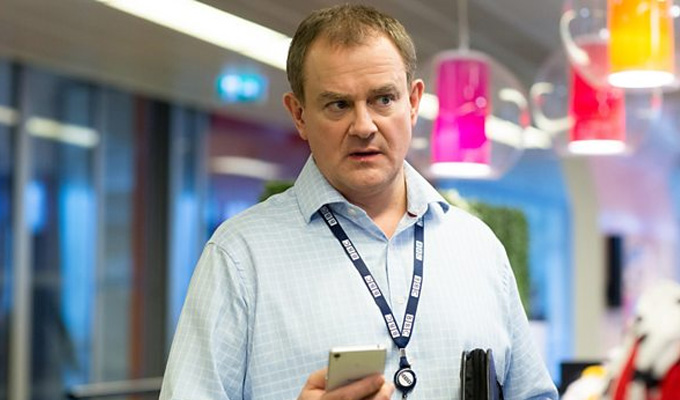 'A superb ear for the meaningless drivel many of us use'
W1A is returning to BBC Two for its third and final series spoofing BBC management, with Head of Values Ian Fletcher (played by Hugh Bonneville) trying to corral a hapless management team that includes Anna Rampton, Director of Better (Sarah Parish); Simon Harwood, Director of Strategic Governance (Jason Watkins) and Siobhan Sharpe, of FUN Media (played by Jessica Hynes).
Further down the food chain, commissioner David Wilkes is working with development executive Izzy Gould (Ophelia Lovibond) on a series that monosyllabic assistant Will Humphries (Hugh Skinner) devised.
Here some of the cast speak about the show….
---
Hugh Bonneville
What can you tell us about your character in this series?
Ian Fletcher's bedside reading is currently The Sinking Of The Titanic and Other Psychological Conditions, and Optimism In A Post-Truth World. So he is very much keeping a positive outlook while at the same time testing the emotional lifeboats.
Is life getting any easier for Ian?
To say that life is getting easier would be an overstatement, but often within overstatements are kernels of truth and frequently at the nub of a kernel can be found the essence of possibility. Options are there to be explored for Ian, some will be more positive than others but ultimately he has a sense of loyalty to those on the bridge with him.
You have played Ian for a while now, how long does it take to get back into character?
As well as conventional immersion methods and chanting, I tend to use the Patsy Rodenberg grunting technique in my quest to locate Ian.
By lunchtime I have usually found him.
How do you find working with writer and director John Morton?
John is a very good director who has been handed a complete turkey of a script by whoever wrote this stuff and he struggles manfully against the odds on a daily basis.
On a more serious note, I have nothing but admiration for John, a man who doesn't get out much but who has a superb ear for the meaningless drivel many of us use when pretending to communicate.
What's your favourite storyline of the series?
The escalating crisis within the mind of Anna Rampton is a great thread to follow. We know her as an ice maiden but somewhere inside there is a 14-year-old panicking to get out. The lengths she goes to put herself in Ian's path, particularly when he has his cycling outfit on, is very funny.
Is there anyone you particularly enjoy playing opposite?
Hugh Skinner's character has a vocabulary of about four words to play with but he uses them with such precision; he's immensely skilful and makes it look effortless. When watching Jessica Hynes you think at first she's sculpting jelly then suddenly it sets and it's sublime. Who do I like acting opposite? 'They're all marvellous, darling.'
Why is W1A so popular?
Some people misconstrue it as a satire about the BBC. It's not, any more than Twenty Twelve was a satire about the Olympics. It's actually just a framework for seeing characters who are on the whole incapable of achieving what's in their job description.
Some of the characters are idiots, some are endlessly doing battle with idiots - and I think we can all identify with those situations, whether we're on the fundraising committee for the village cricket pavilion, or in President Trump's cabinet.
Sarah Parish
What can you tell us about your character in this series?
My character, Anna Rampton, is taking up her new role as Director of Better and still has designs on Ian Fletcher, very much so now. She is still bluffing her way through meetings and panic-attacking her way through situations, getting out of doing anything of any particular value.
What's going on with the love triangle between Ian Fletcher, Anna Rampton and Lucy Freeman?
In Anna's head, she just presumes that Ian will end up marrying her, you know why wouldn't he? She is very successful and has got lots of money! However she can see there is a slight threat there with Lucy, therefore Anna's inability to play it cool gets more and more prevalent as the series goes on.
Anna has also bought herself a Brompton bike as she thinks that will make her more appealing to Ian. She has no idea how to use it but she has bought the top-of-the-range most expensive one; she has no interest in it at all.
John Morton is known for his meticulous dialogue, how did you find that?
Filming has been very difficult this series as it is every series. But it is such a joy to have such a brilliant writer, so it doesn't matter how difficult it is to do those huge long scenes in the offices that take forever! We all know each other so well now that if we mess up it doesn't matter. We have got the rhythm of those characters now which has become so natural.
Is there anyone you particularly enjoy playing opposite?
I love them all - most of my scenes are with Hugh Bonneville and I love his character, and I just think he is so indefinably loveable.
I can't can't even look at Rufus Jones's face without laughing! And when I watch Jessica I am so in awe of her comic timing, and to make everything sound brilliantly funny.
Why is W1A so popular?
I think it resonates with anyone that works in a corporation, anyone who has had to sit in on meetings that go on and on and never really conclude recognise it. The characters are very well-defined and well-written and people recognise them, people always come up to me in the street and say: 'I've met your character; you're the really intimidating one that never says anything!'
What's the most W1A thing that has happened on set?
Being 'horizontally evacuated' where you just walk to a different area on the same floor when a fire alarm goes off!
Hugh Skinner
Can you give us an overview of the new series?
This series builds up to the launch of BBC Me - an incredible new online platform - and everything orbits around that I guess. Will has the job of stopping celebrities in the reception of New Broadcasting House and asking them to say 'me' into a camera…
John Morton is known for his meticulous dialogue, how did you find that?
It's really hard to learn but it is all written very specifically with intention. So at first glance it can seem like someone is just saying 'cool' and 'yeah' in the most confusing way you could ever hope to learn. But there is very definitely a specific logic to it and it all makes sense.
The hard thing is the idea is to learn it so you don't think about it and then what's actually going on is underneath. I feel lots of the show is people saying one thing when they mean another.
I love playing him. If people like him I think it's because he is so nice, he is so good and he's almost completely useless but he tries so hard.
What's the most W1A thing that has happened on set?
When we went to get lunch and security would ask to see our passes and obviously we all had prop passes on that didn't work and they wouldn't let us go anywhere as the security team thought we were imposters.
Ophelia Lovibond
What can you tell us about your character in this series?
Izzy has gone up in the food chain slightly and she is now working in development, but the same things are still happening so she is having her ideas repeatedly nicked by people who are further up, and there's not really much she can do about it.
How did you find learning your lines?
It definitely takes longer! But it's really satisfying. Because a lot of my scenes are with Hugh Skinner, a lot of my cues are the same, but it's so satisfying when you get it right!
What's Izzy's relationship like with Will this series?
Not maternal because that's weird, but he is being used a lot and she just doesn't agree with it.
This series you see more explicitly Izzy trying to manage what she feels is a moral obligation to do the right thing… in order to get ahead like the others have she'd have to relinquish her moral code and she's not cut from the same cloth to be able to do that.
Do you have a favourite scene this series?
There is a scene where Izzy realises something amazing that Will has done for her, and you just see that moment when a real act of kindness completely floors her.
I think Hugh Skinner is fantastic, he has got funny bones. He can just be standing there and it is arresting, he is just funny. We all came in one day and he had set up this long lunch table and we were like this weird family, we were all sat around at odd height chairs sharing sandwiches. The weirdest Last Supper I have ever seen!
• The new series of W1A starts on BBC Two at 10pm on Monday.
Published: 12 Sep 2017
What do you think?