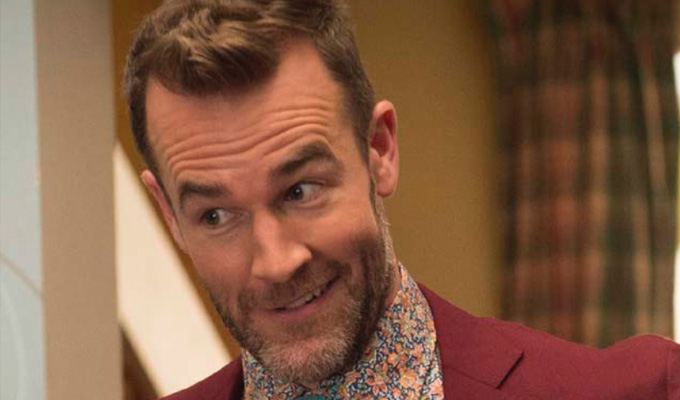 'I am so friggin' American'
Former Dawson's Creek actor James van der Been stars in the forthcoming Sky1 family comedy Carter's Get Rich. Here he talks about the series…

Can you sum up the series?
It's about an 11-year-old kid who invents an app. It's bought by a borderline insane American tech billionaire and is about how his family deal with both him and a huge influx of money.
Tell us about your character, Trent. Who is he and who inspired him?
Through this crazy life that I have led, I have gotten to know a number of these billionaire tech entrepreneurs and Trent is an amalgamation of a few of them. Some are genius businessmen while some are more lucky than smart. Trent is smart but he is not quite as smart as he thinks he is or wants to be. He's a great salesman, he's ambitious and he is 100 per cent shameless and that makes him a lot of fun. The poor Carter family have to deal with his every whim when he swoops down into their lives.
Did you have a favourite line in the series?
I got endless joy out of doing a bad British accent. Every American thinks they do a flawless British accent and I think maybe 0.001 per cent of us do.
Why did you want to do the show?
I had wanted to play this kind of tech billionaire for a while and the pedigree of the project was pretty phenomenal. I had wanted to work in the UK since I was 19 and backpacked through and I had romanticised about the idea of coming over and  playing an American with a bunch of British actors. Until this, I just never had the opportunity or the time to do it. My wife was a rock star and let me go and shoot it, even with a brand new baby.
What was it like on set?
They [the cast] are all so good and so funny – there was a lot of laughter on set. When I wasn't on, I would go back behind the monitor and watch what they were doing. It was like being in a British comedy masterclass, it was fun.
Are you a fan of British comedy? Do you watch a lot?
Yes, most American comedy came from British comedy so, for me, it was fun to go to the source. There are cultural differences, though, obviously. Every time I step on to British soil I realise how hopelessly American I am. I think of myself as a pretty worldly guy until I travel abroad and then I think, "wow man, I am so friggin' American". It's so embarrassing.
What reminds you of this?
It's turns of phrases. Even this morning I have used three or four phrases that are baseball references. I think that's why I wanted to make fun of the brashness and the chest- beating pride – it's real on a lot of levels.
In the series, Ellie tries to create an app that turns her phone invisible. If you could create any app, what would you make?
One that could get me a couple of hours of extra sleep at night. I would pay way more than 99 cents for that
Carters Get Rich – which also stars Kerry Godliman, John Finnemore and Rio Chambers as Harry – starts on Sky1 soon.
Published: 6 Mar 2017
What do you think?