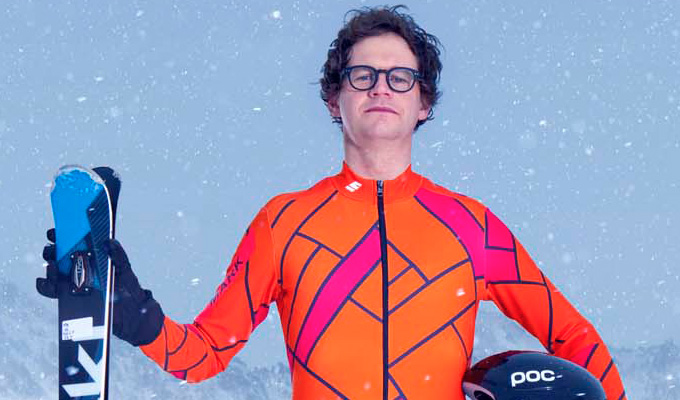 'These outfits make you look like you've got a beer belly and no willy'
Why did you sign up to The Jump?
This is a once-in-a-lifetime opportunity. It's something a lot of people would pay to do. After what can only be described as a clerical error, I've been invited onto the show. I'm 42 so it's probably now or never. This is the closest I'm ever going to get to being adventurous with my body.
What did your family think about you joining the show?
My mother has vetoed the whole thing. She's basically had a Brexit from me, it's called a Mexit, it's when your mother disowns you. She gave me life and I think she believes it's not my right to put myself in danger.
Mothers are protective, so for her to see her child do something like this is a bit hard for her. She told me not to do it and such is the nature of our relationship, here I am! My wife is less worried because she doesn't like me very much.
So many celebrities were injured last year, are you worried?
I'm going to take great care in training and do everything I'm told so that if I end up lying on a stretcher I won't be thinking, 'If only I'd gone to that training session'. My great hope, notwithstanding injuries, is that I come out of this a better skier and can impress my friends.
Are you sporty?
I'm not one of those people who does a triathlon. I've never been voluntarily energetic in my life. I love to sit, I'm really good at it and I think sitting down is an underrated skill in our society. I've turned sitting into an Olympic sport. I've been doing it all my life so therefore it's good that I'm being forced out of my comfort zone. If someone outside invites me to be energetic then that's a good opportunity to use muscles I never knew I had.
How have you found training?
I'm really enjoying the training. I've skied in the past but it's always been very leisurely and very focused on the après-ski, which I must tell you I have three medals for, Jägermeister gold was quite a moment for me in my drinking career.
It's a different feeling to be in ski boots on a mountain and actually working hard.
Are you worried about how good the others are?
The problem we have this series is that it's packed full of professional athletes, people who are hard-wired to win. I'm hard-wired to sit down and have a cup of tea.
The idea of competing against people programmed to win is terrifying. The other celebrities are either young or buff, I'm totally out of my league. Spencer [Matthews from Made In Chelsea] has not won any medals but you should see him with his shirt off. I've actually taken photographs which are for personal use.
Gareth [Thomas, former Welsh rugby international] is a unit and could snap me like a twig, if I'm honest, I just want to be held by him. I feel like he could give good man hugs. It would be a very safe place in those arms, a warm feeling, so one of my challenges is to get close to him for a man hug.
Does anything on the show scare you?
Everything! I'm not great with heights. I was born in London so I'm an urban creature, I'm a big fan of pavements and roads. So therefore it's not really in my DNA to be in the great outdoors. One of my challenges with this show is nature, it's slightly daunting.
The outfits are pretty tight and revealing, what do you think about yours?
Until I did The Jump I thought I was a slim man, how wrong I was. These outfits make me look fat, I've got a beer belly I never knew I had.
I'm well known for being long, slim and lanky, but I look positively fat in this outfit. A morning in the ski suit is enough to get me off the carbs, I'm doing pilates and I've bought all of Davina's DVDs, which I'm following religiously.
Some of the guys are embarrassed about the lunchbox department. I'm lucky because I'm quite tightly tailored in that department. One of the seamstresses told me to tuck and we quickly realised it wasn't necessary, such is my form. I hasten to stress the low temperatures on that mountain have reduced me to Greek statue like proportions.
Basically these outfits make you look like you've got a beer belly and no willy
Are you looking forward to the après-ski?
I think the après-ski is where I can become the teacher and the others become the student. I can be the Godfather! I'll have a diet plan for them with involves an Austrian lager, then we'll move onto an Austrian white wine, then it's schnapps time.
I've got a plan for the team. I'm hoping I can corrupt these perfect athletes with their brilliant, temple-like bodies. I'm hoping my legacy on the show is to ruin all their careers through sheer pleasure.
• The Jump launches on Channel 4 at 7.30pm on Friday
Published: 31 Jan 2017
What do you think?