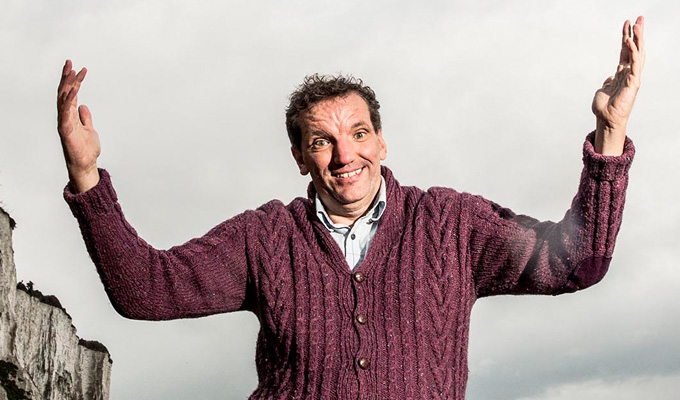 'Being German is a viable business plan'
An Immigrant's Guide to Britain is a new three-part series in which Henning Wehn and other first-generation immigrants provide a guide to life in Britain, through reports, sketches and hidden camera experiments. Here the comedian talks about the show, which starts on Channel 4 on Monday night, following a one-off last year:
What's the concept behind An Immigrant's Guide to Britain?
It's a three-part series, a programme for immigrants by immigrants. It's explaining Britain – it's essentially like a Public Service Broadcast, aimed at people from abroad who are considering coming to the UK, and what they can expect. Of course, people originally from Britain are allowed to watch it too – they might even find it quite funny!
You've been in this country for 14 years. Is it true you initially came over to work for Wycombe Wanderers FC?
Yes, that's true. I was drawn to the idea of working for such a prestigious and internationally renowned club. The season before, they'd been to the FA Cup semi-final. I'd always worked in football in Germany. And the people I was working for in Germany were about to go under, so I looked at my CV. In thought it looked all right, but I didn't speak English, apart from basic school English. So I thought I'd go and spend a few months in England, and I applied to all the 92 league clubs. I had a few interviews in and around London, and ended up with a job at Wycombe.
The everything just fell into place. I enjoyed it here, and I still enjoy it. Wycombe was very good – the Chilterns is a brilliant part of the country. The weather was a lot better than I initially expected – I'd never been to London or anywhere in the UK before, and I believed all the stereotypes, that it would always be foggy and raining, and that all the food would be inedible. And none of it was true.
I enjoyed my time at Wycombe, then moved on to work for a football business magazine in London. And fairly early on I stumbled into stand-up, so I had that as a hobby. The whole package was so good that I never felt like I should move.
What were the things that were most difficult to get used to, as an immigrant?
I struggle with the attitude to debt. The idea that it's perfectly okay to be in massive debt. Even that term 'good debt' – I find it hilarious. From a German point of view, it sounds a bit like benign cancer – it might be benign, but I'd still rather not have it. So I still find the British attitude to debt confusing. Other than that, I think I understand the country.
Do you think people in the UK are unwelcoming to immigrants, and was that your experience?
No, not in the slightest. I come from a very similar culture, so I've always felt at home here. Everyone likes football, everyone likes a pint, so I've always felt at home, really.
And I've never had any moment where I've been made to feel like an outsider, or that I don't belong here. I feel at home.
Even when England are playing Germany at football?
Well, that's always in the early stages of the tournament! But even that has changed. When you talk to German people who lived here back in 1996, during the Euros, German cars were being smashed up and all that. If England play Germany in the Euros in a few weeks' time, that's not going to happen again.
Over the last 20 years, things have changed a lot. Being German is actually a viable business plan in this country. You have German Christmas markets. There are loads of German pubs now – there's a lot of German stuff going on – already a lot more than there was 15 years ago when I came over. So all of that has calmed down a lot. Even the war references – that's all just panto, isn't it?
In the UK, there seems to be this belief that we're the funniest nation in the world, and that the Germans have no sense of humour. What's the reality?
I think they all like a laugh – I think the difference is the social importance of humour. In the UK, someone writing their CV will put on it that they've got a good sense of humour, and companies look for staff who say they have a good sense of humour. And you think, 'How's that going to help you with your job?'
And someone like Gordon Brown gets criticised for not being funny enough. He was the bloody Prime Minister – that's not what I judge him by.
Germans would never judge Angela Merkel on whether or not she was funny. Is she reliable? Does she get the work done, and make good decisions? In Britain it's 'Does he like a pint and does he have a laugh? Does he crack a joke?' I'm not sure how that qualifies him to run the country. But that's just the slightly different attitude, and the emphasis based on humour in Britain as opposed to overseas.
Do you have any favourite parts of the programme?
I like everything that Mark Silcox was in. He's brilliant – a comedy genius.
What have you found to be the best and worst things about living in this country?
The best is the flexibility – you can do whatever you want. You can start any profession you like. You can work in any field. You can be a lawyer one day, a plumber the next, and vice versa. That, I think, is incredibly refreshing. The downside to that,is the quality of work is rarely very high.
• An Immigrant's Guide to Britain begins on Monday at 10pm on Channel 4
Published: 25 May 2016
What do you think?