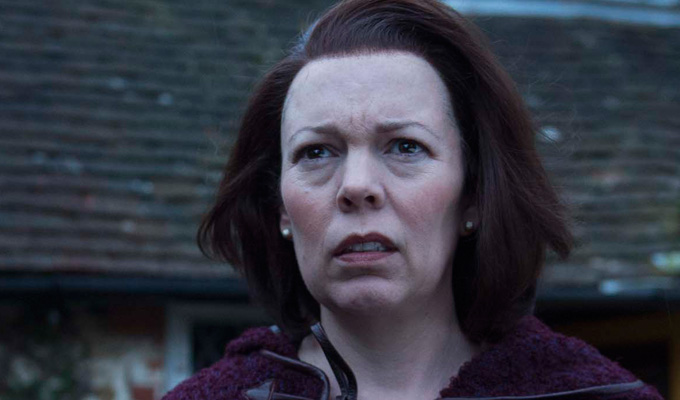 'Darkness really complements comedy'
You're starring in the dark new comedy Flowers, which is being stripped across Channel 4 in the week of April 25. It's not what you'd call a traditional sitcom, is it?
No! It goes to darker places than most would go to. A comedy about suicide and mental health is pretty unusual – they're normally the domain of drama. It's quite daring, and I like that.
You play Deborah. What's her story?
Deborah is a woman of love. She loves her family desperately, although is misguided a lot of the time. If she can sense something is not right, she doesn't necessarily try to sort it in the right way. It's a symptom of the entire family that they don't really listen to each other. Or they listen but don't hear, which is where a lot of the comedy comes from.
She's quite eccentric, as they all are. She's possibly less eccentric than the others. She's lovely, she loves her family, and wants to sort them out, she just gets it a bit wrong.
What was it that made you say yes to what is essentially a relatively low profile and niche comedy on Channel 4 written and directed by something of a novice, Will Sharpe?
I've never picked a project because it's high profile. I picked Flowers because I liked the scripts, and if I'm enjoying myself, then I'm very lucky. And also it's [co-star] Julian Barratt, who I absolutely love, and have always loved watching. It was a lovely treat to be able to work with him. And I think Will's really amazing. I'm very grateful to know him early on. Hopefully he might ask me back.
I liked Will's pilot script, so that got us off to a very good start. I can like a lot of scripts, but sometimes they don't get made, and sometimes I don't get the part. This is one of the ones that I did like, and it all worked out.
I think in the first episode Will was a bit nervous – we were all a bit nervous. He was very polite, and I think I did quite a bad job a lot of the time.
And then we went into episode two and onwards, and I said 'Please don't be polite, if I'm doing a shit job, you've got to say.' And he went "Oh, okay". And he did, and he was brilliant. He gave such great notes, he really was a very good leader, who guided everyone really well.
There's a very real feeling to a lot of the conversations and reactions in this. Did you improvise much, or was it all laid out in the script?
It was all there in the script. If there was a big group scene, we would record it as it was written, and then Will'd say 'OK,  and now we're going to let rip a bit.' Which I find terrifying, but it was actually really quite liberating and fun, and some hilariously weird stuff came out of it. Yeah, it was really enjoyable.
With Sally in 2012, Sophie in Peep Show, and now Deborah in Flowers, your comedy characters aren't exactly blessed with the greatest luck in love, are they?
No! I don't know why. Maybe I find that funny. Is that awful of me? I think a good dollop of sadness is quite a useful thing in comedy sometimes.  I think if everyone's happy all the time, it's a bit dull.
I think darkness really complements comedy. It's like salt and caramel – you wouldn't imagine they would go well together, but they do. I think watching someone, from the comfort of your own home, doing something awful or wrong, you have the luxury to be able to laugh at it. I think it works.
Flowers and The Night Manager are such massively different projects. Does it feel like doing a completely different profession?
Actually no, not too much, because whenever you're not filming, between scenes and things, everyone's having a nice time, and it doesn't matter where you are. What we should always remember is that we're really fucking lucky. We're doing a job we love and we want to do. Take the job seriously, but not yourself, so that you're able to enjoy each other's company.
We're all kind of similar people, we like the same things. Between scenes, it's not very different, whether you're on a comedy or a drama.
What about in the scenes? Do you act differently? Is everything a bit more exaggerated and pronounced in comedy?
Yes. And I hadn't done it for a while, so I felt quite out of my comfort zone doing Flowers. You feel more comfortable as the days go by. I felt like I was doing an awful job, really hamming it up. But then I started to care less and just enjoy it. And with Will's guidance – either a thumbs up or a 'rein that in a bit' – it was really fun, and good to do something different again.
You seem to have been very busy for the last few years. Are you someone who feels a need to keep on working? Do you hate to turn good work down?
I do struggle. I really remember what it was like not to work, so it's hard to wilfully say 'no'. But it also looks like I've been working more than I have.
Apart from Flowers, I've just had nine months off, because I've been with my baby. It's just the luck of the draw that The Night Manager and Flowers are showing fairly close together. But The Night Manager was filmed year ago. My family is my first love and my first priority, and I probably have more time at home than people with normal jobs. 
Published: 6 Apr 2016
What do you think?