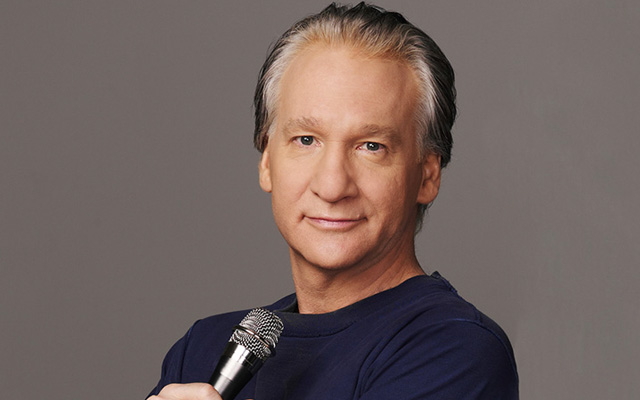 'I think I have European sensibilities...'
He's built a career on dissecting and challenging the detailed ins-and-outs of American politics… so it might come as something of a surprise that Bill Maher is planning on performing in Britain.
'I've never done stand-up in the UK before, but I've done TV,' the veteran satirist tells us, after his recent announcement of a date at London's Hammersmith Apollo in May. 'I did the Bob Monkhouse Show…'
That, it transpires, was exactly 30 years ago, when his fellow guests were Peter Cook and Michael Barrymore.
'I'm going to have to adjust some of my material,' he concedes. 'I don't want to bore the audience with references to obscure US congressmen.'
He insists he follows the news over here, but with six months still to go before the gig (which will be after the General Election) seems scant on details. 'As it gets close to the date I'll do some more research,' he says. 'I'll do a bunch of material about the English, but it will mostly be an American critical of his own country.
'But I think our show [HBO's Real Time With Bill Maher] has European sensibilities more than most US shows.'
Which means, what, exactly? 'A US sensibility is more about work rather than enjoying the quality of life,' he explains. 'And our show is generally more liberal.'
Maher's also playing Amsterdam, Stockholm and Oslo while he's over this side of the Atlantic, and some of those destinations certainly have progressive attitudes that are close to his heart. The 58-year-old supports the legalisation of marijuana and same-sex marriage, while his opposition to religion was explored in the 2008 documentary film Religulous. However, as well as his distain for faith in general, he also has spoken out about Muslims in particular – arguing Islam is uniquely oppressive, extremist and violent.
For he is not so easy to pigeonhole. Despite his ostensibly liberal purview, he owns a gun, backs the death penalty, and has expressed some support for the US government snooping on private phone calls and the internet as a tool in the fight against terrorism.
No wonder his attitudes have landed him in trouble both from the left and the right; perhaps most notably when his previous show, Politically Incorrect, was cancelled soon after 9/11 after Maher said there was nothing cowardly about the suicide bombers, compared to 'lobbing cruise missiles from 2,000 miles away'.
'Sometimes my own audience has booed me because they don't agree with what I'm saying,' he admits – countering the usual charge against political comics that they are preaching to the choir.
And he believes his jokes against religion may have helped convert people to atheism. 'People are easy to flip, it's really counterintuitive,' he says. 'Very few people can change from conservative to liberal. But a lot of people are religious just because they grew up in a religious family, Religion is so ridiculous and all you have to do is point it out. And when people laugh, on some level they know what you are saying might be true.'
He is a great believer in the potency of comedy speaking truth to power. 'Jokes can be destructive,' he says. 'Political cartoons have brought down politicians.'
Maher says the liberal slant of his show, and indeed most comedy, is because 'comedians have to get laughs; and the liberals are just not as funny – and not as nutty. Conservative politicians have gone so far to the right, denying global warming, for instance, that it's just laughable. Liberal politicians don't give us material.' But he expects: 'I don't think politics is so sharply divided in your country as in the States.'
Maher is among the comedians who are now a primary source of news for plenty of viewers in the States, alongside Jon Stewart, Stephen Colbert and John Oliver. But he has no issue with that. 'Since the days of Mark Twain people have been getting their news from comedians,' he says. 'You can get a truth through being funny when you can't get at it any other way.
'We are a topical TV show live - not live to tape - for people who don't get to catch up on the news. We're on an entertainment network, and on a Friday people can tune in for an hour and we'll be funny and enthusiastic about the news.'
Despite the gruelling schedule of making around 35 episodes of Real Time a year (and a total of 336 under his belt so far) Maher still keeps performing stand-up at an average rate of at least one gig a week.
He admits that without going on the road 'I would never really meet people; never hear what people are thinking.'
'But I do it because I enjoy it, mostly,' he says. 'Nothing's quit as fun as standing on stage and making people laugh. I just plain enjoy it. And it's payback for early years when it was very difficult. When you are new to stand-up it's no fun, so you might as well enjoy it later.'
• Bill Maher is playing the Hammersmith Apollo on May 23, 2015. Click here for tickets.
Published: 26 Nov 2014
What do you think?