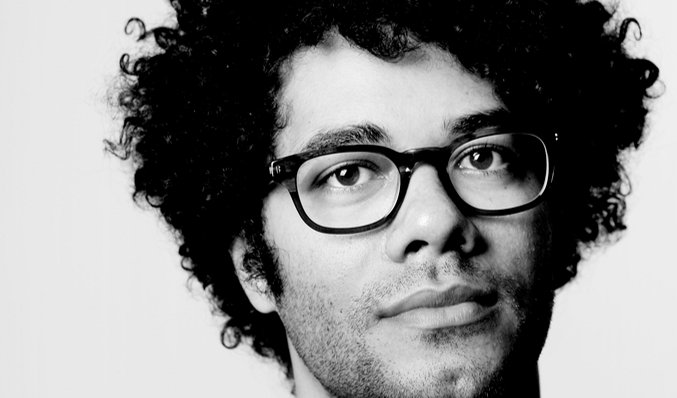 'There aren't clear signals for laughter'
Though best known as Moss in Channel 4 sitcom The IT Crowd, Richard Ayoade is also establishing himself as a director with his second feature film, The Double, a nightmarish, dystopian comedy-drama, loosely based on Fyodor Dostoevsky's novella, due out next month. Jay Richardson spoke to him about it...
Dostoevsky felt that he 'failed utterly' with The Double. Have you sorted it out for him?
Yes, I'm sure he'd be delighted. It's a strange book, in terms of the ending, because it's so high-concept. It's such an enormous thing to have happen narratively, it's hard to work out the repercussions. We hope the ending works. It's not very close to the novella.
In your first film, Submarine, Oliver narrates his life as if it were a film. And in The Double, Simon reveals that he always feels outside of himself, looking in. As someone so steeped in cinema, does that sense of viewing yourself from a distance come naturally to you?
It's something that felt appropriate to these characters, in that it's something that's preventing them connecting directly to other people. They have this big layer between themselves and a world which is isolating them. Everything's so mediated now, you're so aware of situations having already played out in novels and films that it can somehow make you feel you understand things that you don't. You haven't been through them yourself emotionally.
It's a dark film, in every sense, and there are very few reaction shots to emphasize funny moments. Have audiences laughed where you expected them to?
I think so. I tend not to watch it with audiences because it feels like spying. There are so many dynamics in play as to what makes a room laugh. But yeah, there aren't clear signals for laughter points. It's subjective and you don't have what you might often have - someone behaving strangely, then a character who represents the audience reacting with disbelief. That doesn't happen. There are a few moments that cohere more in terms of everyone laughing. But generally, audiences have done it at different points. As long as they're interested, I don't mind.
Most of the humour springs from the other characters' indifference to Simon.
Yeah. What I liked in the novel, and [co-writer] Avi [Korine] did too, was how he accepts it so quickly. He protests a bit. But for me, rather than it being satirical of bureaucracy or the coldness of the state, it was more about 'how can someone impose themselves on the world?' It's a similar situation to someone feeling unable to pipe up at school or at a party. It felt more appropriate that it would be work-based within this. But the thing we found most funny was Simon's acquiescence to the whole thing.
You've described the film's look as 'what a '50s Finnish public information film would think the future would look like'. Was that a specific instruction you gave to the artistic director?
It's one of the things you talk about, you have all sorts of references which are often just discussion points. Because it's hard to verbally communicate something visual you sometimes use ideas like that. Or there'll be picture references like Edward Hopper or certain brutalist buildings. I guess places round [London's] South Bank or in Germany or Shanghai, it's a mixture of things and you slowly reach towards something.
You starred alongside Ben Stiller, Vince Vaughn and Jonah Hill in Hollywood vigilante comedy The Watch. Can you see yourself directing a big studio movie like that in the future?
Not immediately. I feel very grateful to have done these two films and would be happy to be able to make more like this. I'm happy making films in England.
Last year brought the end of The IT Crowd. Do you feel that you pulled off the final episode successfully?
Yeah, I think Graham [Linehan]'s a great writer. All of the stress of finishing a series, the pressures were on him. I didn't feel them on me because I didn't write it. He did really well.
I know you don't like watching yourself onscreen. But have you ever seen the US pilot of The IT Crowd, which was made almost shot-for-shot and line-for-line as the original's first episode?
Oh gosh, I can't remember. I've seen bits of it certainly but I don't think I sat down for a viewing party or anything. But it was a curious experience. It was like doing a touring production of a play or a revival. The script was pretty similar. I maybe had more new things in it than the other characters for some reason. It was odd.
The series was reportedly only shelved at the last minute. Were you ready to move to America?
I think contractually you'd have to. But the odds of a pilot happening, I didn't really bank on it. Statistically, it's probably no more than three or four per cent that it was going to happen. I was intrigued to see how that model operated, so it felt like work experience.
John Oliver was your writing partner in the Cambridge Footlights. Any chance you might work together again in the future?
I couldn't... he lives in America. It's no surprise to me that John's doing so well and has his own show there because he's always been very funny. I can't quite imagine it happening because I'm doing slightly strange films set in a non-specific time period and he's doing very topical, political comedy. We're at the opposite ends of things. But yeah, it was fun doing shows with John, he was always a really good performer. I sort of liked doing the sound and stuff.
You've said that when you were president of The Footlights, everyone was trying to be Chris Morris. What was it like working with him subsequently and then casting him in The Double?
Initially it was doing Nathan Barley. Chris is someone, who, in the best way, I don't want to present him with something that I feel is bad or rubbish because I have such a high opinion of him. It was unbelievable to be in a show that he directed. But that very quickly changed into becoming something that I needed to do, perform in a way that was pleasing to him.
Getting stuck in some kind of hagiographical mode would be annoying. He doesn't demand that at all, he's completely uninterested in his own reputation, he has no swagger of that kind. He's just one of those people who you have astronomical high regard for and he doesn't disappoint those expectations when you know him. It was great that he was able and willing to do The Double, a real thrill.
You spent more than five years working on a radio project with him and Noel Fielding. Can you tell me anything about that and if it will ever be released?
I don't know. We've done some stuff and I'll guess we'll see. No one asked us to do it and there's nothing commercial underpinning it. Because it's with Noel and Chris, it feels almost indecorous to discuss it because it's like talking about their private business. I don't know to what extent Chris would want it discussed. But then, I honestly don't know what it is. I know what we did. But I don't know what it will end up being. If that makes sense.
So are you in the next series of Fielding's Luxury Comedy?
Yeah, I am. The kind of hammerhead shark character that's in it. And a new character.
You've said that you were uncomfortable performing as a stand-up yourself. So I was surprised to see you on a panel show like Was It Something I Said?
I don't know why I do anything. I'm not opposed to panel shows. Neither was it something that I imagined I'd do. I liked David [Mitchell] and knew him from university. And Micky [Flanagan], I think, came on later. It's one of those things that just sort of happened without it feeling like I bore an awful lot of responsibility. Whereas when you write, you have to make all sort of judgement calls. Appearing on a panel show doesn't require quite as much thought.
Is it coming back?
I'm not totally sure. These things just sort of come in. Or not. This film began seven years ago. These projects take ages and occasionally you need to leave the house for a tiny bit.
Do you know what your next project is?
Yeah, perhaps. It seems hubristic to say I'm doing 'this thing' next, unless you're physically doing it. When you're writing something to be filmed, you have no idea if it will get made. Things stop halfway through shooting. I'm writing some things and seeing how it goes.
Is there a chance your next film be an original idea, rather than an adaptation?
Yes, there is ...
But you won't be drawn on revealing anything?
Oh no, it just wouldn't sound like anything now. It's at the start, it's nothing. It would be like me describing my thigh or something.
Review:

Published: 3 Mar 2014
What do you think?