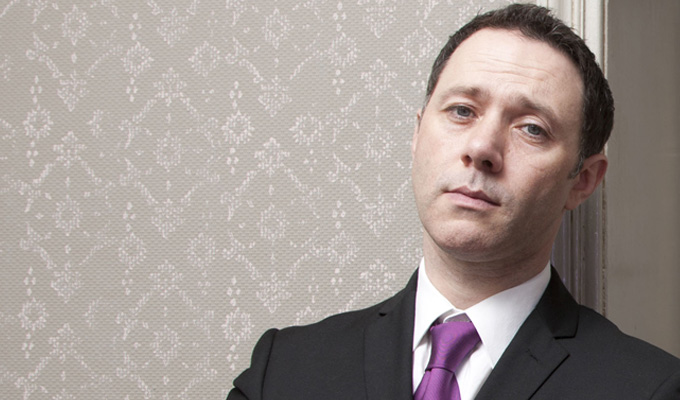 'It's unhelpful to call our work 'dark'. It's not...
As his new collaboration with Steve Pemberton – Inside No 9 – comes to our screens, Reece Shearsmith talks to Jay Richardson about his inspirations, so-called 'dark comedy' and a possible League Of Gentlemen reunion...
I read that Inside No. 9 was partly borne from the Rope-inspired, single setting episode of Psychoville. How would you describe the show?
Well, it reflects our love of anthology series, of which there aren't any these days, they're out of favour. There are a few nods in that direction with Black Mirror and Sky have done their Playhouse series. But they're not appealing to commissioners because they think you're not growing an audience with this new, clean slate each week. But Steve and I and lots of people love them. This is just us bringing back onto television our love of The Twilight Zone and House of Horror, Nigel Kneale's Beasts and Tales of the Unexpected.
You might have had some bad episodes among those but there was an overarching delight in returning each week with a different theme but a tone that you knew.
That Rope episode was constraining but also liberating. Just to write a little playlet that was self-contained and claustrophobic, all in the same room was a joy to do. We knew that if we could do six different versions and get some brilliant actors in, this would be great.
What binds and differentiates the six episodes from each other?
We definitely wanted it to feel like you're in six very different places. We had in mind a full-on, Gothic horror one, which is the last episode. Then we had an experiment with ourselves in the second episode, where we don't speak. That was a great thing to try to pull off. We began writing it wondering could we get through 10 minutes of not speaking? But we just kept going.
We have a sitcommy one. And more psychological ones. We wanted the audience to not know what they were getting, other than a really good story that just hooks you in and carries you along till the next one.
One is particularly Pinteresque, one more Ayckbourn, one probably more Joe Orton. There are time jumps in some but most take place in real time in a room, which has its own constraints.
When you're writing something, often you can get rid of exposition by leaving and coming back. But when you're there all the time it's harder because you have to speak everything all the while. You're robbed of some tricks. And that became its own challenge, reinforcing this idea of 'what goes on behind closed doors'. The claustrophobia and the horror of some people's lives.
You cast Oona Chaplin, Charlie's granddaughter, in the dialogue-free episode. Are you a big silent comedy fan?
My favourites are Laurel and Hardy and I used to watch Harold Lloyd. But our aim wasn't really to do a silent comedy. We're not mouthing words and there aren't captions. We simply have to be quiet because we're robbing the house and it so happens the owners are having a row and they're not speaking to each other.
It was an exercise in trying to do silent comedy without being so bold about it, a bit more subtly. It's hard though, physical comedy, to have written a half-hour of pure stage direction. And then executing it is really tough, people are frightened of how you will film it.
You've experimented with various formats in your career. Are you determined to stick to your guns?
We've been very blessed with not having much interference as far as the writing and editing has been concerned. We've always been left to our own devices really. I mean, we still have to earn it every time, it's never a given that we'll get another series. In one way it's frustrating, obviously, but equally, maybe it's good because you have to prove yourself yet again and you don't get lazy. Maybe that's what they're doing to us with the commissioning process.
They always make our stuff too, so we must eventually convince them, however odd it might be. It's good that commissioners are still recognising so many different types of comedy and that they understand there is a place for people who like our kind.
Because it's not for everyone. Our comedy is not the sort that you can put on, kick your shoes off and have on in the background, with no commitment. We require a bit more of your indulgence, you've got to lean in a bit to get something out of it. But that's what makes it different and makes for arresting television.
Do you think American television has traditionally been more comfortable blending comedy and drama?
We're much more reluctant to mix up the genres, where there can be a really harrowing bit and then it can be broken with a big laugh, or the other way round. But of course it can happen. Even when I try to write just funny things, broader more mainstream stuff, it always feels lacking, more two-dimensional and less rich. When it hasn't got that edge to it, or when it turns slightly more sinister.
We do that, not because it's simply a formula that we think works but because it enriches it and gives you an extra layer that would not have been there, had it simply been a comedy or a straight drama.
Do you feel that too much emphasis is placed on the cruelty and darkness of your comedy?
I don't think we've ever been cruel. We always have such compassion for the characters. One of the hardest things to do in comedy is to do it with heart. It's easier to take sniping shots and be malicious.
I really hope that we earn the moments we create rather than just going straight for the nub of 'right, what's sick?' I'd hate people to reduce our work to the 'urgh' factor. That does us a disservice because we're really judicious about those moments, we try to very carefully work towards them to give them a bigger impact. It's an unhelpful shorthand to think it's dark. It's not.
The broadcast date for Inside No 9 has been pushed back several times. Do you worry that after the erratic scheduling of Psychoville, the BBC aren't sure how to promote it?
The Psychoville series two finale was moved because Mock The Week came back. Which I thought was really disrespectful to us and the programme because we weren't told about it. That killed it dead in the water. If it wasn't hard enough to find during the summer anyway. They say 'yes' to a programme but then they don't trumpet it enough for me. We make it, then they hide it. I just want people to see it, to get past 'Oh, it's those scary men' and for them to enjoy it for the comedy, the good quality work. Otherwise what have we been doing it for?
I would like the experiment of them heralding us as a thing to watch rather than thinking 'well, they've got their weird audience and they'll find it'. It would be very interesting to put us on at 9.30pm on BBC One. Not that we've tried to be My Family, of course. We never have and we wouldn't want to be.
Is it true that the name Psychoville came from Japanese appreciation of The League of Gentlemen?
Yes. Psychoville was the English translation of the Japanese word for The League of Gentlemen. I never liked it as a title but we thought it was a nice link for the next thing.
Do you have any other strange phrases or anecdotes that you're saving for your magnum opus?
A lot of what we come up with is from a newspaper or listening to someone's conversation.
One of the stories in No. 9, Steve remembers a little girl on Swap Shop, who had all these empty jars labelled with different places on them. She'd collected air from different places. 'This is when I went to Liverpool …' And she was getting people to send in others. That really tickled him and stayed with him.
So we've written this story called Last Gasp which is about a pop star, these people end up with his last dying breath in a balloon and want to know what they can get for it. It was such a funny idea. But a lot comes from real life. We're always finding notebooks and things from the past. We can use them in these No. 9s, which are less about characters, more just telling a joke. They're pithy little black tales.
Is there such a thing as northern humour?
I don't know. It's curious that when The League came out it was 'four northern lads have come together to …' Why are you mentioning the northern thing? You wouldn't say four southern lads. So it does make me think there is some kind of sensibility. Maybe we've got a turn of phrase. I think The League of Gentlemen came from a collective memory and the experiences of four people who'd lived in northern towns, and we set one up with Royston Vasey.
But the show itself wasn't particularly northern. People in the south get it. People know a Pauline and they know local shops. We were doing bigger themes I think, more gettable. I don't like it when you get a sense that people are slightly patronising you, saying you're from the north. I'd like to think you can get beyond that.
After reforming for the Royal Free Rocks charity event in December, are there any plans for The League of Gentlemen to reconvene?
Maybe not in the near future. We've never stopped talking about it and we're biding our time to hopefully do something one day. It would be under the banner of The League with the four of us writing together but it won't be set in Royston Vasey, it will be a new thing because we fully mined that. In 2019 it'll have been 20 years [since the TV debut] and maybe that could be the time to pull on our Python jeans.
There would be huge interest if you announced a League of Gentlemen tour.
Possibly. Not to do us a disservice because I think fondness for it has grown, but I lived through it and it was never that massively well received. It was cultish, some people absolutely loved it, found it really different and innovative, a new way of doing comedy that was very filmic. There were some extreme characters that people thought were great. But having said that, taxi drivers didn't know what it was and there's been some rose-tinted revisionism about how big it got.
I remember being dressed as Papa Lazarou at a charity thing at its height, just after series two or three. People were coming in with beers backstage at the Hammersmith Apollo and going 'what are you doing thenm mate?' And this was me, me dressed as him. It was the most cripplingly embarrassing thing I've ever done in my life.
Is it likelier to be a live or television project?
It's hard to say. We've spoken about projects that would be films. I can't say what it would be. It would be a live thing. But let's not say that because it's not happening at the moment.
[Also] We have now got a second series of No 9. We've got to get the scripts going because I think we film them at the end of autumn, so we want to make sure that they're good and ready.
'You want to set yourself a bar quite high where you can look back at the first series and think, "Oh god these are really good, we'd better carry on and top them again". We've got to get our thinking caps on again…'
• Inside No 9 starts on BBC Two at 10pm on February 5.
Published: 29 Jan 2014
What do you think?